**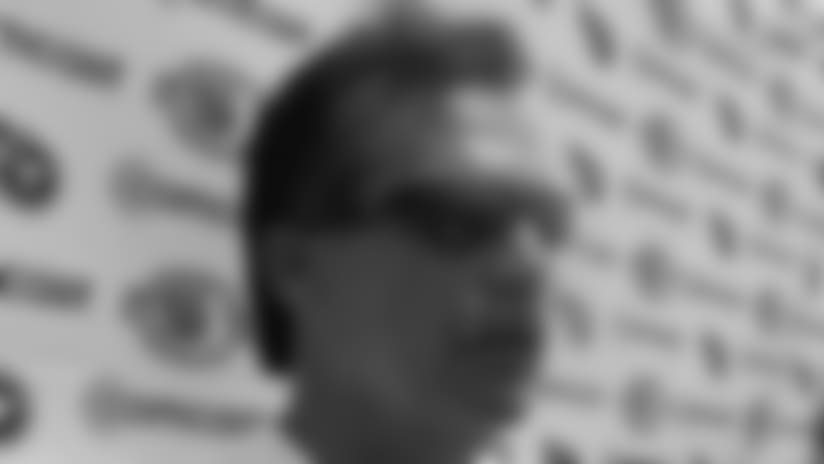 HEAD COACH JEFF FISHER
**
(on rookie tight end Jared Cook making one play and missing another)
You mean one for two today? Yeah, he had two chances to make two big-time plays, and he finished up practice with one, so it's good to see. He's running around, and he's learning what to do. He's getting in the right place, and you can see the kind of ability that he has.
(on Cook's ability to stretch the field)
Well, he runs very, very well. That's particularly the reason we drafted him, because he can get down the field.
(on whether rookie receiver Kenny Britt was frustrated today)
No, I don't think so. I think he warmed up well. He got a lot of work done. He's just getting better each day. He was slowed with a little hamstring (injury), but he's back and he's working. He ran a couple good routes on the back side where he wasn't the primary (target), and he gets excited about that.
(on what the team wants to see from defensive tackle Jason Jones)
The entire defensive line is working very well together and working hard. Their conditioning level is excellent right now, and so we have to wait until we get to camp and put the pads on and see how he does. But we expect him to be much further along than he was last year.
(on practicing in the extreme heat)
They're working out mid-mornings in the heat when we're not having OTAs, so they're used to it. It's good. It's good for them to get used to it, and it looks like it'll stay this way. As long as they're pushing the fluids. They're acclimated at this point to it, and they're pushing the fluids. There's no problem with it.
(on the carry-over to training camp dealing with the heat)
They're encouraged during the time off, which begins after next week, not to get up at six o'clock in the morning and work out or work out at eight o'clock at night. We encourage them to work out and continue to condition at those times of the day when we're going to be practicing. That makes sense, and most of them take advantage of that so that it's not a problem when we return to camp.
(on comparing the camaraderie this year to last year)
Yeah, it's the same thing. They're highly motivated. I think they're excited to finish out this first phase of the offseason and get a little break, continue to work. The rookies have blended in well with the vets. They're no longer rookies anymore, like we were talking about. So I think we're in good shape right now. We still have a lot of work to do, and then of course we'll have a short period of time to get ready for our first preseason game.
(on if he has a loaded roster for his charity softball game)
You know, Alan (Lowry) – it really doesn't matter who I put on my team – he'll pick and choose sometime between now and the first pitch. So we'll adjust. But I also have a highly-motivated team for Saturday night because we were upset last year for the first time.
(on how he plans on ending his one-game losing streak in the softball game)
Just simply stand here in front of everybody and guarantee a win.