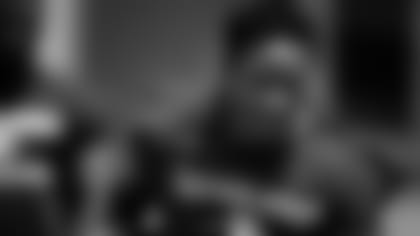 Titans RB Chris Johnson runs drills during Wednesday's player-organized minicamp at Father Ryan High School.
NASHVILLE, Tenn. -** Make no mistake: Chris Johnson still wants a lucrative new contract.

"Of course," the Titans running back said with a smile Wednesday. "Of course I'd like one."

But now, the three-time Pro Bowl selection is trying a different approach.

Instead of speaking up about his demands, like he did last offseason, Johnson was mostly mum on the subject Wednesday.

After wrapping up an unofficial minicamp that included 40 Titans, Johnson said his appearance shouldn't have come as a surprise, even though many teammates seemed surprised to see him.

"I didn't come out here to prove a point or anything like that,'' Johnson told The Tennessean. "I'm really not worried about (a new contract) right now to be honest. That's not on my mind. At the time my mind is on being in shape and being ready when the lockout is over with. I want to get better, and get the team better as a whole -- we haven't been to the playoffs in two years."

Meanwhile, quarterback Jake Locker, the Titans' top draft choice, and several other NFL players also took part in the 90-minute workout.

It was not exactly business as usual. The only coaches present were five members of the Father Ryan staff, and players wore Father Ryan T-shirts. Second-year quarterback Rusty Smith and Locker, the eighth overall pick in April, produced the script of plays run during 7-on-7 and team drills.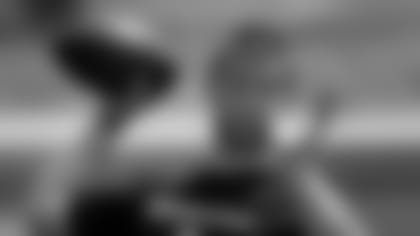 Top draft pick Jake Locker connected with his new teammates during Wednesday's practice at Father Ryan High School.
"I think it was very beneficial to us," Locker said. "First and foremost, we were just (wanting) to get the guys together and spend some time in the offseason. I thought we got some good work into it."

Johnson said he expects Locker to be the Week 1 starter.

"He's a top 10 pick and they got rid of Vince Young. So of course he is going to be the quarterback. Everybody knows that," Johnson said. "... It's the first day of seeing him, but I can see he's a hard worker and he wants to get better. You can tell he wants to be the quarterback of this team. You can see he's a pretty good quarterback the way he throws the ball ... and he is mobile also. He is a cool guy, a good guy."