**
Nashville, TENN -** The Tuesday before Thanksgiving Day, the Tennessee Titans Cheerleaders volunteered their time to give back to the Nashville community. At the Annual Tracy Lawrence Mission Possible Turkey Fry, the cheerleaders collected turkeys to be served the following day to the homeless and others in need in Nashville.
The event was held in the parking lot of the Nashville Rescue Mission and featured many celebrities collecting turkeys alongside the Cheerleaders, including: Tracy Lawrence, Brad Arnold, Ash Bowers, Burns & Poe, Sarah Darling, and Lorrie Morgan. Lindsey R., a current Tennessee Titans Cheerleader praised the event, stating, "The Tennessee Titans Cheerleaders have been involved with Tracy Lawrence's Mission Possible Turkey Fry for three years, and it's been really neat to come back every year and see how much the event has grown. It's a great way for the music industry and the Titans to come together for a great cause and I think the most touching part to me this year is the amount of people who didn't have a chance to buy a turkey to donate, but who still drove by the Mission during their lunch break to donate money."
On the following day, Thanksgiving Eve, The Tennessee Titans Cheerleading Alumni Association joined some of the current Tennessee Titans Cheerleaders to serve Thanksgiving lunch and dinner to those in need. The turkeys that were collected the previous day were fried and served with other traditional Thanksgiving favorites. Alumni Judith Meyer has participated in the event in the past and explains how the serving was organized and what serving others at the Nashville Rescue Mission means to her, stating, "The women and children were fed first and they just put a smile on my face. We would carry their trays and let them pick were they would like to sit. Having someone take the time to go the extra step of carrying their tray, pulling out their chair, and bringing them something to drink really lit up their faces. And when it was time for the men to eat, let's just say some of them started blushing when they realized we'd be serving as their hostesses for the meal. Everyone was so nice and thankful and the event really started the holiday spirit of giving for me this year."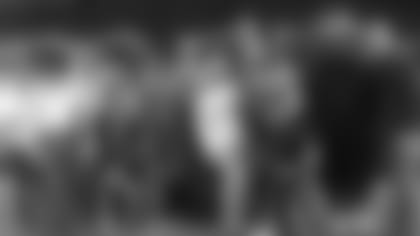 Titans Cheerleaders with Tracy Lawrence, Lorrie Morgan, Darryl Worley, and friends.