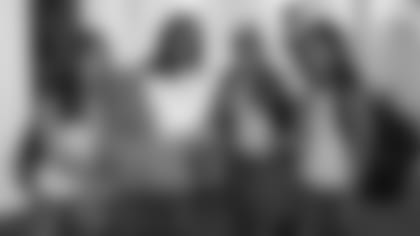 Titans cheerleaders arrive at the Sandestin Golf and Beach Resort on Monday, May 31, 2010.
DESTIN, Fla. --** The Tennessee Titans cheerleaders departed Baptist Sports Park Monday morning, heading south to the Sandestin Golf and Beach Resort for their 3rd annual swimsuit calendar shoot.

Nineteen veterans and seven rookie cheerleaders were anxious to arrive in Florida for their first team event of the 2010 season. The three-day event will also serve as a great bonding time for the 2010 Titans Cheerleading squad.

On the eight-hour bus ride, Gary Glenn, Director of Internet Operations and publications, educated the current squad on the Tennessee Titans history, while informing them of the latest news within the Titans' organization. The cheerleaders took notes on this material for an upcoming exam they will take this summer.

Also on the bus ride, Director of Security Steve Berk shared several stories from his experiences with the organization over his 14 years with the team, specifically the franchise's transition during its first year in Tennessee. Berk's memories and entertaining stories kept everyone on the bus interested. This also helped the Titans cheerleaders realize their upcoming opportunities, while validating their importance in the National Football League.

At noon, the bus stopped at Peach Park in Alabama for lunch. The restaurant was a popular stop at about the midway point of the trip. The girls chatted amongst themselves while enjoying lunch. Fried peach pies and baked chicken was the popular item for many customers. While the team dined, one little girl noticed the Titans cheerleaders and personally took time to meet them. The impact of having the Titans cheerleaders at Peach Park was exciting for many of the customers in the restaurant.

After a full day on the bus, the Titans cheerleaders and staff finally arrived at the Sandestin Golf and Beach Resort. They were greeted by a staff that was excited for their arrival at the resort. Their bags were unloaded, and rooms were assigned. The ladies had about one hour of down time to get ready for dinner at the Marlin Grill. In the meantime, organization of activities for the next two days was presented to the cheerleaders and staff by Director of Cheerleaders Stacie Kinder.

The Marlin Grill was nothing but superb to Titans cheerleaders and staff. They served amazing appetizers, salads, entrees and desserts that everyone enjoyed. The hospitality of the Marlin Grill made for a pleasant experience with exceptional service.

The night ended with an after party at the Village Door at the Baytown Wharf. The ladies had a great time of dancing and greeting fans. Some cheerleaders couldn't stay long due to an early call time for the first photos shoots scheduled for Tuesday morning.