Upon returning from the 2018 Pro Bowl, Line 4 captain, Jocelyn, is our first off-season Cheerleader Spotlight. Jocelyn is a five year Titans Cheerleading veteran and just finished her second season as a captain. She was voted by her teammates and by Titans staff to represent the club at the Pro Bowl this year.
Originally from Detroit, Michigan, Jocelyn graduated from Alabama A&M and earned her master's degree in school psychology from Tennessee State University. Read on to find out more about Jocelyn and the secret to her success!
Congratulations on your Pro Bowl selection! What was the most memorable part of your recent experience in Orlando?
It's hard for me to put into words the best or most memorable part because everything about Pro Bowl week was amazing. If I had to choose, it would be the Pro Bowl game itself. We went from sun to rain in a matter of minutes, but that didn't stop us, the players, or the fans from enjoying the moment. We also got to perform in a halftime performance with Jordan Fisher! How cool is that?! The Pro Bowl was my last official game as a Tennessee Titans Cheerleader, and I soaked in every minute.
Aside from Delanie winning Offensive MVP, the highlight of the game for me was meeting (recording artist) Ciara (Russell Wilson's wife), who is my best friend…in my head. I was speechless after I met her! I've been a fan of hers for a long time.
What is your current full time job outside of being a Titans Cheerleader?
I am the Disabilities/Mental Health Coordinator for children in the Head Start/Early Head Start program. I've always known that I wanted to work with children. I LOVED babysitting, and I love learning about child development. I knew I didn't want to be restricted to the classroom, but I still wanted to be involved with children educationally. Coordinating services and offering support in the classroom gives me exactly what I want.
What is the biggest difference you have found from your first year as a Captain to your second year as a Captain?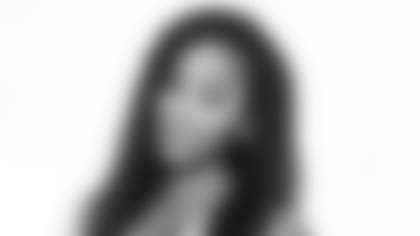 I think the biggest difference for me is confidence. Being a first year captain is crazy intimidating. I was fortunate to have a veteran captain, Anne, on the team, and she really guided me through the captain process. I was also able to call on former captains Tandra, AP, and Jessi for advice and cheerleading "words of wisdom." LOL! As a 2nd year captain, I feel more confident through my words and actions.
In your 5 years as a TTC, what was your favorite TTC Calendar shoot?
Year 2 at The Pearl in Rosemary Beach. It is one of the most beautiful hotels I've ever visited. Everyone was super nice, and it was an overall great trip. I was able to open up more to the girls, and it was the year I made the cover. It was a dream come true!
What would you become famous for?
Winning the game show Beat Shazam. Trust me; I know every song that comes on the radio. For real.
What is your favorite restaurant in Nashville?
Up until recently, it's been Monell's, but now that I am limiting meat, the Sunflower Café has been one of my favorite places to eat. I love the rice and bean wrap! So yummy!
Who is your favorite Titans player?
My favorite player is number 99, Jurrell Casey. He's a true leader on and off the field. Every year, I see him growing as player. His love for the Titans organization runs deep, and I am proud that he represents us.
I wouldn't be able to get through gameday without my ____?
My music playlist, speaker, and watermelon or strawberry sour patch kids.
What is your guilty pleasure?
I still play Candy Crush Hangs head in shame I'm addicted to it. Just know I'm on level 2581.
What is the coolest thing you have been able to do as a TTC?
Aside from the Pro Bowl, I had the honor of representing our team in Hawaii, Guam, and the Marshall Islands on a military tour with Pro Tour Productions. I was completely humbled to go overseas and meet our military and their families. It was such a cool, but eye opening experience; I know would have never happened if I wasn't a Tennessee Titans Cheerleader.
Something you would like to say to Titans fans:
You guys are the best. Through my 5 seasons, I've seen our fan base continuously grow. Thank you for always supporting us-the players and the cheerleaders- on and off the field. We had a great 2017 season, but the best is yet to come. Thank you for sticking with us through everything! Titan Up!
Titans cheerleader Jocelyn is representing the team at the 2018 Pro Bowl in Kissimmee, Fla. (AP, Staff Photos)