Our Cheerleader Spotlight shines on Swimsuit Cover Girl, Jocelyn.  Jocelyn is in her second season as a Titans Cheerleader; she is hardworking and incredibly dedicated.  Read more to find out how she finds success at every level.
1. YOU INITIALLY AUDITIONED FOR THE TITANS CHEERLEADERS AND DID NOT MAKE THE FINAL CUT. WHAT DID YOU DO TO PREPARE FOR THE AUDITIONS THE 2ND TIME AROUND?
The 2nd time I auditioned for the team, I made sure that I was more organized with my time. I had to prioritize time to work out and meal prep on top of juggling and full time job. As far as dance, I sought assistance from 2 Alumni Titans Cheerleaders. They encouraged me to try out again and definitely gave me that added confidence that second time around. There were long days and nights leading up to auditions, but with great time management skills, a strong support team, prayer, proper nutrition, and intense workouts, I made the final cut in 2013!
2.  YOUR WORKOUT REGIME IS INTENSE. DESCRIBE TO US YOUR WORKOUT PROGRAM, AS WELL AS WHAT ELSE YOU DO TO STAY IN SHAPE.
Yes, I would definitely say my workout program is intense! My main focus is to workout with my personal trainer, Omar, at MADE Fitness 1X a week.  We set goals for my weight, body fat, and body measurements.  I also attend bootcamps at least 2 to 3 times a week that consist of high intensity cardio, weightlifting, and circuit training. On top of that, I try to run 5 to 10 miles a week to stay lean. I also teach Zumba, which a great way to get a cardio workout and burn 500 calories. Although, my workouts are intense, I do make sure I eat properly. I take in a lot of protein, but make sure I balance out my meals with veggies, fruits, and complex carbs. Eating healthy is probably hardest part of about living a healthy lifestyle, but the BEST way to lose and maintain desired weight.
3.  WHAT HAS BEEN THE MOST MEMORABLE MOMENT YOU HAVE HAD SINCE YOU MADE THE TTC'S?
It's so hard to put into words that ONE most memorable moment because Titans has given me so many awesome memoires thus far; from the friendships created, to the calendar shoot, to the wonderful charity opportunities, it all factors into some of the greatest times of my life. But, if I absolutely have to pick one moment, I would say making the team the 2nd time around. I was such a nervous wreck at auditions, just because I know Stacie, our director, expects growth dance and performance wise. I was called out 2nd at our auditions this year and a few days later Stacie informed me that I received the 2nd highest score. It was an AMAZING feeling to know that my first time auditioning I didn't even make the team, to being the girl with the 2nd highest score.  It was and still is an indescribable feeling.
4.  HOW HAS BEING ON THE TTC'S EVOLVED YOU AS A PERSON?
Although, I am one of the older team members, I know Titans has made me more mature and well-rounded. I am blessed with the opportunity to network and meet so many beautiful people from different walks of life. This has been a learning experience with understanding the importance of time management, how to balance Titans and my personal life, and to carry the Tennessee Titans Cheerleader name with pride. So many girls want to opportunity to become a TTC, and only a few of us get that chance. I now understand that I am not only Jocelyn, but I will always and forever be Jocelyn, Tennessee Titans Cheerleader.
5.  WHAT OR WHO MOTIVATES YOU DAILY?
I consider myself a spiritual person, and I know Jesus is the lamp to my feet. I gave Him daily praise for trusting me to fulfill my purpose. My family, immediate and extended (I have a HUGE family), have always showered me with love and support. I never stop moving because they have never stopped encouraging me to do better.
6.  WHAT ARE YOUR FAVORITES?
     FAVORITE MOVIE? Imitation of Life
     FAVORITE PLACE TO SHOP? In Nashville, Blush Boutique and Opryland Mall
     FAVORITE DRINK?  Water! I love it!
     FAVORITE DANCE MOVIE? Stormy Weather
     FAVORITE TITANS PLAYER?  Steve McNair (All Time Favorite)
     FAVORITE DESIGNER? I love Jessica Simpson Shoes!
7.  WHAT IS YOUR FAVORITE CHARITY AND WHY?
I don't have a favorite charity because I affiliate with so many.  I've always worked with children with developmental delays and or disabilities (mental, physical and emotional). I have worked  with The Arc of Davidson County, Autism Society of Middle Tennessee, and I recently volunteered, through TTC, for the Autumn Prom hosted by Pujols Family Foundation, and foundation for people with Down Syndrome.
Health charities are a big one for me as well. I frequently donate to the American Cancer Society. My grandmother and aunt are breast cancer survivors. I also support the American Diabetes Association because of my father, who is currently living with diabetes, and my late grandfather.
8.  IF YOU COULD TRAVEL ANYWHERE IN THE WORLD, WHERE WOULD YOU GO AND WHO WOULD YOU TAKE WITH YOU?
I love to travel, and I have wanted to go to Qatar, a small country in Asia, for about 2 years. I saw a couple moving there on an episode of House Hunters International, and I have made it my goal to get there in the next 5 years. I would love to take my family and close friends with me to experience such an awesome country.
* *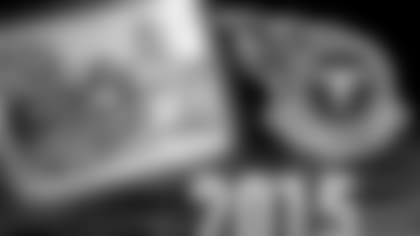 ](http://www.titansonline.com/cheerleaders/merchandise-order.html)
9. YOU MADE THE COVER OF THE 2014-15 TTC SWIMSUIT CALENDAR. CONGRATULATIONS! HOW DID YOU FEEL WHEN YOU FOUND OUT?
THANK YOU! I was definitely not expecting to be on the cover of the calendar, since this is only my second year. My big/little sister, AP, kept telling that it is definitely possible to be on the cover of the calendar since she was on the cover during her 2nd year. I didn't really focus on that; I was just humbled to be in a Titans swimsuit, which is a big deal, FYI. The night we had the calendar reveal and I saw I was on the cover of the calendar, along with Whitney, I screamed and almost cried. All I could do was stare at the picture. It seriously didn't seem real. I couldn't believe that our photo was chosen out of the 7000 photos. Such an exciting feeling to know that you are a TTC covergirl!
10.  AS NEXT YEAR'S AUDITIONS ROLL AROUND, WHAT WILL YOU BE DOING TO PREPARE FOR NEXT YEAR?
I usually start around mid-January with training. I increase my cardio monthly, and closer to auditions, my meals become stricter. This year, I definitely want to focus my overall physique. I want to make sure I'm in the best shape I've ever been.  Plus I already have some great ideas about costumes. On top of that, I usually create a calendar of events to balance my workout times, travel times, and personal times. I hope to be more focused on my goals and to improve with how I look on stage.
11.  WHAT ADVICE WOULD YOU GIVE A YOUNG LADY THAT HAS ATTEMPTED AND FAILED TO MAKE THE FINALS CUT FOR TTC'S AND IS DISCOURAGED TO TRY AGAIN?
Have a positive attitude about the experience even if you don't make it the first time. Understand that it may not have been your season. Reach out to Alumni TTCs to discuss how to prepare for auditions next year. Take the time out to understand what you need to do to improve for the next year. We all have strengths and weaknesses, and you must reach out to others to assist you with the process. Make sure you have an awesome support team because you need those people to give you daily encouragement. You have 365 days to make a difference; utilize your time wisely and don't harp on the past. Wake up every day with a positive/encouraging message to keep you going forward on your pursuit to happiness!