**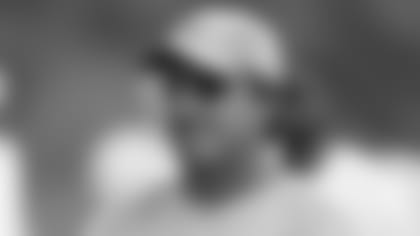 Chuck Cecil served as Jeff Fisher's defensive coordinator for two years.
NASHVILLE, Tenn. - **Chuck Cecil says that Tennessee coach Jeff Fisher has decided not to keep him as the Titans defensive coordinator after two seasons in which the team ranked among the NFL's worst in yards allowed.
Fisher informed Cecil on Thursday of the decision, nearly three weeks after the Titans wrapped up a 6-10 season by losing eight of the final nine games. Fisher had promoted Cecil from secondary coach to coordinator two years ago when Jim Schwartz left for Detroit.
"It caught me a little off guard no question about that,'' Cecil told The Associated Press. "I understand. I'm the defensive coordinator, and we didn't play as well as needed to on defense. He's the head coach, and he has to do what he thinks is the right thing to move forward.''
The Titans had no immediate comment, and Fisher did not immediately respond to a message left on his cell phone.
Cecil is the former NFL safety known for his intensity as a player and might be best known as a coach for being fined $40,000 by the NFL in October for his obscene gesture at officials. He was upset over a flag for a neutral zone infraction, and his gesture with his right hand was on YouTube before the game came back from commercial minutes later.
That was seen as a lack of discipline that was reflected in the Titans, who ranked 30th in total yards penalized for the season with 1,040 yards off 128 penalties.
But Tennessee also ranked 26th in total yards allowed and 29th against the pass this season, moving up two spots in each of those categories in Cecil's second season. The defense ranked 14th in yards allowed when the Titans were 5-2 with the unit intercepting 12 passes and recovering six fumbles through the first five games.
Then came the Titans' collapse during which the offense ranked last in the NFL in time of possession. That left the defense on the field for more than 34 minutes per game, and the Titans came up with only seven turnovers combined over the final nine games.
Cecil noted his Titans ranked 14th in the league in points allowed.
"The way the stats are in the NFL you can skew almost anything to be in your favor or against you. My biggest thing has always been points. That's how you should measure on defense. I thought we were middle of the pack there. Again, I thought our guys played hard. They believed in what we were doing. We just didn't do it well enough,'' Cecil said.
Fisher's decision comes two weeks after owner Bud Adams decided to either trade or release Vince Young after five seasons, and the owner took two extra days before announcing that the NFL's longest-tenured head coach would return for a 17th season. But Fisher is coaching for his future because he's only under contract for 2011.
This is the third assistant to leave Fisher's staff in as many days. Defensive line coach Jim Washburn chose a three-year deal with Philadelphia for the same job on Tuesday with Craig Johnson joining Minnesota earlier Thursday as quarterbacks coach.
Cecil took over as coordinator right when the Titans watched defensive tackle Albert Haynesworth leave in free agency. The Titans never really replaced Haynesworth in the middle of their defensive line, and Fisher said at the end of the season they have to get bigger at tackle this offseason.
Being friends with Fisher makes this move tougher.
"It wasn't easy on him, so I respect that. If it was easy then for him, then I would probably be a little bit more insulted by that,'' Cecil said.
"Our relationship is and always will be a really good one. I can never repay him for the 10 wonderful years I had here and the things that I've learned here. I wish him nothing but the best.''
Making this move more challenging is that Cecil had expected to be back for the 2011 season so he didn't consider other job offers.
"The way this business is things happen fast so obviously if I'd have known last week, then I'd probably have a few more opportunities. But hopefully there's still a few opportunities out there for me,'' Cecil said.