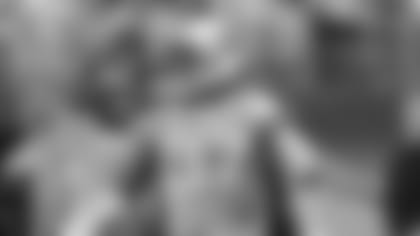 Rookie CB Tommie Campbell's 90-yard interception return for a touchdown gave the Titans a 14-10 lead in the third quarter.
NASHVILLE, Tenn. — Tommie Campbell had the view that defensive backs have in their dreams.
The Titans rookie safety saw a wobbling pass and 90 yards of lush, open LP Field grass.
Seconds later, the seventh round draft pick and former airport janitor, brought thousands to their feet by taking the interception for a touchdown. Campbell had enough gas in his tank to punctuate the return by putting one hand on his helmet in a tribute to Deion Sanders before high-fiving fans in the front row. 
"I guess the quarterback and receiver weren't on the same page," Campbell said. "I saw the ball, broke on the ball and caught the ball first because I have had trouble with that at practice. From there, it was just run like Forrest Gump. I just took off and didn't stop until I got into the end zone.
"It was one of the best feelings in my life, aside from my (two) kids being born," Campbell added. "It's up there. I can't even explain it. You get in the end zone and see all the fans screaming and yelling. You go over there and communicate with them. It feels good."
The touchdown gave Tennessee its first lead against Chicago Saturday night in the third preseason game for both teams. The Titans held on to defeat the Bears 14-13, despite allowing 416 yards.
Campbell said he had 20 missed phone calls on his cell phone after the game. He said he hopes to give the ball to his mother, and the play was a confidence builder, but he needs to continue to improve his technique if he wants to make the team.
Campbell's path to playing for a roster spot in the NFL had its obstacles.
He originally enrolled at Pittsburgh. When that didn't work, he transferred to Edinboro University in northwest Pennsylvania. That ended with his dismissal from the team, and he began a job as a janitor at Pittsburgh International Airport.
Six months later, Campbell received a third chance to play college football from California University of Pennsylvania coach John Luckhardt. Campbell was clocked with a time of 4.31 seconds in the 40-yard-dash. That elite speed showed on the play after he intercepted Bears reserve quarterback Caleb Hanie.
"You never know how fast a guy is until he does something like that," fullback Ahmard Hall said. "He looked pretty fast, so I'm excited about what he can do."
It was the second interception of the game for the Titans. Safety Michael Griffin intercepted Bears quarterback Jay Cutler on the second play from scrimmage. Cutler was trying to hit Roy Williams as Titans defensive backs Chris Hope and Jason McCourty converged on Williams.
Griffin ran up as the ball was in flight, caught it after a deflection and returned it 19 yards to the Chicago 37-yard-line.
It was the third straight game for the Titans' defense to record an interception. Jordan Babineaux picked off Minnesota's Joe Webb, and Alterraun Verner recorded one against Sam Bradford of St. Louis.
OFFENSE FINDS RHYTHM BEFORE HALF: Tennessee tried to capitalize after Griffin's interception with a pair of deep pass attempts from new quarterback Matt Hasselbeck to Nate Washington, but both passes landed ahead of the receiver, and the drive ended with a 51-yard field goal attempt by Rob Bironas that missed wide right.
"You come in some games and the fireworks pop off instantly," Washington said. "Some games, you come in and blow a fuse."
The Bears had 11 first downs in the first quarter, and the Titans' offense gained 5 yards in the opening period.
Hasselbeck eventually connected with Washington for a 21-yard gain on the Titans' fourth possession. Tennessee didn't huddle, and Hasselbeck scrambled for 7 yards on the following play. The Titans went back to the huddle, and Hasselbeck hit Washington again for a gain of 19, moving the ball into Bears territory.
Hasselbeck continued with a short completion to Hall that the fullback turned into a larger gain with a nifty hurdle of a tackler, and found tight end Jared Cook for a 14-yard gain. Rookie running back Jamie Harper capped the drive with a 9-yard touchdown run.
"It's a good thing to fight our way through adversity," Washington said. "A lot of teams could have jumped down on themselves after missing those first two passes, but we found a way to work through it and get those things right.
"It's a process," Washington added. "A lot of times the fans want us to go out there with the big plays but it's a process. You have a new quarterback with the new coaching staff, new system — something that we've never been in but we're working with steadily trying to get better. I think it's happening with each snap."
Washington led Titans receivers with four catches for 66 yards. Hasselbeck finished 12-of-22 passing for 135 yards and a rating of 73.1.
Hasselbeck said Washington has had a good camp, despite having one catch prior to Saturday, which was the first time that Titans coach Mike Munchak wanted to seriously test the passing game.
"We kind of had a pretty aggressive game plan in terms of throwing the ball and just giving wide receivers opportunities to show what they can do," Hasselbeck said.
Munchak said it was important to put together the 80-yard scoring drive before halftime to build momentum into the second half when the starters from both teams went to the sidelines.
TITANS PUNTERS GET A WORKOUT: Chicago gained 416 yards — 196 more than the 220 accrued by Tennessee's offense, but Titans punters delivered clutch plays and kept Devin Hester and Johnny Knox from returning the ball.
Veteran Brett Kern punted four times for 201 yards, averaging 50.3 per attempt and netted 45.3. He placed three inside the 20, including a 65-yarder with 9:22 left in the fourth quarter, and had one touchback.
Rookie Chad Cunningham's first punt attempt occurred with 3:41 left in the game, but Chicago's Patrick Trahan, who spent the 2010 season on the Titans' practice squad, blocked it. The ball bounced into the air and off the turf into Cunningham's hands at the Tennessee 18-yard-line.
The rookie ran with the ball 19 yards, converting a first down before he smashed into Winston Venable. The Titans used the extra downs to keep the ball an extra two minutes before Cunningham punted a 44-yarder for a touchback. 
The Titans' defense sealed the game after Malcolm Sheppard sacked Hanie for a loss of 9, and Hanie threw two incompletions.