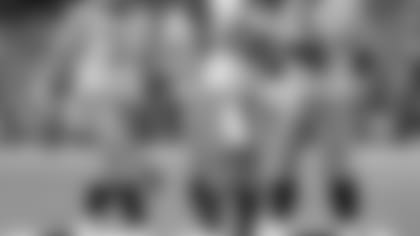 Titans running back Chris Johnson is the #1 pick in the NFL.com mock fantasy draft.
NASHVILLE, Tenn. --** With the NFL free-agent period in full swing, a number of players have experienced a change in fantasy value heading into next season. That's evident in our most recent one-man, three-round mock draft, which includes a new member in the first round.

As always, each numbered position represents an individual fantasy team, so no more than one quarterback, two running backs or two wide receivers will be selected for each roster. The draft is based on NFL.com's standard scoring system, rewarding one point for each 25 passing yards, 10 rushing and receiving yards, four points for passing touchdowns six points for rushing and receiving touchdowns.

1. Chris Johnson, RB, TitansTalk about the ultimate no brainer. Johnson led the league in fantasy points, broke the NFL record for scrimmage yards in a season and found the end zone 16 times. Can he do it again in 2010? Time will tell, but his talent and big statistical potential will be impossible to pass on with the top pick.

2. Adrian Peterson, RB, Vikings
Peterson, the consensus top pick in 2009 drafts, is coming off his best season from a fantasy perspective with better than 1,800 scrimmage yards and 18 rushing touchdowns. He also hauled in a career-best 43 passes as a receiver out of the backfield. Peterson remains a top-three pick in all drafts.

3. Maurice Jones-Drew, RB, Jaguars
Jones-Drew's days of being underrated are over. He had his best fantasy season ever in 2009, posting close to 1,400 yards on the ground and 16 total touchdowns. The little man nicknamed "Pocket Hercules" also put up 53 receptions for 374 yards as the true focal point of the Jaguars' offensive attack.

4. Ray Rice, RB, RavensA 2009 preseason sleeper pick on NFL.com, Rice exceeded even our expectations with 78 reception, 2,000-plus scrimmage yards and eight total touchdowns. He will lose a lot of goal-line work to Willis McGahee, but Rice is so versatile that he'll continue to put up big numbers for his fantasy owners.

5. Aaron Rodgers, QB, Packers
The NFL has become a passing league, and Rodgers has been at the forefront of this evolution. He put up his second consecutive monster season and has established himself as the top fantasy option at his position. Rodgers, who had 35 total scores in 2009, is well worth a high first-round draft selection.

6. Michael Turner, RB, Falcons
The "Curse of 370" struck again, as Turner missed five games in 2009 due to an injured ankle and saw his numbers fall across the board. That might be a good thing for 2010, though, as Turner rushed the football a mere 178 times and should be 100 percent and well rested. He's a No. 1 fantasy runner.

7. Drew Brees, QB, SaintsBrees is coming off another monster season, throwing for 4,388 yards and 34 touchdowns. He was third in fantasy points among all players with 280 and has scored a combined 643 points since 2008. Brees is consistent, reliable and will remain one of the most coveted signal-callers in all drafts.

8. Shonne Greene, RB, JetsThe new No. 1 back for coach Rex Ryan, Greene has a chance to be next season's top breakout player. A physical, explosive runner, he'll be featured in a run-based offense that fields one of the league's best offensive lines. A season with 1,400 rushing yards and 10-plus touchdowns is possible.

9. Frank Gore, RB, 49ersGore showed flashes of his impressive 2006 form last season, but injuries limited him to 14 games and hurt his value a bit. Overall, Gore still finished in the top 10 in fantasy points among running backs and rushed for a career-best 10 touchdowns (13 total). He's worth a first-round pick.

10. Steven Jackson, RB, Rams
Jackson had one of the more underrated fantasy seasons of 2009. Despite the fact that the Rams had no other legitimate offensive threats, Jackson still rushed for 1,424 yards. While his touchdown total (4) left much to be desired, the fact that he's a talented featured back makes Jackson an asset.

11. Andre Johnson, WR, Texans
Johnson, who should now be selected ahead of Larry Fitzgerald in most drafts, is coming off another huge season, with 101 receptions, 1,569 yards and nine touchdowns. He's a younger version of Terrell Owens and an absolute nightmare for opposing defensive backs, not to mention fantasy's top wideout.

12. Peyton Manning, QB, Colts
Manning is coming off another solid season, throwing for 4,500 yards with 33 touchdown passes. He once again started all 16 games, though he was limited the final two weeks with the Colts locked into the top AFC postseason seed. Manning is one of a select few quarterbacks worth a first rounder.

13. Jamaal Charles, RB, Chiefs
Charles was one of the best runners in fantasy football down the stretch, finishing 12th in points among his positional brethren despite starting just 10 games. He'll benefit from the presence of new coordinator Charlie Weis, and should post strong numbers even with Thomas Jones in the backfield mix.

14. DeAngelo Williams, RB, Panthers
Williams was on pace to finish the 2009 campaign with close to 1,750 scrimmage yards and nine total touchdowns before an injured ankle ended his season. The emergence of Jonathan Stewart is cause for some concern, but there should be enough carries for both backs to put up good fantasy totals.

15. Cedric Benson, RB, Bengals
It took five seasons, but Benson finally had the numbers everyone expected from him coming out of college. In what became a run-based Bengals offense, Benson rushed for 1,251 yards and six touchdowns despite missing three games due to injury. The veteran back is well worth a second-round selection.

16. Tom Brady, QB, Patriots
Brady was a disappointment for those fantasy owners who expected him to re-capture his 2007 form, but he still threw for close to 4,400 yards and recorded 28 touchdown passes. With a full season under his belt since reconstructive knee surgery, Brady is a lock to at least duplicate his 2009 totals.

17. Larry Fitzgerald, WR, CardinalsOne of the top wide receivers in fantasy football, Fitzgerald is almost certain to come off the board in the second round in drafts. He's been ultra-consistent, productive and even avoided the dreaded Madden curse. Of course, Fitzgerald will lose a bit of his luster with Matt Leinart under center.

18. Rashard Mendenhall, RB, SteelersMendenhall turned into one of last season's best draft values, emerging past incumbent starter Willie Parker and finishing with career bests across the board. Now cemented into the top spot on the Steelers depth chart, Mendenhall is well worth a second-round pick as a high-end No. 2 fantasy runner.

19. Ryan Grant, RB, PackersGrant is coming off his best fantasy season at the NFL level, rushing for career bests in yards and touchdowns in the Packers' explosive offense. While this team will remain a pass-laden one with Rodgers under center, Grant still sees more than enough opportunities to score points for fantasy owners.

20. Randy Moss, WR, Patriots
Moss certainly wasn't as consistent as fantasy owners would have liked in 2009, but he still finished with the second-most points at his position on NFL.com. A touchdown machine, Moss should still have one more good fantasy campaign in the tank even as he closes in on his 13th NFL season.

21. Reggie Wayne, WR, ColtsIn his first full season without Marvin Harrison, Wayne finished sixth in fantasy points among wide receivers on NFL.com. While he did have his share of down weeks, the veteran still posted 1,264 yards and found the end zone 10 times. Wayne remains a No. 1 fantasy wideout in all formats.

22. DeSean Jackson, WR, EaglesJackson has become one of the elite playmakers in the NFL. While he loses some luster in PPR leagues, Jackson is the top threat in the Eagles' prolific pass attack and has added value in leagues that reward players for return yards and touchdowns. He's quickly moved up to elite fantasy status.

23. Philip Rivers, QB, ChargersWith LaDainian Tomlinson gone, the Chargers will continue to evolve into a pass-laden football team in 2010. The leader of the offense is now Rivers, who has done his best Dan Fouts impersonation with 4,000-plus passing yards in consecutive seasons. He'll be a fantasy asset for years to come.

24. Matt Schaub, QB, Texans
Schaub, a 2009 preseason breakout candidate on NFL.com, finally reached his statistical potential with 4,770 passing yards and 29 touchdowns. While his pior injury history will still be in the backs of the minds of fantasy owners, Schaub has become a viable early-round selection.

25. Miles Austin, WR, Cowboys
If I had told you that Austin would put up more fantasy points than Fitzgerald and Calvin Johnson back in the preseason, well, I would have been looked at like a madman. But it did happen, and Austin has now become a very valuable asset in fantasy land. Look for his success to continue in 2010.

26. Roddy White, WR, FalconsWhile he did have his share of down weeks from a statistical perspective, White still finished the 2009 season with 85 receptions, 1,153 yards and a career-best 11 touchdown catches. He'll remain the top option in the pass attack for Matt Ryan and is a solid No. 1 fantasy receiver in all formats.

27. Brandon Marshall, WR, BroncosDespite the fact that he started just 13 games, Marshall still put up his third consecutive season with 100-plus receptions and 1,100-plus yards. He also scored a career-best 10 touchdowns, and that was with Kyle Orton under center. If he can avoid off-field trouble, Marshall can be a fantasy superstar.

28. Vincent Jackson, WR, ChargersJackson wasn't the most consistent wide receiver in fantasy football this past season, but he still produced career bests in most categories. The 6-foot-5, 230-pound veteran has become a prominent option in the Chargers' pass attack and is well worth a third-round pick in most fantasy leagues.

29. Knowshon Moreno, RB, BroncosMoreno showed flashes of brilliance in his rookie season, finishing 53 rushing yards shy of the 1,000-yard mark. Despite the fact that he'll lose carries to veteran Correll Buckhalter in the backfield, Moreno should still produce improved numbers. He also has a very favorable schedule next season.

30. Calvin Johnson, WR, Lions
There wasn't a bigger disappointment at wide receiver than Johnson, who cost fantasy owners an early-round pick but finished out of the top 20 in points at his position. Still, "Megatron" is too talented not to rebound and have a big season. Look for his rapport with Matthew Stafford to improve.

31. Sidney Rice, WR, VikingsLike so many wideouts before him, Rice broke out in his third NFL season with career bests in receptions, yards and touchdowns. He thrived with Brett Favre under center, becoming a stable fantasy starter in all formats. If Favre decides to retire, though, Rice's stock will fall across the board.

32. LeSean McCoy, RB, Eagles
The release of Brian Westbrook opens the door for McCoy to take over the top spot on the Eagles depth chart. He still needs to work on his pass protection and won't be a true featured back in 2010, but McCoy's versatile skill set and upside make him worth a late second-round pick for fantasy leaguers.

32. Joseph Addai, RB, Colts
Addai didn't rush for 1,000 yards and failed to average at least four yards per carry, but he still finished in the top 10 in fantasy points among NFL.com running backs on the strength of his 13 total touchdowns. Donald Brown remains in the mix, however, so Addai is no more than a No. 2 fantasy back.

33. Marques Colston, WR, Saints
Colston, the ultimate fantasy sleeper in his rookie season, put up very good numbers across the board in 2009. If it weren't for the improving cast of offensive weapons around him, not to mention Brees' tendency to spread the ball around, Colston would be listed even higher in this initial mock draft.

34. Steve Smith, WR, GiantsYou might not be shocked that Steve Smith made the top three rounds of this first mock draft for 2010. But it's not the one we're used to being listed from Carolina. The Big Apple's version put up his best season at the NFL level in 2009 and is now the No. 1 option in the Giants' improved pass attack.

35. Ronnie Brown, RB, Dolphins
Brown was on pace for a productive season in 2009, but an injured foot cost him the final seven weeks and any chance at emerging into a No. 1 fantasy back. The fact that he's suffered injuries in two of the past three years, not to mention the presence of Ricky Williams, makes Brown a risk-reward pick.

36. Beanie Wells, RB, Cardinals
Wells really turned it on at the end of his rookie season, and the offseason retirement of Kurt Warner could mean more carries in 2010. He won't develop into a featured back with Tim Hightower in the backfield rotation, however, so Wells' statistical upside is a bit limited despite his obvious talent.

Michael Fabiano is an award-winning fantasy football analyst on NFL.com. Have a burning question for Michael on anything fantasy football related? Leave it in our comments section or send it to AskFabiano@nfl.com!