**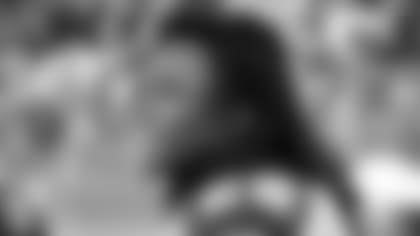 Chris Johnson is hoping the presence of Randy Moss will help open up the run game.
NASHVILLE, Tenn. -**  Chris Johnson isn't close to being on pace for his stated goal of 2,500 yards rushing this season nor the 2,000 yards he had last season.
The Tennessee running back, hampered by a sore thigh the past month, said he's really not focused on that 2,500-yard goal right now. He's still the NFL's fifth-leading rusher with 721 yards, which hasn't been easy with opponents worried about stopping him at all costs.
"We're 5-3 and winning,'' Johnson said. "We're not having a losing season. I can't really come in here very frustrated. I know we could be way better than we are in the run game. I know we still have time to fix this. Hopefully, by the end of the year, we'll be OK.''
Now Johnson has had a bye week to rest up his sore thigh, and he also will have new addition Randy Moss on the field when the Titans visit Miami (4-4) on Sunday.
Johnson believes Moss will help, seeing the receiver as the playmaker to help him find more room to run.
"I know for a fact they can't put all those guys in the box with that guy out there,'' Johnson said.
Coach Jeff Fisher is a bit more reserved on how much adding the receiver with 153 career touchdown receptions helps the run game.
"That remains to be seen. If you're going to get some rotation to Randy, then they eliminate the unblocked defender in the box and that certainly helps,'' Fisher said.
Johnson and the Titans' run game pales when compared to last year. The Titans rank 10th in the NFL, averaging 123 yards. It's a big drop from second a year ago when Johnson ran for 2,006 yards as just the sixth man in NFL history to reach that mark.
His preseason boast that he still wanted to top Eric Dickerson's league rushing mark of 2,105 yards and run to 2,500 simply made him an even bigger target.
Johnson has reeled off nice runs but nothing like 2009 when he was The Associated Press NFL Offensive Player of the Year. That's when he became the first player in league history to score three touchdowns of 85 yards or longer in a career, and he did it all in a single season.
His longest TD run this season was a 76-yarder in the opener against Oakland. An 85-yarder in a loss to Pittsburgh in Week 2 was erased by a holding penalty. Since then, Johnson hasn't run for longer than 42 yards, not with defenses stacked up to stop him. He hasn't run for more than 66 yards in the past two games.
His longest run in the last game, a 33-25 loss at San Diego, came when Johnson ran to his right and found a wall of defenders. He ran all the way back across the field and up the sideline 29 yards for a TD.
Tennessee had been trying to give defenses other players to think about and take advantage of the one-on-one coverage of their receivers. Kenny Britt had a career day with 225 yards receiving on Oct. 24 against Philadelphia, and Nate Washington had his best day as a pro with 117 yards in San Diego.
Then Minnesota waived Moss, the 6-foot-4 receiver who ranks fifth with 14,778 yards receiving, and only Hall of Fame receiver Jerry Rice has more TD catches (197). The Titans, the only NFL team to put in a claim, won him off waivers in a move Fisher says was no risk at all.
The Titans, tied with Indianapolis atop the AFC South, agree.
"It should definitely help our offense, especially in the running game, being able to take away some extra guys in the box from C.J.,'' left tackle Michael Roos said.
How much remains to be seen. Moss joins the NFL's highest-scoring offense with the Titans averaging 28 points. Moss won't be on the field for 60 or 70 plays per game, especially not early as he learns the offense. Fisher said it wouldn't be fair to put Moss out on third down when offensive coordinator Mike Heimerdinger can call anything from the playbook.
Still, the Titans installed Moss immediately as a starter opposite Nate Washington while Britt heals from a right hamstring injury that will keep him out at least against Miami. That should only help with the Dolphins ranked 16th against the run, giving up an average of 107.1 yards.
With eight games left, Fisher is expecting at least a couple long TD runs out of Johnson this season.
"He's running really well,'' Fisher said.