**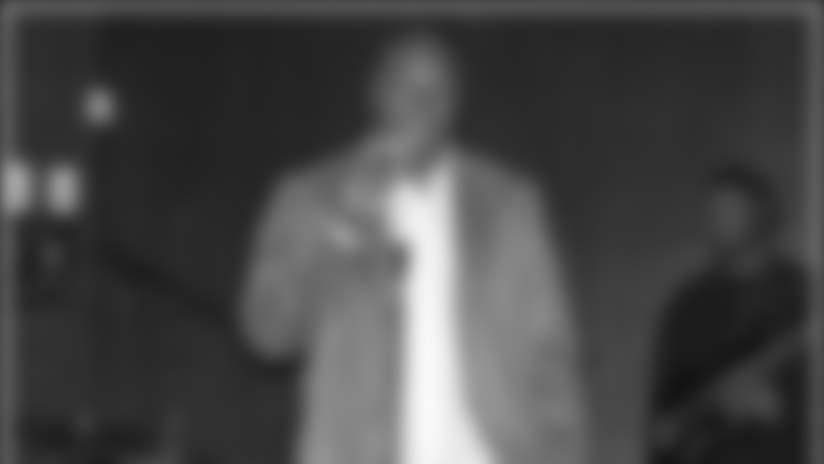 Bulluck addresses the sold-out crowd at his fundraiser Monday night at Sambuca Restaurant in Nashville.

NASHVILLE, TN, Oct. 21, 2008 —** Titans linebacker Keith Bulluck realizes the unique position he is in to touch the lives of children in the foster care system. As an NFL player, he is constantly searching for ways to help benefit a system he was raised in as a child growing up in the state of New York.
Monday night he hosted his 3rd Annual Wine Tasting Event, "In Vino veritas," at Sambuca Restaurant in Nashville. It was Bulluck's latest venture in raising money for his Believe & Achieve Foundation.
The successful, sold-out event was organized and co-hosted by Stacie Standifer and Nashville Lifestyles Magazine. The evening included a variety of wines provided by Lipman, appetizers, a special performance by Laura Vida and an exclusive silent auction that raised additional money for Bulluck's foundation.

A silent auction raised money for the Believe & Achieve Foundation, which raises awareness for foster care.

Bulluck said he continues to do this fundraiser since all of his other events are geared towards children.
"I think this event brings awareness to my Believe & Achieve Foundation, foster kids and foster care, but it also educates the younger guys about the good things about wine, the different wineries, and takes us somewhere where we normally wouldn't go on our own," Bulluck said.
A two-time winner of the Titans' Community Man of the Year award, Bulluck will give away turkey dinners for foster care families next month and offer Christmas presents for foster care children in December.

Bulluck pictured with Jay DeMarcus (Rascal Flatts) and Allison DeMarcus (CMT Insider).

"I started my foundation early in my NFL career and the kids actually look forward to the different things that I do to take them away from the every day things that are going on in their lives," he said. "I like being able to do that, especially since I am able to. An event like tonight is also fun for me and my teammates."
Bulluck's teammates came out in huge support. Among those in attendance were Vince Young, LenDale White, Chris Johnson, Cortland Finnegan, Jevon Kearse, Albert Haynesworth, Kyle Vanden Bosch, Michael Griffin, David Thornton, Brandon Jones, Alge Crumpler, Ahmard Hall, Stephen Tulloch, Ryan Fowler, Vincent Fuller, Chris Carr, Donnie Nickey, Josh Stamer and Colin Allred.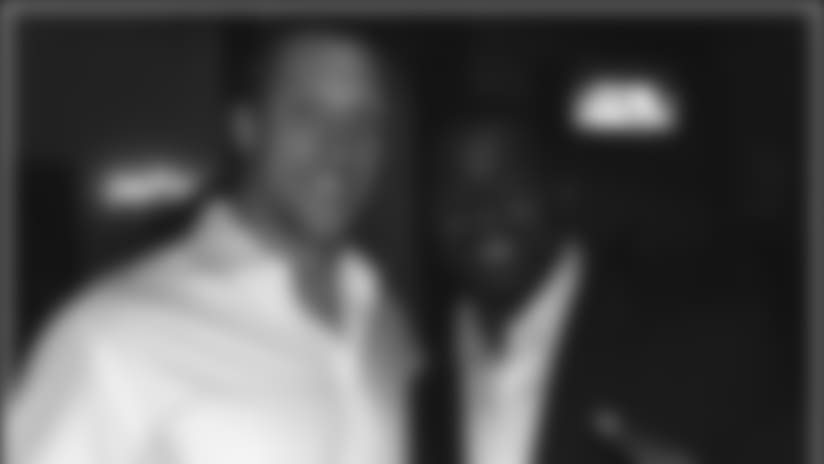 LB Josh Stamer and FB Ahmard Hall take in the event.


In addition, former Titans QB Steve McNair offered his show of support, along with actor James Marsden (X-Men, The Notebook, Hairspray, 27 Dresses) and country artists Keith Anderson, Jay DeMarcus (Rascal Flatts) and Richard Sterben (Oak Ridge Boys).
"When Keith put the word out about this fundraising event for his foundation, the guys responded and wanted to be here to support him," linebacker David Thornton said. "Keith has a very personal experience having gone through the foster care system and a lot of his efforts show his passion towards those kids. It's great to see him do things and give back in a major way."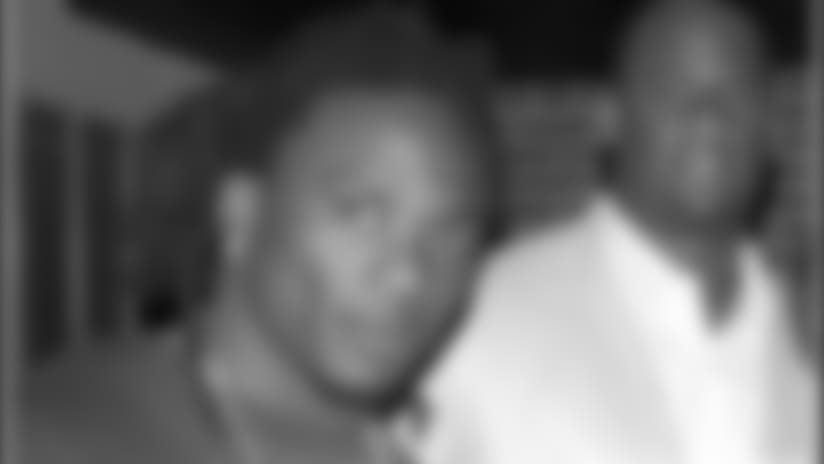 RB Chris Johnson (left) and Vince Young at the event.

It's all about teammates supporting each other, said quarterback Vince Young, who looks up to Bulluck, both on and off the field.
"He always supports me and I always want to be there to support him," Young said. "I'm definitely a big fan of some of the things he's doing in the community. Being around Keith these last couple of years has been great for me. I'm going to continue being his little brother, being underneath his wing, just learning what to do and what not to do."
After receiving great support from his teammates at his own charity event last spring, cornerback Cortland Finnegan was more than happy to return the favor.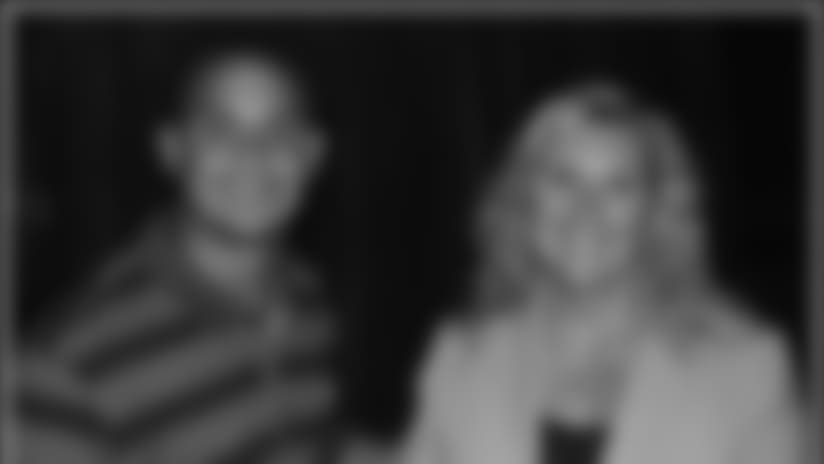 CB Cortland Finnegan smiles with a fan at the event.

"Absolutely. Any time you can give back and have your team involved in it, along with having a chance to hang out and have a good time, it's definitely a blessing," Finnegan said. "That's how we do it. It's give and take and it's nice whenever your teammates can come out in support of your event when you ask them. They're very willing to do something like this with a chance to give back to the community. Any time you can help any kid out, to see them grow up and have a good life, it's a beautiful thing and this is what Keith's charity is all about."
About the Keith Bulluck Believe & Achieve Foundation:
In the spring of 2003, Keith Bulluck founded The Keith Bulluck Believe & Achieve Foundation in effort to give back to a community he knows well. Specifically, he focused his time in the off-season and philanthropic efforts to benefit children in the foster care system.  As a former foster child himself, Bulluck has overcome many obstacles in his life to become a hero in the eyes of children as well as adults. Bulluck's purpose in establishing his foundation is to "level the playing field" for children in foster care by giving them the same privileges and opportunities as those in more fortunate circumstances.  Bulluck is accomplishing this through programs that provide educational and financial assistance to participants.  Bulluck, through his foundation, raises thousands of dollars on an annual basis to benefit children in foster care as well as underprivileged children.