**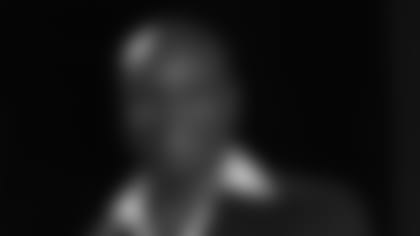 Titans LB Keith Bulluck is the 2009 winner of the Nashville Community Spirit Award.
NASHVILLE, Tenn. –** A two-time winner of the Titans Community Man of the Year, Keith Bulluck said he was greatly honored to receive the Nashville Community Spirit Award Tuesday night at the O'Charley's Dinner of Champions.
"It means a lot to me," the Titans linebacker said. "This is where you're recognized by the whole community, the city of Nashville and Middle Tennessee. I accept this with even greater honor because it's being looked at by people that are actually in the community and help build this city up on a daily basis."
Bulluck, named the Titans Community Man of the Year in 2006 and 2007 for his extensive charitable endeavors — particularly his efforts in foster care awareness — said he first got into charity work after seeing the impact former teammates like Eddie George, Steve McNair and Kevin Carter made in the community.
"Those were the first guys that really introduced me to actually doing work in the community," Bulluck said. "Watching what Steve (McNair) did when Katrina came, it's one of those things that I've always wanted to do and I think I'll continue to do it."
Bulluck's passionate play is, in part, a reflection of his inspirational story. He was taken in at the age of 12 by Linda Welch, a single, white mother living outside of New York. The stay, which was supposed to last three weeks to help out his mother, turned into six years, and Welch and her family provided the support he needed to excel at Clarkstown (New City, N.Y.) High School and earn a scholarship to Syracuse University.
In an effort to give back to the community and extend his hand to children with similar backgrounds, in May 2003 he started the Keith Bulluck Believe and Achieve Foundation, Inc. (www.believeandachieve.org), which works with Middle Tennessee and New York foster care groups.
He has raised money for the foundation through various fundraising efforts, including his annual Wine and Roses Wine Tasting Event and Silent Auction he started in 2006. Through the foundation, Bulluck donates tickets for every Titans home game, throws Halloween and Christmas parties, and donates backpacks and school supplies to area foster children. Bulluck also annually gives away Thanksgiving turkeys to foster families.
The list is even longer, but Bulluck's goal is simply to raise foster care and adoption awareness and help children with whom he can relate succeed in accomplishing their dreams.
"It's something I started and it's almost like when you start something, people look forward to the things that you do such as the turkey drive or the book bag giveaway," Bulluck said. "It makes me feel good to do those things. It takes me out of my work, which is football, and puts me in another light, and I think that's always fun."