**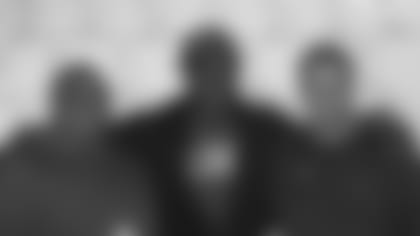 Keith Bulluck pictured with Dantriel Williams (left) of the Boys & Girls Club and David Graben of Soles4Souls.
NASHVILLE, Tenn. —** On Tuesday, Titans 2006 and 2007 Community Man of the Year Keith Bulluck continued his dedication to the underprivileged by making a stop at Nashville's Preston Taylor Boys & Girls Club/YMCA, delivering words of encouragement, inspiration, smiles and shoes.
Through his Believe and Achieve Foundation, Bulluck partnered with the shoe charity Soles4Souls, to provide 50 of the center's youth with free shoes: much to delight of the children and parents. Earlier this year during training camp, Bulluck invited the same 50 children to training camp as his special guests where they were able to watch practice, meet Bulluck and his teammates and get book bags and school supplies for the upcoming school year. Bulluck has plans to take this same group on a bowling outing for their dedication to making the right choices and doing good in school.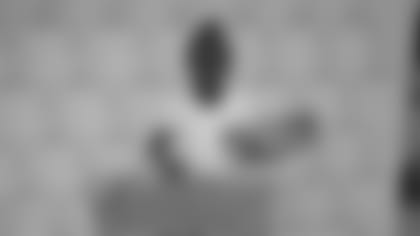 Children were all smiles following Bulluck's visit.
"I was a kid like they were running around in similar after-school programs and for me to give back to a cause that I am familiar with I think is very important and something fun to do on my day off," said Bulluck. "Some of these kids don't have guidance and don't get to see real role models, so it's good for us to get out in the community, get to know these kids as well as let them get to know us."
ABOUT BELIEVE AND ACHIEVE
The Keith Bulluck Believe & Achieve Foundation Inc., was established in May 2003 and received its letter of recognition as a tax-exempt 501 (c) 3 non-profit organization from Tennessee and New York one year later. Children are often placed in foster care due to no fault of their own. Many children placed in the foster care system are victims of abuse, neglect and other harms. The Believe & Achieve Foundation provides support, encouragement, and stability to children throughout the time that they are in the foster care system. In addition through The Alma's Door Program, Believe & Achieve will continually help those children who are about to age out of the system preparing them for life. We promote the concept that you must believe in yourself in order to achieve your goals. For more information, please visit www.keithbulluckfanclub.com
ABOUT PRESTON TAYLOR BOYS & GIRLS CLUB YMCA
In 2002, the Boys & Girls Club of Middle Tennessee and the YMCA of Middle Tennesseeopened a collaborative project serving at –risk youth.A partnership between the YMCA, Boys & Girls Clubs, Metro Schools and MDHA was formed to serve theHistoric Preston Taylor Homes and surrounding areas with programs for youth in grades K – 12. The Preston TaylorBoys and Girls Club/YMCAhas served over 1000 youth and teensover the past 7 years.Programming includes: education, sports/fitness, fine arts, leadership/character development, and wellness. www.ymcamidtn.org
Nashville-based Soles4Souls™ facilitates the donations of both new and used shoes, which are used to aid the hurting worldwide. Since its inception, Soles4Souls has distributed more than 5.5 million pairs (or one pair every 9 seconds) to people in more than 60 countries, including Honduras, Romania, Thailand, and the Sudan. The charity has been featured on CNN Headline News, NBC Nightly News with Brian Williams, ABC News, FOX, CBS, and hundreds of regional outlets around North America. Soles4Souls is a 501(c)(3) recognized by the IRS; donating parties are eligible for tax advantages. Visit www.giveshoes.org for more information.