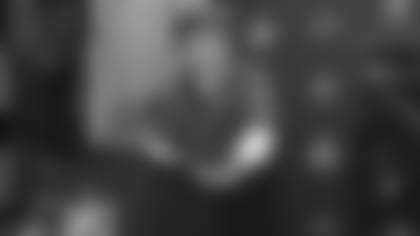 INDIANAPOLIS – Buccaneers general manager Jason Licht has spent his career evaluating players.
But in his mind, one of his best scouting jobs came when he discovered Titans GM Jon Robinson.
"I like to put a feather in my cap that I recognized it 13 years ago when I met him for the first time at Nicholls State,'' Licht said on Wednesday from the NFL Combine. "I got on the phone after my visit there – it was a scouting trip – and called (then Patriots vice president of player personnel) Scott Pioli and said, "We need to hire this guy as a scout. I like to say I saw it early with him. It was probably one of my most successful scouting trips."
Robinson, who's on his first trip to the NFL Combine as general manager, joined the Titans last month after spending the past two seasons as director of player personnel with the Tampa Bay Buccaneers, where he worked alongside Licht for the second time in his career.
Prior to that, Robinson worked as New England's director of college scouting (2009-13) after serving as a regional scout and an area scout for the Patriots, starting in 2002. Licht worked with the Patriots five seasons (2001-05), including four seasons with Robinson.
"I think he'll do outstanding. He is a very intelligent guy. He is a really good evaluator,'' said Licht, who took over as GM of the Bucs in 2014. "Now, he just has to learn how to delegate, and learn to trust the people around him, and realize you can't do everything. He has to set it and make sure he has a good staff around him, which he may have.
"When you are young and you get a general manager job, the common mistake is you think you can watch every player and make every decision on your own but you can't. You have to use all the resources around you and have a great staff."
Robinson complimented Licht for his influence on him while in Tampa Bay.
"Yeah, Jason kind of got me into scouting, I guess 14 or 15 years ago. He kind of peeled back the GM curtain if you will in Tampa there," Robinson said. "I was exposed to the daily operations of what it took to run the team there in Tampa. He talked about delegating authority and empowering people to do their jobs, holding them accountable to do their jobs. That's kind of the approach I'm going to take in Tennessee as well. Hire good people and put them in position where they can do what they're supposed to do. Demand that they do what they're supposed to do and rely on those guys."
So how did Licht know Robinson would be a good evaluator himself?
Robinson was an assistant coach at Nicholls State when he was discovered by Licht, who was on a scouting trip at the school.
"He just has a great disposition, and he's intelligent,'' Licht said of Robinson. "I actually went in there and there was a player I was supposed to look at, and the minute I walked in the door he said, "This player is no good. He is not tough enough.
"He just understands the makeup of the player and what it takes. Because 90 percent of the busts in the NFL, it happens because of the neck up, and he understands that about players."
Titans head coach Mike Mularkey and GM Jon Robinson make media rounds at the 2016 NFL Scouting Combine in Indianapolis. (Photos: Gary Glenn, Dwight Spradlin)