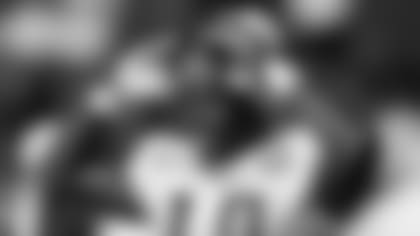 Second-year wide receiver says he's now focused and ready for the start of the regular season.

NASHVILLE, Tenn. - When Tennessee coach Jeff Fisher told Kenny Britt that he could be hurting the team, the Titans wide receiver said it shot right through him.
Now Britt says he's focused on work and his personal life won't distract him anymore.
Britt dropped two passes and was flagged for a false start in the Titans' final preseason game, prompting Fisher to bench him. They talked briefly after the game with the coach asking him where his head was and the need for him to clear things up before Sunday's season opener with the Oakland Raiders.
Otherwise, he would be benched to avoid jeopardizing the team.
Britt said Wednesday after practice that the words "just shot me.''
"I realized right then and there, 'Yeah, this could really hurt the team, me not being focused out there.' That hurt me. That one game I'm out there and making a fool of myself like I never caught a football a day in my life. Coming in this morning, I was straight focused and straight work.''
Britt is talented enough the Titans made the ten 20-year-old the first player ever drafted from Rutgers in the first round. He turns 22 on Sept. 19 and at 6-foot-3 and 215 pound, possibly the best receiver Tennessee has had in years. The Titans expect him to be even better after leading the team with 701 yards receiving.
"You look at his size and strength and his speed and you think of a younger Terrell Owens in my opinion,'' Titans safety Vincent Fuller said. "He can be as good as he wants to be. The sky's the limit for him.''
Britt played in all 16 games as a rookie with six starts. Among all rookies, he ranked seventh in the NFL and third in the AFC with 42 catches and fifth with his 701 yards receiving. Overall, he ranked eighth in the NFL averaging 16.7 yards per catch.
His biggest highlight? A touchdown catch in the back of the end zone as time expired to beat Arizona 20-17. He had a career-best seven catches for 128 yards that day, including a 51-yard catch in the fourth quarter.
Oakland coach Tom Cable called Britt a good player who had a fine rookie season.
"We certainly did look at him. We're very aware of who he is and knew him coming out of college for sure,'' Cable said.
But Britt had some issues this offseason. He was arrested in January when police found three outstanding traffic warrants from two different New Jersey towns. Britt paid $865 and was released. He was all taped up to hit the field in April when coaches held him out, worried he hadn't worked hard enough to avoid a muscle pull.
During training camp, Britt was late for curfew after being ticketed for driving without a license due to confusion over his misplaced license. Britt said he knows he was up and down this preseason.
Veteran receiver Justin Gage said both he and Nate Washington talk to Britt, reminding him how much they need him and trying to keep him positive.
"It's extremely tough for anybody just coming from college into the NFL. You get more money, then the game becomes more of a business. Everybody's detailed to their position, and you have to learn fast and the game moves a lot faster. ... He's still 21 years old. ... At the same time, we have to teach him this is a business,'' Gage said.
Britt's son, Aiden, turned 1 on Tuesday back in New Jersey, and the receiver said safety Michael Griffin has been helping him deal with the challenge of having a child in another state. But the receiver also is dealing with distractions from media and people online to even friends and family.
"I've got a lot to prove to the guys in the room and people back home, state of Tennessee period. All the fans going out there and watching is I just want to perform for them,'' he said.
Fisher not only warned Britt he risked being benched but shared that with reporters. The coach also said they are working with Britt to help him focus better and not dwell on bad plays during a game.
"He finished up strong for us at the end of last year. We just need to create an environment where he can just continue to improve,'' Fisher said.
NOTES: LB Will Witherspoon was excused for personal reasons, and Fisher said he hopes he's back by Sunday. DT Tony Brown (right knee) and offensive tackle Mike Otto (right knee) did not practice. DE Jacob Ford (back) was limited. LB Colin Allred, expected to start Sunday, was limited by an ankle. But Gage (right thumb) practiced fully along with LG Leroy Harris (ankle).