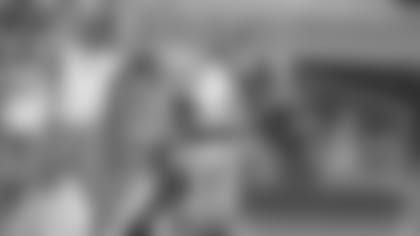 Kenny Britt had the fifth-best game by a wide receiver in franchise history, tying his career-high with seven receptions for a career-high 225 yards and three touchdowns.
NASHVILLE, Tenn. --** When Tennessee Titans coaches asked Kenny Britt if he was ready to enter the game in the second quarter, he said, "Well, uh, yeah."

Philadelphia defenders were much less ready for Britt, who caught seven passes for career highs of 225 yards and three touchdowns. Britt scored on pass plays of 26 (his first catch of the day), 80 and 16 yards (his last catch of the day) in leading the Titans to a 37-19 defeat of the Eagles Sunday at LP Field.

The 80-yarder ignited a sell-out crowd and sparked the Titans (5-2), who scored 27 unanswered points in the fourth quarter. Britt streaked down the sideline, saw the ball's flight had been altered when the arm of quarterback Kerry Collins was hit and reacted the best possible way. Collins, who played in place of Vince Young (knee and ankle sprains) flung the ball from the Tennessee 20-yard-line. Britt snagged it at the Philadelphia 38, the defender fell down, and the receiver had an easy sprint.

The play took 13 seconds and occurred on Tennessee's first snap after Philadelphia (4-3) had taken a 19-10 lead with 13:26 left in the game. Philadelphia had a net gain of just 14 yards and no first downs the rest of the way.

"It was fascinating," Titans cornerback Cortland Finnegan said. "It was something that we knew could happen all along because he's such a monster. He really took flight today."

Titans coach Jeff Fisher did not play Britt in the first quarter due to Britt's alleged role in an altercation at a night club in downtown Nashville early Friday.

"My teammates needed me and they counted on me, and that's one of the things that was going through my head," Britt said. "I was still out there focusing, still out there taking mental notes and still preparing as if I was the starter. I really didn't know when I was going in at all."

Fisher said he did not start Britt because the Titans' first-round pick in the 2009 NFL Draft missed Friday's practice and said he will continue to gather information.

Britt, 22, is the youngest player on Tennessee's roster. Collins, 37, is the oldest. The second-year pro and 16-year veteran found gaps in Philadelphia's defense with a variety of pass routes. Collins completed 17 of 31 passes for 276 yards, including the three touchdowns, and threw two interceptions.

"There is not much better that I've played with," Collins said. "He is big, physical. He can run. He is going to do everything he can to get the ball. He is aggressive going after it. The guy loves to play. As a quarterback, it is nice to know that a guy like that is on your team because, like I said, there were some throws that weren't exactly perfect, but the guy did whatever he had to do to get the ball."

Britt said openings for the passing game were created by the attention that Philadelphia placed on Titans running back Chris Johnson, who had 66 yards on 24 carries.

"They kept on giving us those one-on-one looks, and we know we've got great receivers," Britt said. "We know we've got a quarterback that can throw the ball down the field. They kept on putting people on the backs and leaving our receivers one-on-one, and we just threw the ball down the field."

Titans rookie receiver Damian Williams, who caught three passes for 25 yards in his first career start, said Tennessee would have been glad to get the spark from anywhere.

"The situation that we were in today, it could have been a fullback, it could have been a tight end, it could have been a lineman, for all we care," Williams said. "Somebody had to make a play."

Britt caught at least one touchdown for the fifth straight week, becoming the third player in Oilers/Titans franchise history to do so. Bill Groman (eight in a row in 1961) and Chris Sanders (five in a row in 1995) are the other two players.

"He has a long career ahead of him, and I'm just excited he's on my team," tight end Bo Scaife said of Britt. "Teams will have to start keying on him, and that's going to open up more things for CJ and our receivers."

Fumble recovery helps Titans recover

While Titans players said the plays made by Britt were huge, the game pivoted on a Philadelphia fumble when the Eagles were three yards from the end zone and attempting to add to their 16-7 lead.

"It really came down to where, when you have an opportunity to really put a hammer on things, you have a turnover at the three-yard-line," Eagles coach Andy Reid said.

Jason Jones was credited with forcing the fumble that was recovered by Titans rookie cornerback Alterraun Verner. The 5-foot-10, 187-pound Verner smothered the ball and was quickly covered by Eagles players trying to get it from him.

"I don't think I'm winning too many fights out there if I have to fight for the ball, to be honest," Verner said. "I jumped on it and I know they were trying to rip it away from me, so I was holding on for dear life. I knew that if I let it go it would be all done, so I was fortunate enough to have a little bit of strength to keep the ball in there."

The Titans were able to get one of three field goals by Rob Bironas on their next possession.

"It felt great," Scaife said. "When the defense got that fumble, we went down there and capitalized on it. Toward the end of the game they kind of got worn down a little bit. That's when we started to do our thing, and Kerry and the offensive line did a great job at the end of the game."

Fullback Ahmard Hall said the fumble recovery swung the momentum of the game, but the win was the result of the Titans not quitting.

"This team has no quit in it," Hall said. "This team is a fourth-quarter team. We're going to fight until the clock says zero. We're never going to quit."

Griffin grabs another interception

Titans safety Michael Griffin intercepted a pass for the fourth time in as many games, becoming the seventh player in franchise history with such a streak.

Griffin picked off a deep pass down the middle of the field by Philadelphia's Kevin Kolb at the Tennessee 27-yard line and returned it 28 yards, setting up the Titans' first touchdown drive. Griffin's four interceptions lead the Titans this season.

"Sometimes quarterbacks get under pressure where they feel like they have to make the play," Griffin said. "Philadelphia is a great football team, very explosive. You know they're going to be contenders in the NFC. It was a great football team, but we just managed to pull things out and we all stuck together and managed to get the win."

Finnegan capped the game by recording his first interception of the season and returned it 41 yards for a touchdown.

"It was my first interception and I wasn't going down," Finnegan said. "I was trying to get home, and home was the end zone. … We just weathered the storm. That was a good football team we played against. You had to go back on the field and take their best punch."

Win streak against NFC teams

The Titans won their 12th straight against an opponent from the NFC. The streak, which began in 2007, is a franchise record and the longest current run in the NFL.