Stops include Centerville, Columbia, Lawrenceburg, Pulaski and Lewisburg; Chris Sanders to join final two stops of day
**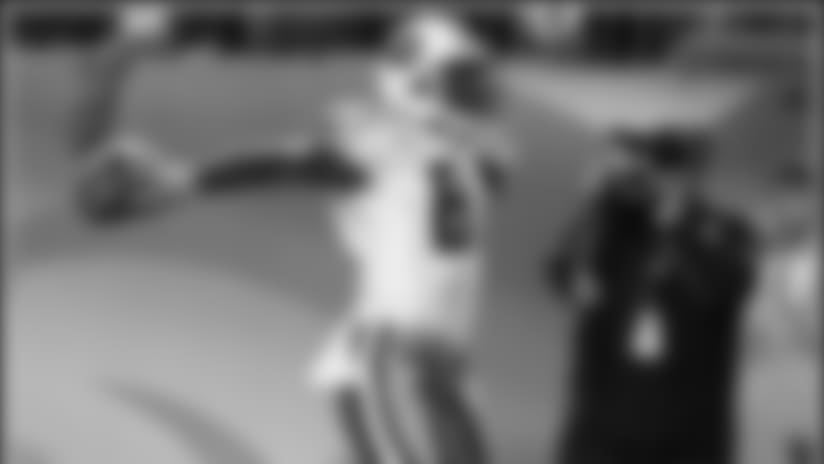 Brandon Jones headlines Thursday's Caravan schedule.

NASHVILLE, TN, April 17, 2008 –** Wide receiver Brandon Jones has been selected to lead Titans Caravan 2008 into Middle Tennessee on Thursday, April 17, as the team continues its annual goodwill tour of the region. Jones will make appearances in Centerville, Columbia and Lawrenceburg before being joined by former Titans wide receiver Chris Sanders at stops in Pulaski and Lewisburg.
Along with six-time Pro Bowl mascot T-Rac and the "Voice of the Titans" Mike Keith, Jones will kick off the day with a 9:15 a.m. stop at East Hickman Elementary School in Centerville. The Caravan will make another stop for students at New Prospect Elementary School in Lawrenceburg at 1 p.m. All school stops during Titans Caravan are closed to the general public.
The school program, which will be performed a total of 16 times before an estimated 14,000 children on this year's Caravan, will emphasize the need to stay healthy by exercising. Through the "Play 60" program, the Titans and the NFL will campaign throughout the 2008 season to get kids to spend at least 60 minutes each day in active play or exercise. The crucial message will be delivered in hopes of making the current youth the most active and healthy generation ever.
The first public stop of the day will take place at First Farmers & Merchants Bank in Columbia (816 South Garden Street) at 11 a.m. Later in the day, Sanders joins the rest of the crew for public appearances at Holley's Printing in Pulaski (955 West College Street) at 3 p.m. and Kroger in Lewisburg (301 South Ellington Parkway) at 5:15 p.m.
At each of the public stops, fans will have an opportunity to meet members of the Caravan and get autographs and photos. Each public stop is free, open to the public and will last approximately one hour.
Jones, who is entering his fourth NFL season, has recorded 71 receptions for 931 yards and eight touchdowns in 35 career games. In 2007, the former third-round draft choice from Oklahoma recorded 21 receptions for 248 yards and a pair of touchdowns prior to being placed on injured reserve with a groin injury. He arguably had his biggest performances of the year on Monday Night Football, scoring a touchdown in each of his Monday night appearances.
Sanders, the club's 10th-ranked player in career receiving yards, spent eight seasons in the NFL after being selected in the third round of the 1995 NFL Draft. His career totals, all with the Titans, included 177 receptions for 3,285 yards and 17 touchdowns. Additionally, he was one of the team's young leaders during its transition from Houston to Nashville, and he gained a level of popularity with Titans fans that has translated today to his frequent appearances on Nashville TV and radio as an analyst.
This year a special element will be added to the standard Caravan festivities. In addition to using the effort as a way to thank the team's fans throughout the Mid-South, this year's Caravan has added Sanders and other former players to celebrate the launch of the club's 10th season as the Titans. In 1999, the team moved into LP Field and changed its name to the Tennessee Titans. The season provided moments that included the "Music City Miracle" and ended with an improbable run to Super Bowl XXXIV.
Titans Caravan 2008 will make a total of 50 stops over a span of 11 travel days. During the last decade, the Caravan has totaled over 530 stops, traveled approximately 45,000 miles, visited nearly 200 schools and shaken hands with over 100,000 fans. The number of autographs signed and pictures taken is estimated to be in the hundreds of thousands.
Titans Caravan began in 1998 as a small effort to spread goodwill through the region. The current Caravan includes six full-time staffers that travel with Titans players, broadcasters and T-Rac throughout the Mid-South on a specially-decorated motor coach from Premiere Transportation.