**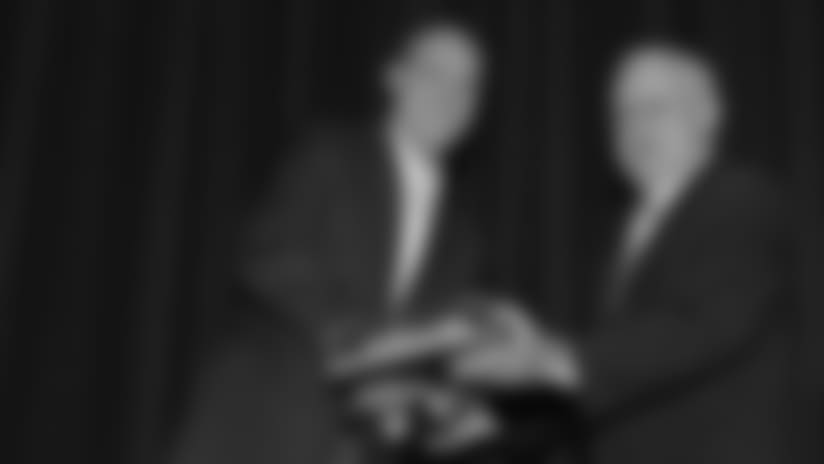 Titans kicker Rob Bironas accepts the "Arts Education Award" at the 2nd annual Bowtie Awards.
NASHVILLE, Tenn. –** Titans kicker Rob Bironas won the Arts and Business Council of Greater Nashville "Arts Education Award" at the second annual Bowtie Awards this week. This was one of four prestigious awards given at the luncheon.
The Arts and Business Council's annual Bowtie Awards luncheon is an opportunity to recognize the businesses that lend their support to the Nashville arts community. Bironas was recognized for his creation and continued involvement in The Rob Bironas Fund and the Fund's involvement in the Nashville Symphony's budding Music Mobile program.
The Rob Bironas Fund, which was created in 2008 by Bironas, is a component fund of the Community Foundation of Middle Tennessee and works to unite the children of Music City with the rich musical opportunities that only Nashville can offer. Dedicated to enriching the community, the fund finances the tools, education and leadership necessary to help children
achieve scholastic excellence through music education.
Most recently, Bironas presented a $20,000 gift from the Community Foundation via The Rob Bironas Fund to kick off the Nashville Symphony's new Music Mobile project. The Music Mobile is a rolling music activity center featuring an "Instrument Petting Zoo" filled with classical, country and bluegrass instruments. It is one of the many projects Bironas looks forward to supporting through The Rob Bironas Fund.
"I felt extremely honored to be awarded by the Arts and Business Council today. It is a great privilege to provide the tools needed for a child to master their skill," Bironas said. "I hope The Rob Bironas Fund not only continues to encourage children to achieve success in music education, but also in life."
Bironas recently completed his sixth season with the Titans. Statistically one of the top 10 kickers in NFL history, he holds various team and NFL records. Bironas is a world-class athlete known for his persistence, accuracy and consistency. He launched the Rob Bironas Fund™ in 2008.
Rob can be found on FaceBook facebook.com/robbironas and Twitter @RobBironas.