**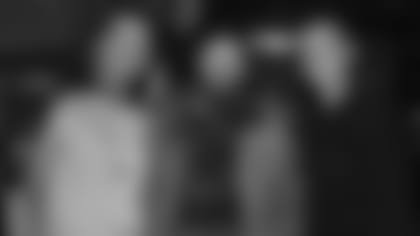 Storme Warren, Jamey Johnson, Rob  Bironas*
Nashville, TENN -* On Monday, November 16th Titans kicker Rob Bironas hosted a songwriter's event at Tin Roof 2 in Cool Springs to benefit The Rob Bironas Fund. Storme Warren from GAC Television was on hand to emcee the evening as the audience was treated to some exceptional talent billed as *Jamey Johnson and Friends.
Guests were expecting to be treated to some great performances through the night and they were not disappointed. Jamey Johnson recently won the CMA Award for Song of the Year for his hit song 'In Color' and was the headlining performer at Bironas' event. Johnson also won the honor in 2006 for the song 'Give It Away.' Johnson's critically acclaimed album That Lonesome Song is currently at the top of Billboard's country charts and Johnson is currently in the studio recording another album.
Joining Johnson as performers throughout the event were Dallas Davidson, Lisa Hentrich and Wynn Varble who graciously donated their talent and performed original material to a packed crowd.
Dallas Davidson has been writing hit songs in Nashville since 2004. He has had great success as a songwriter with hit songs such as Trace Adkins' 'HONKY TONK BA-DONK-A-DONK', Brad Paisley and Keith Urban's 'Start a Band' and Brooks & Dunn's' 'Put A Girl In It. Davidson counts Waylon Jennings and Hank Williams, Jr. as just a few of his musical influences.
Lisa Hentrich is the wife of Titans punter/kicker Craig Hentrich and is talented in her own right. Living in Nashville for more then 10 years, Hentrich has paid her to dues to the music business. She co-wrote all 10 songs on her first full length album and has written songs performed by Chris Cagle, Lee Greenwood and Clay Walker. Hentrich also attracted the attention of Willie Nelson who invited her to perform at Farm Aid in 2007.
Wynn Varble credits his father with introducing him to country music. Listening to the likes of Merle Haggard and Hank Williams got Varble interested in country at a young age. Having lived in Nashville since 1992, Varble has written for Garth Brooks, Lee Ann Womack, Brad Paisley and countless others. His first #1 song was 'Have You Forgotten' which was cut by Darryl Worley.
It's fitting that a musical evening would benefit The Rob Bironas Fund, which is his charity committed to enhancing the lives of children living in Music City by bringing them together with the rich musical opportunities Nashville offers. The Bironas Fund finances the tools, education and leadership to help children succeed in not only their musical endeavors but in school as well. The Bironas Fund partners with various organizations and causes that are also committed to encouraging the children of Nashville to become involved in music and to further develop their creativity. The event raised over $5,000 by passing the tip jar among the VIP, invitation only crowd, which will be used to enrich the lives of many children in Middle Tennessee through music.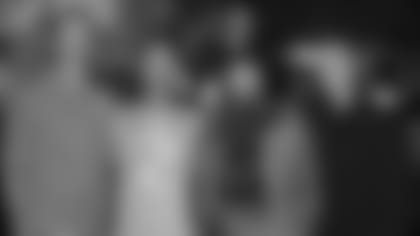 Kerry  Collins, Storme Warren, Jamey Johnson and Rob  Bironas*