NASHVILLE – When the Titans selected Auburn cornerback Roger McCreary in the second round of the NFL Draft, it was a Houston Oilers great who made the announcement.
"I think it is rather unique, to introduce a draft choice and see how he develops over the next 2-3 years," said Billy "White Shoes" Johnson. "It will be fun to watch."
But for Johnson, who broke out his "Funky Chicken" on the NFL Draft stage in Las Vegas as one of the league's "legends," said the opportunity to do so on behalf of the Titans organization meant a lot more than just reading McCreary's name.
Johnson gave credit to controlling owner Amy Adams Strunk for making former Oilers like himself feel special years after their playing days, in another city.
"I appreciate the organization recognizing me, and making me feel such a part of it," the 70-year-old Johnson said during his first trip to Las Vegas. "A lot of the Oilers feel the same way. I think Amy has done a wonderful job of remembering the former players, the Oilers, and trying to keep them in touch and involved with the Titans organization. It makes me feel good that they respect the players who played there before the guys now. You feel welcome. Any time I call, they help me with anything I need, Amy, (Vice President of Community Impact) Tina (Tuggle). It's just a very welcoming situation. I know all teams aren't like that, but you feel welcome with the team, and you appreciate them extending that hand of friendship."
Johnson, a receiver/returner played from 1974-1990 with the Oilers before later spending time with Atlanta and Washington in the NFL, was among a big number of former Oilers who were celebrated by the Titans last September at Nissan Stadium when the franchise recognized its Oilers heritage during "Oilers Tribute Week." On the same weekend, former Oilers head coach O.A. "Bum" Phillips was posthumously be added to the Titans/Oilers Ring of Honor in a special ceremony.
Previously, Strunk helped organize an Oilers reunion in Houston, an event more than 60 former players and many former coaches attended. Strunk also spearheaded the organization's efforts for last year's Oilers Reunion in Nashville, an event roughly 80 former Oilers attended.
At the NFL owners meetings in March, Strunk said she wants to keep the Oilers history alive any way possible.
In fact, Strunk said plans are in the works for the Titans to wear light blue jerseys from the Luv Ya' Blue era with white pants, with an Oilers helmet. Because of league stipulations, the earliest the combination could be worn is 2023, and that's what franchise is shooting for.
"Oilers history is Titans history," Strunk said. "We know our fans feel passionately about showcasing that legacy on game day, and we're actively working on making throwback jerseys possible in the near future. Stay tuned!"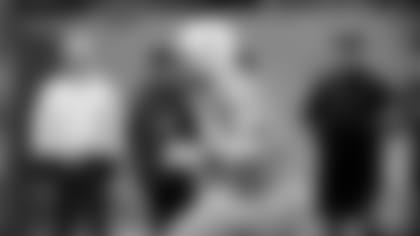 Johnson was fired up upon hearing that news, and he thinks fans in Houston will be, too.
"Oh wow, that is wonderful. I am happy for it," Johnson said with a smile. "The Luv Ya' Blue era is special. And I know the (Titans) are going to be playing well, so it will all come together. It will bring back a lot of memories; people can't forget that era.
"You'll have people (in Houston) who will appreciate it, and you'll have some who might … The real Luv Ya' Blue fans will appreciate it, I'll put it that way. … The genuine fans will love to see it. It's always good to look back and to appreciate what was done then."