NASHVILLE, Tenn. – The Titans travel to Cleveland to face the Browns on Sunday.
The Titans (1-0) are coming off a season-opening win against the Buccaneers, while the Browns (0-1) will be trying to bounce back from a 31-10 loss to the Jets.
I caught up with Mary Kay Cabot, Browns beat writer for the Cleveland Plain Dealer, for five questions on the team she covers this week. You can follow Cabot on Twitter at @MaryKayCabot.
Wyatt: What's your hunch on who will be the Browns starting quarterback on Sunday vs. the Titans?
Cabot: "I know that Josh McCown woke up on Monday morning feeling a lot better than he felt Sunday afternoon after he suffered the concussion, and I think if it were up to Josh, even if the game was tomorrow, he would say, 'I'm playing.' But of course he is in the concussion protocol and it is not up to him. It is in the hands of the neurologist at this point. From what I understand, he feels like the hit looked worse than it actually felt. He was able to go to meetings Monday and watch film. I don't think he'll be practicing on Wednesday because they never clear guys that quickly, but I think if he is cleared by Friday that they'll play him on Sunday. So I'm going to say Josh McCown."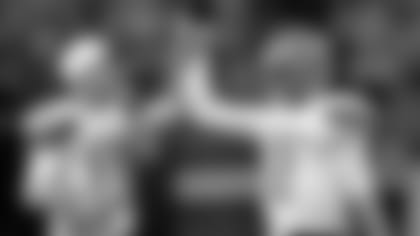 Wyatt: In the event McCown isn't cleared and it's Johnny Manziel starting, how ready is he? And how much improvement have you seen from Manziel from his rookie year to this year?
Cabot: "Well, the kinds of things you are seeing from Johnny that he has improved on from last year to this year include he's reading defenses much better – he's not taking off so quickly and running. He is going through his progressions and knowing where to go with the ball much better. His accuracy is better. But he is still taking off and running too much, as you could see in the game on Sunday, and he's putting himself at risk right now, too. The other thing about Johnny is he had elbow tendonitis this summer, and because of that he missed most of the previous two weeks leading up to the opener. He basically shut that arm down after he aggravated it on August 23rd for the next two weeks, and basically didn't do anything. Heading into the opener he did not take one first-team rep. I don't think he took too many scout team reps because of the elbow. Wednesday and Thursday of last week he was limited, and Friday he went full-go, but not with the regular offense. So he was just thrown in there when Josh went out Sunday, and he just really wasn't ready. I really think he'll look much better when they have an opportunity to game plan for him, and game plan around him. I think that he will do a lot better when he has an opportunity to work with the starting receivers, and he never did that all summer. He was never pressing Josh McCown for the starting job. He was back-up the whole preseason, so he doesn't have a lot of reps with (starting receivers) Brian Hartline, Andrew Hawkins and those guys. He was developing his timing with guys who are now gone or are now on the practice squad. I think Johnny is much better this year, but I don't know if he'll have a chance to show that right away if he is thrown into this game to start."
---
Wyatt: Which quarterback would the Browns fan base like to see as the full-time starter – McCown or Manziel?
Cabot: "I think there's a lot of sentiment for Johnny Manziel. The general feeling around here is, if you're going to try and decide if he's your quarterback of the future, you have to play the guy. I think many of the fans here don't really know that much about Josh McCown. A lot of them know he went 1-10 last year with the Buccaneers, so that's all they see. They say, 'He was a career backup, he's 36 years old, he went 1 and 10 last year, so why would we put our faith in Josh McCown when you have Johnny Manziel on the roster?' So I think that is the overall sentiment around here, but if you look at what Josh McCown did on that opening drive last week against the Jets, you can see he can run this offense. He knows the offense, and he knows what coaches want. He's a good game manager, he is mobile, and he has a good arm. He doesn't have a lot of playmakers around him….He made an ill-advised dive into the end zone, and now the Browns are faced with the situation they're in now."
---
Wyatt: Were you surprised the Browns traded running back Terrance West to the Titans after one season? What did they think of him as a back?
Cabot: "I was mildly surprised, but not shocked. I knew heading into the season Terrance West was on thin ice. They wanted to see him grow up, they felt he had maturity issues, and they felt he was inconsistent on the field. From an attitude and demeanor standpoint, they wanted to see more professionalism from Terrance West. He had some growing up to do and I think they just lost their patience with him. I think they felt he was a good enough back, but not good enough to put up with some of the off the field, immaturity and inconsistent issues. I know he did have struggles at time picking up the blitz. He was a serviceable back, but to them, really not worth the trouble. It will be interesting to see how things work out for him in Tennessee."
---
Wyatt: Aside from the quarterback position, what are the biggest concerns for the Browns coming out of the 31-10 loss to the Jets?
Cabot: "Two of the biggest concerns were two areas of the team that were supposed to be strengths – the offensive line and the secondary – did not play in that game at all. The offensive line committed a lot of penalties, and they just didn't open up holes. The quarterbacks had to do a lot of running around…It's a mature group with a lot of Pro Bowlers, but keep in mind they lost their position coach to a suspension the week before the season, too, so I think that hurt them as well. But the offensive line needs to step it up. The secondary – and they touted themselves all preseason as one of the top two or three groups in the NFL – just played poorly. It features Pro Bowlers in Donte Whitner, Joe Haden and Tashaun Gibson, but they did not have a good game. Joe Haden had a very poor opener, he was beaten by Brandon Marshall most of the afternoon, and the Jets went after him in that game. Joe, in his defense, missed most of the preseason with a strained hamstring, and I think that showed. He was rusty in that game. Now Joe has gotten off to slow starts before and rebounded, so I think he will pull it together and play a lot better in this game, but none of them played particularly well. Gibson had an interception, but he had the ball punched out. Whitner struggled vs the run with some poor tackling as well. The Browns have a lot of things that need to get better, but these two are supposed to be the strengths of the team."
RECOMMENDED: