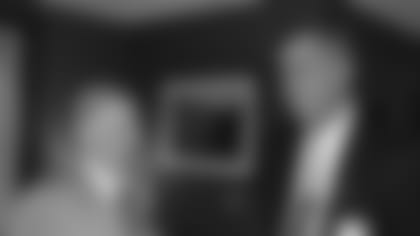 NASHVILLE, Tenn. –** Baptist Hospital held a grand opening and blessing ceremony today to officially introduce its renovated third floor obstetrics family waiting area, now known as the Bud & Nancy Adams and Tennessee Titans Family Waiting Area.
The waiting area's name recognizes the $500,000 grant from the Titans Foundation to the Baptist Hospital Foundation. The grant, announced in February 2008 by Titans Owner K.S. "Bud" Adams, Jr. and his wife, Nancy, represented the largest, single gift from the Titans Foundation since it was formed in 1999. The funds were designated for Baptist Hospital's obstetrics expansion, which is now complete with the opening of the waiting area. Efforts have also included a renovation of postpartum rooms and nurseries and an expansion of the neonatal intensive care unit from 27 to 52 beds.
---
"We consider our organization's partnership to be among our most important," Adams said of the Titans' relationship with Baptist Hospital. "Our close association with Baptist includes not only the name of our training and administration facility (Baptist Sports Park), but more importantly, our players' health care, which is of huge importance to our business and operations."
"Our players and staff visit patients at Baptist Hospital on Tuesdays throughout the season and have done so since our move to Tennessee," Adams continued.  "In addition to the great care our players receive, many of our players, coaches and staff have had their babies delivered at Baptist Hospital."
The Bud & Nancy Adams and Tennessee Titans Family Waiting Area features a comfortable setting where many families will eagerly await a new baby's birth. The décor complements the Titans blue team color and includes player posters and photos of Bud & Nancy Adams, LP Field, Titans mascot T-Rac and players visiting patients at Baptist Hospital. A prominent photo of Bud & Nancy Adams is displayed near the entrance of the waiting area. New paint, wall coverings, light fixtures, flooring and furnishings, including tables, chairs and flat screen TVs, have been added. Several chairs are covered with a material that looks similar to the outer covering of a football. The vending area also has expanded seating and a children's area includes special seating.
"This waiting area augments an already exceptional maternal infant center where we focus on providing the best patient experience possible," said Bernie Sherry, president and CEO of Baptist Hospital. "We want our patients' families and friends to have a comfortable space as they anticipate the birth of a new baby. Everyone will find a space that suits their needs and we're grateful to the Adams family and Titans Foundation for their gift."
More women choose Baptist Hospital for the birth of their baby than any other hospital in the region. More than 7,000 babies were delivered at the hospital in 2008; more than double any other Middle Tennessee hospital.
The Baptist Hospital Foundation, established as a 501c3 organization in 1983, provides a vehicle for friends of the hospital to make tax-deductible gifts in support of various hospital-related programs. To make a gift, contact the Baptist Hospital Foundation at (615) 284-8211.
Baptist Hospital is a member of Saint Thomas Health Services, a faith-based ministry with more than 6,000 associates serving Middle Tennessee. Saint Thomas Health Services' regional health system consists of four hospitals – Baptist and Saint Thomas Hospitals in Nashville, Middle Tennessee Medical Center in Murfreesboro and Hickman Community Hospital in Centerville – and a comprehensive network of affiliated joint ventures in diagnostics, cardiac services and ambulatory surgery as well as medical practices, the Center for Spinal Surgery, clinics and rehabilitation facilities.   STHS is a member of Ascension Health, a Catholic organization that is the largest not-for-profit health system in the United States. For more information, visit www.baptisthospital.com or www.sths.com.