NFL & NFLPA recognize August as "USA Football Month" as America gets back to football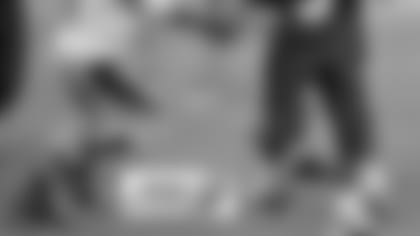 August is USA Football Month for the Titans and the NFL.
NASHVILLE, Tenn -
*
*USA Football and its mission of youth and amateur football development is emphasized with the Tennessee Titans this August through a youth football scrimmage at LP Field, USA Football messages during network telecasts, stadium video board promotion, and on Titans web site (
www.titansonline.com
).
USA Football is the official youth football development partner of the NFL and is supported by grants from Titans Owner K.S. "Bud" Adams, Jr., his other 31 NFL owners and the NFL Players Association.
To honor the relationship, as done in years past as part of USA Football Month, the Titans will have the recognizable USA Football stencils painted on LP Field playing surface for both preseason games. Also, in recognition of USA Football Month the Titans will host four local youth football teams to compete as halftime entertainment for the Club's home-opening preseason game against the Arizona Cardinals August 23rd.
The UNA Bears will square off against the West Nashville Broncos on one end of the field while the LaVergne Wolverines and the Nashville Community Sports (NCS) Cobras will entertain fans on the opposite end of the field.
The Titans and USA Football recently distributed $50,000 in youth football equipment grants to eight area youth leagues that suffered equipment losses during the devastating May floods.  That equipment has now been delivered to those eight leagues and the youth affected by the floods are again playing our great game of football!
USA Football will have educated more than 50,000 youth football coaches across the country by the start of this football season through its online coaching courses and 37 full-day coaching schools, 24 of which are conducted with NFL teams. The Titans have hosted annual coach's clinics since 2007.  Unfortunately due to the historic Nashville flood, the 2010 coach's clinic was cancelled. USA Football members are coaches, players, game officials and youth league commissioners who reside in all 50 states.
During August the Titans will incorporate the following "USA Football Month" initiatives:
USA Football television spots for network and local game telecasts promoting youth football during preseason and regular season games
On-field promotion throughout the preseason through "USA Football" field stencils and end zone banners
In-stadium "USA Football Month" scoreboard video messages
USA Football "Captain's Packs," available through usafootball.com, which empower coaches to reward players who demonstrate football's team-first values
Youth football scrimmage in LP Field on the August 23rd preseason game versus the Arizona Cardinals
In addition, USA Football, the Centers for Disease Control and Prevention (CDC) and other sports' national governing bodies work together to deliver consistent information regarding concussion awareness and management. USA Football is the only national governing body in sports to have produced a concussion education video for its website, available for viewing at no cost.
USA Football is the only organization in the NFL's 90-year history to be recognized as the league's official youth football development partner.
USA Football will distribute NFL team-branded "Captain's Packs" free of charge through usafootball.com to more than 6,000 youth football leagues. Rewarding youth players for leadership and teamwork, each USA Football "Captain's Pack" includes 25 "C" Captain jersey patches, 200 helmet recognition decals, and 25 "Captain's Pledges" which a player signs as a commitment to good sportsmanship.
"USA Football is proud to be the official youth football development partner of the NFL, the NFLPA and the league's 32 teams," said USA Football Executive Director SCOTT HALLENBECK. "From youth leagues to the NFL, football captures the imagination of all fans, regardless of age, and instills discipline, responsibility and physical fitness in our young people. We're proud to lead the game's development and further strengthen our NFL and NFL Players Association partnerships."
"USA Football Month encourages young people to be active and provides them with the necessary structure to enjoy our sport through thousands of youth leagues," says NFL Senior Advisor to the Commissioner and USA Football Board Member JOE BROWNE. "We in the NFL strongly support USA Football."
"The NFLPA and its 1,800 players are proud to join USA Football and the NFL in showing a unified commitment to youth football," said NFLPA Senior Director of Player Services and Development and USA Football Board Member JASON BELSER. "USA Football stands for teaching the game the right way and the NFL preseason is an ideal time to herald the sport's fundamentals as well as the excitement and anticipation we feel during this time of the year. We salute the young people and selfless volunteers who power youth football."
USA Football, the sport's national governing body on youth and amateur levels, leads the game's development, inspires participation, and ensures a positive experience for all youth, high school, and other amateur players.* The independent non-profit hosts more than 80 football training events annually for coaches, players and youth football league commissioners. USA Football is the official youth football development partner of the NFL, its 32 teams and the NFL Players Association and manages U.S. national teams for international competition. Endowed by the NFL and NFLPA in 2002 through the NFL Youth Football Fund, USA Football (usafootball.com) distributes $1 million annually in equipment grants and offers youth league volunteer background check subsidies. Former NFL team executive Carl Peterson is USA Football's chairman.*