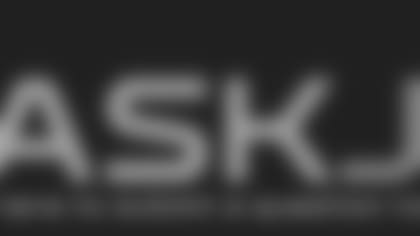 ](http://www.titansonline.com/news/ask-jim.html)
NASHVILLE, Tenn. – Need a break from March Madness?
Well, you've come to the right place.
Here's the latest edition of the Titans mailbag. Thanks for all the questions.
Konstantin Rodeck from Berlin, Germany
Question: Hi Jim. This is my first time writing to you although I already follow your coverage for all these years. I'm a fan since 1999. Probably the biggest titans-fan in Germany! ;-) I really like the way free agency started, looks like a good plan to me to fix the problems in the secondary and special teams - by signing some players with experience - first, but not those players who expected to get overpaid like e.g. Bouye or Jeffery. What do you say about this strategy?
Now I expect to go for wideout and tight end in the first round of the draft. You certainly can pick the top WR with your 5th and probably the top TE with your 18th pick. I would expect Corey Davis and O.J. Howard here, what do you think? Marcus definitely needs another weapon like Davis, and adding Howard to Walker would drive the defenses of our opponents absolutely crazy!
You can certainly add some more quality to your secondary even in the third round. Sounds like a plan to me, and to you?
We have to trust our GM, our coach and the whole staff. I do not understand those who start mourning about not signing those "big names" after one day into free agency. Be patient and have trust! Greetings from Berlin, Konstantin
Jim: Hey Konstantin. Appreciate the email, and your thoughts. Those guys you mentioned seem to be popular picks among a lot of fans. O.J. Howard has been impressive every step of the way, and I like the looks of Davis, too. The team went heavy on defense in free agency, so I expect some weapons to come in the draft. How soon? Well, we'll find out before too long. Take care.
---
Kunal Patel from San Jose, California
Question: Dear Jim. Thanks for constantly keeping us updated over here. I am a diehard Titans Fan!!!!!!
Many people think FA wasn't up to par, but I think we did a good job. We can view our secondary as set for now, as there are bigger holes, especially in the receiving department. My question for you is this: We need receivers. We need a true number one wideout, and depth. We hate to face it, but Delanie Walker is aging. We have two first round picks. I thought of this scenario:
We trade our fifth overall pick to the Cleveland Browns for their 12th and their second rounder. With the 12th overall pick, we take a receiver (Hopefully John Ross, Corey Davis will likely be off the board and i think we need a speedster). The 12th pick is crucial because it puts us ahead of the Cardinals, who will likely be looking for a replacement to Larry Fitzgerald. Then with the 18th overall pick, we take OJ Howard. This fills another hole, as we love to use our tight ends. It also gives us a replacement to Delanie Walker. This scenario adds size and speed to our offense. OJ Howard is 6'6 and runs a 4.51. Just getting him would make him our fastest player on offense. John Ross would be the fastest current NFL player. With our second rounder, we could take a corner like Teez Tabor or Gareon Conley, knowing how this class is deep with no clear standouts is a huge plus to us getting a second rounder. This pretty much fixes our receiving corps and secondary. Our offense then looks scary, with that O-Line, Mariota, Henry, Murray, Rishard Matthews, Tajae Sharpe, John Ross, Delanie Walker and OJ Howard. Our secondary would look good as well, Kevin Byard, Leshaun Sims, Logan Ryan, Gareon Conley, and Johnathan Cyprien.
Jim: Well Kunal, some interesting thoughts here. I'm not sure what the team could get by going from 5 to 12, but you can be sure Jon Robinson is weighing all options. He's already said he's "open for business" as far as trades go. Ross was blazing fast at the combine, and he's intriguing. His health issues scare me a little bit, so I'm sure that's being considered as well. As for Howard, some have him going in the top 10 now. So there's certainly no guarantee he'll be around at 18. I'm sure more clues will surface in the coming weeks. Have a good one.
---
Benjamin Bradshaw from Cedar Rapids, Iowa
Question: Hi Jim how is everything? Just going to throw this out there: I know it most likely won't happen but if the Titans picked up Adrian Peterson and made the 2 headed monster a 3 headed monster, which would mean that the Titans could do a 3 man set with DeMarco Murray, Derrick Henry and Peterson in the backfield use run heavy and that would help Mariota with recovery so he wouldn't have to do a lot of keeping the ball to pass having 2 veterans as halfbacks would help as well. Thanks for your time hope to hear from you soon.
Jim: Hey Benjamin. Thanks for the email. You're right – it most likely won't happen. I just think it would be too hard to come up with good nickname for all three… :)
---
Eli Decko from Pittsburgh, Pennsylvania
Question: Rumors swarm about Richard Sherman being available via trade. We play a zone blitz scheme. He's the best zone CB in the NFL and he's 6'3. How about a trade with Seattle for the 18th pick and a 4th for Sherman and a 5th? I also like a trade for WR D. Thomas from Denver. Do a 1st pick swap and a 3rd. Essentially, would be getting Thomas for a third and a swap of picks. Still allowing us a 1st Rd pick it being a true luxury do to both traded taking care of imminent needs. Then with the Denver pick we can actually take the best available player. Just a thought, but what do you think? Plz if u can run it by Mr. ROBINSON.
Jim: Hey Eli. You're dreaming big, huh? I can't see either happening, to be perfectly honest. Just can't see Sherman fitting in, but it's certainly not my call. As for Thomas, I can't see the Broncos being willing to part ways with Thomas after five straight 1,000-yard seasons. I know he's been the subject of trade talks in the past, but I wouldn't. And the GM loves his draft picks, which makes me even more skeptical.
---
Patrick Miller from Burns, Tennessee
Question: Jim, So much talent this year, it's hard for me to reconcile the decision-making process that JR might be contemplating come draft day. Only he knows. But with DB free agency pickups of late, I wonder if the emphasis might not be morphing towards grabbing weapons for Marcus Mariota in the opening round. John Ross, Williams, and OJ are obvious choices in the minds of many. Certainly we could easily employ and benefit from a quality burner with quickness, good hands, and superior quick twitch. Likewise from a high caliber TE to work with the current corps...so I'd be thrilled if we could pick up Howard at #18. Heck, I'd be thrilled with an APB/slot man like McCaffrey or even DB Peppers late first. Both have apparent invaluable versatility, and that's at a premium in the current NFL. But let's look later down the road. The truest value to me (and a whole bunch of others), is in rounds 2-4 for WR and DB. I think the Titans will sell short opportunity if they don't pick up some later round spots via trade.
So my hypothetical query is thus: I'm super-high on projected second rounders Obi Melifonwu, Fabian Moreau, Zay Jones, and Curtis Samuel, any of whom would be stellar fits for our team (had to get my recs in, I guess). They'll likely be gone before we have a shot. With the Panthers and Browns each with two second round picks and each in dire need of premium defensively oriented talent, do you think it's becoming more likely that JR will attempt to deal away one of our first round slots(I would think #5) to acquire some value down the line? The Titans' front office historically loves value almost as much as the Browns apparently love to mismanage the draft. Carolina is more sensible, but I feel Rich is feeling pressure to quickly recapture the glory of 2016 after such an abysmal successor season and will push the front office for top tier pics if available. Plus JR is the non-smarmy Monty Hall of the NFL. I think it makes sense. Thoughts? Cheers, Patrick
Jim: Hey Patrick. As I mentioned to Kunal, I think a possible trade of No.5 is in play. But chances are, this wouldn't go down until the day of the draft – when the team is on the clock – if it happens at all. There's just too much uncertainty with picks 1-4. The Browns have a ton of picks, so everyone in the NFL is keeping an eye on them. But I suspect everyone is also keeping an eye on Robinson as well after he made five trades during his first year on the job.
---
John Talley III from Kinston, North Carolina
Question: Hey Jim. Long time reader. Very first question. As a lifelong Houston Oilers/Tennessee Titans fan I have been through the highs and lows with my team. From the 35 pt debacle vs Buffalo to the Music City Miracle. I've been through it all. My question is simply this. With the defensive signings through the first 2 days of free agency, do you believe the Titans are going to pick a WR in this year's draft? Desean Jackson signed with the Bucs, and Brandin Cooks going to NE those were 2 WR's we let slip through our fingers. I'm sure Mariota, Murray, Henry, and Walker would love some help. Murray and Henry have been beasts in the backfield and Walker has been our best receiver in years past. We need a true #1 to get the ball to. In my opinion I think Mike Williams out of Clemson would make the best choice. He may not be the fastest but he is big and strong and does not seem scared to go get the ball. If you can please pass this along to Coach Mularkey and GM Jon Robinson. Thanks so much and great job keeping us Titans fans up to date.
Jim: Hey John. Yes, I do expect the Titans to take a receiver in the draft. How early? Well, that's the big question. The team talked to Williams, Ross and Davis at the pro day. They've seen a ton of other receivers at the Senior Bowl, combine and pro days. And while the Titans were in on Cooks, I wouldn't say the team let Desean Jackson "slip through its fingers." I don't think he was a top priority when free agency began. Just keeping it real here. Will Williams be a top target? Well, he's a heck of a player. Robinson and Mularkey were at his pro day at Clemson, keeping a close watch on him.
---
Erin Perkins from Fairview, Tennessee
Question: Do you know why Rex Ryan has moved to Williamson Co TN?
Jim: Hey Erin. I'm not sure coach Ryan has ever said why he moved to Tennessee, I just think he likes the area. He's been there a while, though – he used to live down the street from Ken Whisenhunt.
---
Barbara Merz from Mt Juliet, Tennessee
Question: No question but would like you to pass along something to Ms Strunk, First thank her for all she did for the stadium last year and having people to meet players etc. Also thank her for the gifts that were sent to PSL owners. Been one from day one and thought this was extremely generous of her. In fact the duffle bag has already been used on a long trip. Seems like she Mike and Jon have brought this team together as a team for the first time in a long time. Makes PSL owners like myself appreciate her and thank her for all she has done for us, the team and Nashville. Please pass these thoughts along to her as I and many others are grateful and want her to know it.
Jim: Hi Barbara. Thanks for the kind note. Will pass it along.
---
Matt Bingham from Milan, Tennessee
Question: What's up Jim? Just had a question about the TE position. I know all the craze is over OJ Howard but me being an Ole Miss fan I absolutely love Evan Engram for the position. I can just see a lot of matchup nightmares especially within our division. I can see him learning a lot from Delanie and he can also line up outside and put pressure on secondaries.
Jim: Hey Matt. I like Engram myself, and I know I'm not the only one. Mike Mayock has him as the third-rated tight end, behind only Howard and David Njoku from Miami. It's a good year for the tight end class, and any of those guys would add an extra dimension to the offense. South Alabama's Gerald Everett and Iowa's George Kittle are highly regarded as well. And don't forget about Michigan's Jake Butt. He's a great prospect despite the injury.
---
Steven Crosio Bricktown, New Jersey
Question: If the Titans had to trade down their number 5th or 18th pick in the draft because they're not ready to draft their guy which team would allow them to stay in the 1st round while at the same time give them a 2nd round pick?
Jim: Hey Steven. This is very much "to be determined." It's what the GM is trying to gauge, I'm sure.
---
Michael Bailey from Greensboro, North Carolina
Question: Hey Jim, Thanks for keeping us all in the loop as the offsets on progresses. I remember messaging you a few months back (during the season) regarding the lack of "fear" that our special teams could put on other teams and it seems like we have hit that facet hard so far which is GREAT! I know we got Kevin Byard from Middle Tennessee last year which shows that we aren't opposed to finding talent out of smaller schools. I'm not sure if they have looked, but there is a great and explosive running back here in Greensboro that just graduated from NC A&T SU by the name of Tarik Cohen (social media has dubbed him "The Human Joystick"). He's fast and very elusive. I know his size may not be conducive to be a success RB in the league, but I'm 100% sure he'd be very successful as a returner (and maybe even a converted slot receiver). I know I'm bias because I live here, but he has lead the conference in multiple categories for years, broken records, and lead the school to multiple championships. I think he's worth taking a look at to back up Weems or even work alongside him. I'm ready to watch this Superbowl!!! Titans vs. (Whoever the losing NFC team is) #TitanUp
Jim: Hey Michael. I need to do some studying up Tarik, but he sounds exciting. The team signed Eric Weems to handle returns, but having a "Human Joystick" around sounds exciting for the offense!
---
Sergio Rodriguez from Laredo, Texas
Question: Hello Jim. Do you think Titans will draft 2 WR's in the first round of the draft? Mike Williams and John Ross would be nice!!
Jim: Hey Sergio. Drafting two receivers is a definite possibility. But not so sure it would come at 5 and 18, for several reasons.
---
Jeremy Raymer from New Brunswick, Canada
Question: Hey, Jim! We sure appreciate all the time/travel you've been putting in lately to keep us informed. Considering that the Titans currently do not have a 2nd round pick this year and that the draft seems deep in some areas of need; it appears advantageous to hope for a trade with one of our first round picks. From your viewpoint, which of those picks (5th or 18th) do you feel would put us in a better position considering which positions we hope to fill while adding another pick in the 2nd/3rd round this year? Also, I like seeing Vandy LB Zach Cunningham as the 18th pick after Titans grab a WR early in some of the mocks. I know people aren't talking much about the Titans at LB but he seems like a special player waiting for the opportunity. Do you think 18 is too high or about right for him? Could he possibly be had if we slid deeper in the first? How about the 2nd? I know all draft questions could be answered with - "It's up to our GM/coaches" or "That's above my pay grade but you've been around Tennessee football for a long time (and since we know most mocks are worth a tad bit more than last week's junk mail) I'd love to here your thoughts on those two questions. P.S. I enjoy the behind the scenes peeks from Titan's online on our scouts and lesser known/appreciated assistant coaches/staff. I know they don't crave the spotlight, but I love hearing the stories/experiences of those who grease the cogs ("dirty" jobs that must be done well) of the Titans machine. I hope you have a few in store as we await spring training and beyond. As always, thanks for all you do! For those of us living abroad it's a little piece of home!
Jim: Hey Jeremy. Appreciate the email. I think the fifth overalll pick is the one that could net the most value. But I'm not sure how far back the team would have to move to get a second-round pick out of it. Jon Robinson told me back in January he'd love to have a second-round pick, though. He called it the "sweet spot" in the draft. As for Cunningham, I think he's a heck of a prospect. Watched him play a ton of games at Vandy and he's a special player. I went to his Pro Day, and Patriots coach Bill Belichick seemed to shadow his every step, so not sure what he's up to since the Patriots don't have a first or second round pick. As for the Titans, the team wants to keep getting faster on defense, so Cunningham would have to be attractive. He's a sideline-to-sideline player. Mike Keith did a great job on the interviews with the scouts during Scouts Week, and I'll let him know you liked them. Ashley Farrell of the video team is the wizard who put those together (and added the "Jaws" music), and she deserves a lot of credit as well. If anyone hasn't watched those, you should check them out at Titans Online.
---
Alan Ray from College Grove, Tennessee
Question: Hi Jim. My question is actually directed to Bill from Knoxville who wrote last week, "What am I rooting for?"
The better question I think Bill, is "What are you writing for?"
As a Titans fan, you either are one or you aren't. If you have to ask someone...you're not.
Consider a teacher, their students change every year. Faculty comes and goes and Principals change as well. Do they ask, "Everything keeps changing... "What am I teaching for?" Hardly. They teach because they love it.
Just like us Fans. We root because we love the Titans and not because someone tells us why we should.
Anyway, that's my take on the matter. As a Fan it's either All-in or fold.
Thank you for Titaning him up on the subject Jim. You spoke for a lot of us who know what we're rooting for...the team we love...our nail-bitin' TITANS!
Thanks for lettin' me vent Jimbo, you are appreciated.
Jim: Hey Alan. Thanks for the email, and your comments. I'll let you drop the mic on this one.
Have a great weekend everyone!