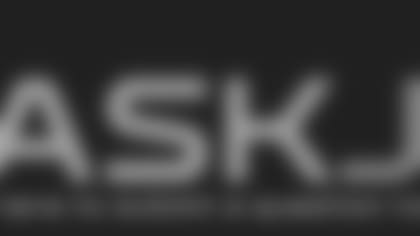 ](http://www.titansonline.com/news/ask-jim.html) Welcome to July.
Of course that means we can now say training camp starts later this month at Saint Thomas Sports Park, and across the NFL.
First, let's knock out some Titans questions…
Mike McCalley from Georgia
Question: Hey, Jim. Thanks for your coverage of the Titans over the years - KUDOS. My question is a bit odd. I saw the first pic of Derrick Henry arriving to Titans HQ - I saw an image that said mean and as the T shirt presented, a "Natural Born Baller". Recently on the Titans web site was presented a completely different image of D. Henry in an Orange Nike shirt presenting a much smoother, polished athlete. Jim, my question: Is it too soon, as a fan, to have thoughts of an Eddie George like Bromance? Lol. Keep it flowing Jim. . .
Jim: Hey Mike. Appreciate the mail. Yes, it's probably still a tad bit too early. Hold your horses. Let's see the guy secure his official uniform number and play in a game first. But I have a feeling he's going to be easy to like, just like Eddie G. He sure looks the part so far. I should probably say this, though: As impressive as Henry has been, DeMarco Murray has looked even better.
---
Tyler Kuppler from Sullivan, Indiana
Question: Hey Jim, getting stir crazy with no football news, so here is a question for you. Who is your pick to win the "hyped" LG competition? Who has looked the best to you amongst Quinton Spain, Jeremiah Poutasi, Sebastian Tretola, and the ultimate dark horse Josue Matias?
Jim: Hey Tyler. Spain ended last season as the starter, and he's worked with the first team all offseason. Mike Mularkey said himself that Spain is the favorite, although he quickly reminded "it's early." When the pads come on, I think Spain will hold up in the competition, though. But keep an eye on Poutasi, and Tretola. Poutasi is talented, and Tretola is a big boy. Brian Schwenke has worked some at guard as well and I think he'll be on the team in some capacity. I wrote about Spain this week. He said himself he's even more motivated because he's oftentimes overlooked. He's a serious contender, no doubt.
---
Aaron Quarles from Birchwood, Tennessee
Question: Hey Jim. The Titans haven't had too many plays in their history that deserve a nickname besides the Music City Miracle and Vince Young's 99-yard game winning drive against the Cardinals. I think Marcus Mariota's 87-yard touchdown run against the Jaguars to end our home winless streak could be the next memorable play in Titans history. What do you think of "The Flyin' Hawaiian" to remember that play for years to come? If it sticks I will expect some royalties heading my way haha. Thanks for everything you do buddy keep it up!
Jim: Hey Aaron. We can't forget the "Music City Mulligan" – when Joe Nedney got a second chance to kick the game-winner to beat the Steelers back in 2003. That was definitely nickname-worthy. As for the Flyin' Hawaiian nickname… Not bad…
---
Tom Montesion from Livingston, N.J.
Question: Hey Jim. I'll start with the always very necessary thank you for being the knower and teller of all things Titans for those of us passionate fans. Here's my question: As a fan of this team since 1970 (yes, I was 7), I recall that our special teams has never really dominated conversations. Other than Billy "White Shoes" Johnson, Marc Mariani who left in 2014, and a handful of others, it's kind of always been, "Well, yes, we have special teams too." What's your take on Bobby April's units this year, are we solid or could this be an Achilles heel for a much improved team? Thanks and oh, any word back from Amy on the uniform updates yet!?! lol
Jim: Hey Tom. You forgot about Derrick Mason, and his Pro Bowl year as a returner in 2000! And you can't mention special teams without the Music City Miracle. But I hear ya – the unit has struggled in the return game in recent years. Moving forward, the new kickoff rules are going to make it tough for teams to make big plays on kickoff returns, too. I've heard good things about Bobby April, including some positive comments from Alan Lowry, the man behind the miracle. I ran into Lowry recently and he thinks April will do well. The team is going to have to identify a returner, though, and it's very much "to be determined" at this point. As for the uniforms, expect to see a lot of navy blue and white in 2016.
---
Dave Weston from Dallas, Oregon
Question: When are all the "smart" NFL observers/writers going to stop talking about the Titans as likely to be sold? Amy is writing the book on how to be an effective, intelligent and strategic owner. The observers would be wise to start watching her and saluting the steps she has taken to make the Titans a viable competitor in the NFL.
Jim: Hey Dave. It's a tired subject, no doubt. Hopefully one day it will finally fade away.
---
Kenny Gore from Horse Cave KY
Question: With reports that Tajae Sharpe has passed Dorial Green-Beckham on the depth chart, is DGB not preparing for the season? I am shocked that DGB has been passed by a 5th round rookie. Last year, from a numbers standpoint, DGB was our most productive WR. So expecting him to be a big part of the offense felt natural. Now reports that Mike Mularkey sees Sharpe as a better player has baffled me. Is DGB just coming into camp unprepared for the season?? Has he not shown the commitment & desire to learn the playbook better in his 2nd year? Or is it simply he has not shown, on the field, that he can translate the playbook to action?
As a huge Titans fan & DGB fan, this is very concerning to me. I expected him to be behind the curve in his 1st year. He did miss a year of playing time. However, after playing a year, and having a full off season to prepare; I expected more & better from DGB.....
Jim: *Hey Kenny. Tajae Sharpe has looked good. He catches the ball well, runs good routes and is a determined young man. But it's way too early to make him a Hall of Famer, just like it's too early to panic about DGB. DGB had a solid rookie season and he's a lot more comfortable heading into Year Two. The big key for him is he needs to show up for training camp in better shape and ready to go. The same could also be said for Justin Hunter. *
---
Chris Chapman from Hermitage, TN
Question: Greetings Jim!!! I hope I haven't caught you already headed for solace in on your boat headed for big waters. If I have, then I'm sure all us eager fans wish you a good time and safe a safe journey to and from. My question this week involves our QB's. We are all extremely grateful and very fortunate to have Marcus here in Nashville. I do hope the Titans brass see the need to keep Alex Tanney close because I believe based on what I saw in the final game last season that he has quite a bit of upside as a backup QB. My queston is about Matt Cassel. He didn't seem to fare too well in Dallas last year whether it was from having been thrown to the fire like the other QB'S who had to pick up the slack from Tony Romo getting hurt or if it was just the wrong fit. Why do you suppose Jon Robinson and Coach Mularkey opted to bring him here as opposed to someone else? No offense to Matt, of course, I believe he will do well. Was it lack of proven veteran QB's available or do you think it was mostly due to Jon's familiarity with him from New England? Or both? Or was it other reasons do you think? The free agent QB cupboard was quite bare. As a fan I do happily welcome Matt Cassel here to the Titans and I believe him having a full off season to learn our scheme that he will do very well should he need to play. I hate it that Zach Mettenberger didn't pan out but I do look forward to seeing a little more of both Matt and Alex in the preseason. Marcus is a great leader and I'm chomping at the bit waiting to see him flourish this season. I hope you enjoy your much needed vacation bro, catch a few for me man!!! GO TITANS!!!!
Jim: Hey Chris. I'm still on dry land – for now. Robinson and Mularkey liked Cassel. I'm sure Robinson's familiarity with him helped seal the deal, but he was the guy they wanted early, and he's looked good. The team wanted a proven veteran behind Mariota, and Cassel is a guy who can help hm. The hope, of course, is he never has to play in a game – unless it's in a mop-up role with a sizeable lead.
---
Mark Weber from Columbia, Tennessee
Question: Hey Jim. I've been wondering for some time now what is the number situation with Derrick Henry, and Kevin Byard? I've seen Derrick in pictures wearing number 24, however on the Titans website the team states that Cox still wears 24. Byard on the other hand is an unknown for me. Thanks
Jim: Hey Mark. The uniform numbers remains a popular topic for a lot fans. Henry is wearing No.2 now, but he can't wear that during the season. Perrish Cox, who currently wears No.24, said he's talked to Henry about a 'deal" for the number, and I have a feeling that will eventually work itself out. Remember, DeMarco Murray earlier negotiated with Cox for No.29. As for Byard, he's in No.20 right now, but so is running back Bishop Sankey. So something has to give here. The reality is with a 90-man roster and a half-dozen retired numbers, it's hard to find enough numbers. When the roster is trimmed to 53 in September, I suspect you'll see some shuffling.
---
Lance Williams from Fishers, IN
Question: Hey Jim, been reading your work, like your perspective on things… refreshing. I see the Titans signed a strong D2 receiver. Watched him in college a few times and liked his skillset -- Reece Horn. Have you seen anything that makes you think he might make the team? I think he fits Bob Bratkowski's receiver style -- strong fundamentals and smart kid. Thanks.
Jim: Hey Lance. Reese worked in the OTAs and the minicamp, and he made some plays. But it's going to be tough for him to stick simply because the team has a bunch of guys ahead of him. Horn's best chance to make it is probably on the practice squad, but he's going to be competing with another sleeper – Ben Roberts from Montana. I've liked the looks of him this offseason.
---
Jason Brown from Lima, Ohio
Question: Hi Jim. Long-time reader, first time writing. I have been a fan since 1994. I love the seven Titans you picked as your (most memorable). Those 7 always come to mind to. I loved Vince Young -- he was so exciting to watch. That 2-minute comeback to beat the Cardinals was one of the most impressive drives I have ever seen. My question for you is do you get the sense this team we have now will be greater than that of our 99 team? It's like we got our Steve McNair and Eddie George back although Mariota has a small frame he is a tough young man. Also do you see Sharpe taking over as our true number one receiver that we have lacked for what seems to be a decade or do you see DGB break out as our number 1. I see DGB as a Calvin Johnson-like player if he can put I'm the work and dedication. I am hoping to catch the Titans in week 2 at Detroit I am only 2 hours away. I have been feeling very optimistic about this year's team haven't been this excited about our team in a few years. Go Titans.
Jim: Hey Jason. Thanks for the question. Vince Young provided some memorable moments no doubt, but when I think about him I can't help but wonder how good he could've been if he would've committed himself the way Steve McNair did or the way Marcus Mariota is doing these days. Right now, it's hard to compare this team to the '99 team, especially coming off a 3-13 season. But I will say this: I was talking to Eddie George recently and he said if this team can find a way to win some games early, he thinks this year's group could get the confidence needed to produce some magical results like that '99 team. That win in Jacksonville early in '99 – when Samari Rolle intercepted Mark Brunell in the end zone, in the rain – propelled that team. As for Sharpe, again, I like what I've seen from him so far. But the kid hasn't even put on the pads yet. It's way too early to mention him as the No.1.
---
Jimmy Clements from Chesapeake, VA
Question: This is the first time I have written but just wanted to let you know how much I enjoy your column. They are always entertaining and accurate. Thank you. I have been a fan of first the Houston Oilers and now the Titans since birth. I grew up in Houston watching them play. Now for my question/statement: I like what the coach has done drafting OL and RB. I also like the hiring of Russ Grimm. My concern is that it will be the same old same old. We need a solid offensive line to protect Marcus and block for Murray and Henry. Do you see an improvement in our OL this season? Please
Jim: Hey Jimmy. Thanks for the mail. The o-line should be better, and it starts with Grimm. Players like him, and will respond to him. Plus, Ben Jones is a big upgrade at center, and Taylor Lewan has really looked good this offseason. Jack Conklin is going to be a good one, too. Chance Warmack should improve with another year under his big belt, and he's bought into the coaching change as well. The big question now is at left guard, but Spain is a physical guy who fits the mold, and there's competition behind him. Don't rule out some depth additions here either.
---
Mark Hall from Hixson, TN
Question: First, I'd just like to give some huge props to our new GM Jon Robinson for the outstanding job he's done bringing in the players and staff across the board that I expect will give us a pretty remarkable turnaround year. That being said, my question is about Dexter McCluster. With the RB situation all but carved in stone with DeMarco Murray and Derrick Henry being the featured backs and the WR picture starting to come together, are there any plans for him outside of special teams? He has such a wide skill set, and is very dangerous when given the ball in space.
Jim: Hey Mark. One thing Mike Mularkey has made clear this offseason is McCluster will have a role on the team. The Titans think he can be a change of pace back who can create match-up problems. The Titans have a Thunder and Thunder combination with Murray and Henry. McCluster believes he can provide some lightning. Obviously he won't get a ton of opportunities with Murray and Henry around, but he'll get a chance to make plays.
Have a great Fourth of July everyone!