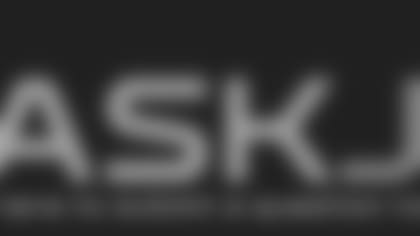 ](http://www.titansonline.com/news/ask-jim.html)
First off, an "I'm sorry."
Sorry for the two-week mailbag hiatus. It's not that the questions dried up, it's that I just couldn't answer a lot of them during a fluid time leading up to roster cuts two Saturdays ago, when the team trimmed the roster from 75 to 53 players. And last week I was just too slammed with the start of the regular season.
But enough of the excuses, right? Let's get cracking on this mailbag…
Sean Bradley from Tulare, California
Question: Is Tajae Sharpe the real deal?
Jim: Hey Sean. It sure looks like it. Sharpe last week became the first rookie receiver to start for the team in the "Titans era." He made some tough, contested catches. Every step of the way this young man continues to impress me. He already has great chemistry with quarterback Marcus Mariota, and he has earned the trust of the coaching staff. There's no doubt he's going to work, and keep getting better. I sure wouldn't bet against him.
---
Jason Brown from Lima, MI
Question: Hey Jim. I will be at the Titans game in Detroit and I will be in Section 133 row 9 seats 5, 6, and 7. Hope to see them score in front of me!!! Let them know where I am at I will be their once the gates open!!! On to the questions: I noticed even through preseason and first game that they are not giving the ball to Delanie Walker enough. He is our Pro Bowl tight end and he needs the ball in his hands. Also I know we went up against one of the best defenses in the NFL, but I hope to see a better run game this Sunday in Detroit. Another question is why didn't they utilize Derrick Henry more? I know he got stuffed on a few runs but he only had 5 attempts are they gonna give him more carries? Can't wait till Sunday I have to root louder than my mom (Lions fan).
Ps. If they score in front of me put a word in for me I would love to get the TD ball -- that is Section 133 row 9 seat 5, 6, and 7. I will more than likely be in the middle I will be wearing my custom Titans 85 Brown Jersey. I bought the Jersey before we drafted Marcus Mariota and we didn't have many stars when I bought it.
Jim: Hey Jason. I'll be on the lookout, and if you see me on the sideline in pregame, give me a shout. Mike Mularkey has been asked a lot about Walker this week. He said the team tried to get him the ball more often, but the Vikings took him away on a lot of plays with coverage. Look for him to be more involved this week, along with Henry. See ya Sunday!
---
Edward Reynolds from Quartzsite, Arizona
Question:After watching Sunday's game, I noticed something that seemed a little off scope. We threw the ball quite a bit, which when playing catch-up, is sometimes a must. My question is, I didn't notice many plus 20 yard throws to pull defensive line back a bit, is that normal by design, or just something that wasn't necessary. Thanks for all your wisdom and insight, Ed.
Jim: Hey Ed. A good, and fair, question. You're right, the team didn't throw the ball much downfield against the Vikings. I've had a few folks ask me about it, and whether the team has the speed to take the top off the defense. The Titans don't have a burner, but some guys are capable. I've seen it. And I believe they're going to need to complete some of those longer passes to loosen up the defense.
---
Harry Maltby from Shropshire, England
Question: Hi Jim, as a fan in the UK just wanted to say a huge thank you for all the coverage you and the team have done. It's made following my team so much easier even though there's a 5 hour time difference at the moment I try and watch each game live. I am hoping to come over next fall to watch a couple of Titans games live for the 1st time. Now for the question (sorry for all that): After a 2nd half collapse last week and Thunder and Thunder disappointing in the opening game, have you seen anything from the guys in training as a response and in particular Murray and Henry! Love what we have started to build this off season and Titan Up!
Jim: Thanks for the question Harry. Guys weren't happy with the loss. It was a good week of practice, and I think you'll see more of DeMarco Murray and Derrick Henry moving forward. The Titans want to dominate teams in the run game. That's going to be a formula for success a lot of weeks. The Titans hope it will be on Sunday as well.
---
Kenny Gore from Horse Cave, KY
Question: Hello again Jim. After a self-inflicted loss it is hard to see positive. I for one have been very open about my dislike of the Mularkey hiring at HC, but after the preseason & 1st regular season game....... I must admit, I am STARTING to believe. I promised to give him a shot to earn my support. This was a tough loss, no doubt. However, I must say; this team looks different. This team does not look like the same old Titans. I saw a team excited to play; & determined to keep playing to the end. There were several plays we should have executed much better. However, I see a team that is coming into an attitude. Fumbles cost us this game, as they will ANY team. If not for those fumbles; we WOULD have won this game. I am seeing positives. I am ready for next Sunday. Henry & Sharpe looked great making plays. The run game did not work like we wanted. The team responded well with passes.
One area I REALLY want & need to see improvement the most is the Pass Rush. We really need to put some pressure on these QBs. Not just getting close; but getting sacks. I am not 100% sure, but I do not remember many if ANY sacks in presSeason. We had none in this game. The Run Defense was amazing. However, I really want to see this team get after the QB.
Do you see any hope of us utilizing Kevin Byard & Kevin Dodd more soon? Byard was impressive in the preseason. The kid just makes plays. This team needs turn overs!!! Really looking forward to more positive signs next Sunday; & most importantly a W!!!!!!!!!!!!!!
Jim: Hey Kenny. Hope you're feeling well and recovered! I appreciate the comments, and I'm sure coach Mularkey appreciates your patience. It is a different team, and a different feel around it. As for Dodd and Byard, Dodd is going to play a lot this week. He's really coming on, and with Derrick Morgan out with a hamstring injury, the door is open. Byard has impressed as well. These guys are going to be on the field a lot for years to come.
---
Greg Irish from Novato, CA
Question: Hey Jim. Is there a way to find out which uniform the Titans will wear before every game?  I have all three uniforms (white, dark blue and light blue) and like wearing the uniform color during the game.
Jim: Hey Greg. I like your planning. Follow me on Twitter if you don't already. It's @jwyattsports. I always tell the jersey color during the early portion of the week, either Tuesday or Wednesday before the game. This week it's white. You'll have to wait until Sunday to find out the color of the britches, however. I can't give it all away and take away the suspense!
---
Eddie Luakahi from Lahaina, Hi
Question: Hi Jim, Was hoping you could let me know more about practice squad duties.  Are these players part of the team?  Do the practice with the 53?  Get standard lockers with the team?  Eat with the team?  What is life like for them there?  Thanks and Aloha!!!
Jim: Hey Eddie. Man, you're in a beautiful part of the world. Spent some time there several years ago. The 10 practice squad players are not a part of the 53-man roster, but they do practice with the team, eat with the team and share the same locker room. They usually don't travel, but they're at the home game. Their pay, of course, isn't as high as the guys on the 53, but they get paid pretty well, and get treated pretty well. It's not a bad gig, and they're in a position to be called up to the show. Aloha!
---
Jeremy Georgeson from Greeley, Colorado
Question: Hey Jim, Let me start off by saying thank you for keeping me updated on everything Titans. Especially living in Broncos country where every news feed is when Von Miller will (burp) next. My wife and I have made a commitment to go to one Titans game a year and so far have been to two in Nashville. We love it there and are excited to go to the Colts games on October 23 this year. The question is geared more towards Nashville. My wife and I will be out there the weekend the Colts come to town and are looking for something to do. We have a half day to kill on Saturday and were wondering if you have recommendations. We are renting a car so can drive outside city and we are pretty much into anything from nature to hangouts. Go Titans! Thanks again, Jeremy
Jim: Hey Jeremy. Thanks for the email. Nashville is a great city. It's where I was born a few years back, and I love seeing the way it has grown. There's so much to do. I'd recommend staying as close to downtown as possible, and taking in the sights and sounds on Broadway if you haven't done that before. There's a ton to do and see, especially if you like country music. One of the hop-on, hop-off buses is a great way to see a lot of attractions, and get a brief history of landmarks in the process. A ton of great restaurants downtown, too. The Southern and Acme are a few cool spots to eat, but you'll find a ton of places to choose from downtown. The Vanderbilt University area is nice to see, and if you want to anchor down for a game that Saturday – they play Tennessee State. I don't know the time yet, however. The historic Parthenon is right across the street, too. Hit me back here if you have any more specific questions before the trip.
Have a great weekend everyone! Don't forget to follow me on Twitter and Instagram (@jwyattsports) if you don't already.
TitansOnline.com looks back at the all-time series between the Tennessee Titans and Detroit Lions. (Photos: Donn Jones, AP)