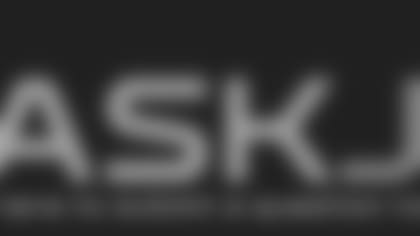 ](http://www.titansonline.com/news/ask-jim.html) The Titans are in the playoff hunt with three games left.
Next up is a trip to Kansas City to face the Chiefs at Arrowhead Stadium on Sunday.
Next up for me is this mailbag.
Sorry I missed a week last week, and allowed some of your questions to get out of date. Keep them coming, and I'll do my best to get to them.
Let's dive into another one …
Carl Sharp from Dallas Center, Iowa
Question: Hey Jim, thanks for keeping us all informed on the Titans. I am a huge fan but have never been to a game. I however am going to change that Sunday in Kansas City. I am 7 rows up right behind the team and cannot wait. It's gonna be cold and I see it as possibly the hardest challenge for the team yet. My question is: Do you think that once we are in the second half of games and trying to hold the lead that it would make sense to put in Derick Henry so that we get some fresher legs to punish the opposing defense as they tire out. I love DeMarco Murray but it just appears to me that he tires as the game goes on. Anyway just my observation and I would love your thoughts. See you in KC. TITANUP
Jim: Hey Carl. Will be in the lookout. Give me a shout. I'll be the guy all bundled up in pregame. It's going to be a cold one! Henry is a load, and he's a heck of an asset. But Murray has had some key moments in the second half of games this season as well, too. I think you'll continue to see a mix. Sunday could be a big day for the running game in KC. Wear layers!
---
Sergio Rodriguez from Laredo, Texas
Question: Hello Jim, I'm a Big Titans fan from South Texas would like to know if Kevin Byard would be an option at CB? If he is a ball hawk, why not give him a chance at corner? What about Curtis Riley? Is he in the mix as well? I'm just curious because Titans thought highly of him last year before he got injured. Keep up the good work and as always TitanUp!!!
Jim: Hey Sergio. Thanks for the question. Coaches like Byard as a safety. He's a great athlete, and is capable of playing in different spots, but I don't sense a change is coming. As for Riley, he arrived as a corner and switched to safety. The coaches like the young guy in LeShaun Sims and Kalan Reed with the vets, so they're going to give them a chance for now. And I'm expecting some new arrivals at the position this offseason.
---
Nick Grewe from St. Louis, Missouri
Question: Dear Mr. Wyatt.  The Titans are my favorite team and I just wanted to ask if you think the Titans are legitimate playoff contenders?
Jim: Hey Nick. Thanks for the question. Well, the team is definitely in it. And right now, the team is in the spot it wants to be in – in control of its own destiny. Win the last three games – vs Kansas City, at Jacksonville and vs Houston – and the Titans are AFC South champs. But first things first. It's a big one on Sunday in K.C.
---
Bryan T from South Carolina
Question: Hey Jim. I'm curious, I've heard whispers of Brandin Cooks not being too happy with the Saints, Victor Cruz not being happy with the Giants, and Alshon Jeffrey hitting the market. I personally would like to see Alshon picked up for pretty cheap because of his injuries because I know they're going to release Kendall Wright since he isn't a good run blocker unfortunately (I'm really rooting for Kendall to make it next year). Who do you think Mularkey may pick up as a WR in FA? Or do you think the Titans may pick up a different FA WR? I'm asking that in hopes that we pick up potential #1 WR in FA and use the 2 #1 picks on DBs and at least get one lockdown DB to elevate our secondary.
I would ask a Murray/Henry question, but i'm sure other folks have asked that question.
Thanks man, take it easy.
Jim: Hey Bryan T. Well, you bring up some interesting names, and options. This time of year there's all kinds of rumors floating around out there, so you never know what's real or what's not. I'll say this about the receiver position: I think the Titans will add to the spot, possibly in free agency and the draft. General Manager Jon Robinson and Mularkey will survey the roster at season's end see where additions need to be made. When I look at it, I see a need for a burner. They know a lot more about it than I do. As for Wright, his contract is up, so he wouldn't have to be "released," so keep that in mind. And you're right, Carl beat you to the Murray/Henry question. :)
---
Luke Blain from Pleasant, WV
Question: Hey Jim! Really appreciate you keeping all of the Titans fans in West Virginia up to date with everything! In my opinion, it was time for Perrish Cox to be let go. Nothing against him personally but he was really inconsistent. But with one of the main parts of our secondary gone will we try to pick up a free agent safety like Eric berry or will we wait until the draft since we have 2 first round picks? Another position I've seen a need for is the wide receiver. Rishard Matthews has been really consistent and Wright has done well also, but we need a true wide receiver 1. I've noticed that many are talking about how Brandin cooks would be good trading ground or will we pass on him since we have Kendall wright at the slot? Let me know your thoughts. Thanks again Jim and TITAN UP!!!!!!!!
Jim: Hey Luke. Man, these free agency and offseason questions are coming, and the Titans are in the playoff hunt! But that's OK. We'll take 'em all on here. Time will tell on a lot of guys. I talked to my buddy Terez Paylor of the Kansas City Star about Berry this week, and the folks in Kansas City love him, so he may not just walk out.  And you can be sure the rest of the league has eyes on him as well.
---
Kenny Gore from Horse Cave KY
Question: Hello Jim. I MUST say this in defense of Harry Douglas.
ANYONE calling the Douglas block "Dirty" or "Not Needed" knows NOTHING about football. Douglas WAS NOT 10yds from the play as everyone continually says; maybe 6yds. The run lane WAS going to head in the direction of Harris Jr IF Henry broke loose. The way the officials were calling the game; if Douglas blocked up high he WOULD have been flagged for holding. ABSOLUTELY NO DOUBT IN MY MIND ON THAT! It was a 100% legal play by a player blocking the way he has been coached to play! He was 100% in front of Harris. If Harris studied his film, as he should, then he would've known Douglas & MOST ALL WRs use cut blocks!!
This WOULD NOT be an issue if it was not Douglas against a top tier CB. Antonio Brown cut blocks nearly every game.........IS HE A DIRTY PLAYER...... NO he is a media darling! A Fantasy Football star so he is not held to the same standard! If it is dirty when Douglas does it, then it is dirty period!
This is just ANOTHER example of the media looking for a way to put down a team that won against a team; THE MEDIA thought was better. It's a joke that this is still even an issue! Morgan was a free runner & got a sack. On that play Denver's RB tried to cut block Derrick Morgan, but whiffed on the block. Is Kubiak sending that film to the NFL.....
Just a PERFECT example of the double standard shown on game days in the NFL. A Big name team like Denver is far & away favored by media & OFFICIALS!! The focus should be on Aqib Talib acting like a child who's buddy got in a fight. He couldn't take care of his own business. He buddy had to go fight for him! Talib is one of the dirtiest players on & off the field in the NFL. To hear him call ANYONE dirty is the biggest JOKE of the year!!
I am sure the NFL will change this rule now that it has had NO effect on a game, but showed up against a Media Darling team. It will prove 100% that the NFL is ALL about popularity not who is better on a given day
OK RANT OVER! GO TITANS! AWESOME TEAM WIN!!
Jim: Hey Kenny. I'll let your email speak here, and I appreciate you taking the time. I'll just say this: Douglas wasn't fined. I've heard the criticism of the block, but he wasn't fined. It was a legal play. I've seen a whole lot worse.
---
Godfrey Ching from Honolulu, HI
Question: Aloha Jim. More fans from the Aloha State have been watching and rooting for the Titans since Marcus Mariota was drafted. We can see the improvement in the team from last year to present. There is one obvious area that the Titans are very predictable, that is whenever they have a 2 score lead, they tend to get very conservative. In several games this year they have let the opponent gain momentum and back into the game by being conservative after a lead. They almost lost to Denver this past weekend, not having scored any points in the 2nd half, with their conservative play calling. Good teams like New England, Arizona, Seattle, etc. continue to pound you into submission and keep the momentum on their side. The Titans will never be a feared opponent if they continue with their conservative game plan. Your thoughts?
Jim: Hey Godfrey. Appreciate the email. But I can't say that I agree 100 percent on this one. OK, against Chicago after getting the big lead, I admit it wasn't pretty. It was hold on for dear life at the end, and it almost didn't happen. If the secondary had made some plays down the stretch, it wouldn't have been so close. It shouldn't have been that close. Against Denver, the Titans took some shots down the field with a 13-point lead, and even late with a 13-7 lead. I didn't think the play-calling was necessarily conservative, it just didn't work. I hear ya, though. Playing with a lead is a nice change, huh? Have a good one.
---
Brian Williams from Memphis, TN
Question: Hello Jim. Was so glad when I found out you were becoming the writer for the Titans. Loved your articles before you moved up and you have only continued to amaze me. Here's my question: What are the coaches doing to make the transition for Leshaun Sims and Kalan Reed easier? Wish you the best. #TitanUp from the diehards in Memphis.
Jim: Hey Brian. Appreciate the email and kind words. Sims sure settled down against the Broncos didn't he? I think the experience helped him from the previous week, and the bye week, and the guys played better around him. He's a good looking prospect. As for Reed, they'll be more patient with him, and he didn't get throw into the fire right out of the gate. But the coaching staff really likes both of those guys. Take it easy in Memphis!
---
Jon Warner from Los Angeles, CA
Question: Hi Jim. I appreciate all your work keeping us fans informed about the Titans. Long Distance fan of the franchise since 1989. Quick question for you, I'm pulling for a playoff berth but also thinking about our 2017 Draft. I don't think the Rams record will net us a pick high enough to draft Jonathan Allen but we might have a shot at Reuben Foster, how would Reuben fit into our Defense?
Jim: Hey Jon. I think he's a heck of a player. And I think he would fit. He's fast, and he can hit. And as you know, that Rams pick right now is No.5 overall. But the team also has some other needs, so we'll have to keep an eye on how the draft class shakes out. But that pick has sure turned out to be valuable!
Have a great weekend everyone!
TitansOnline.com looks back at the team's all-time series against the Kansas City Chiefs. (AP Photos)