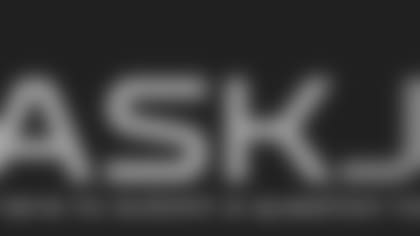 ](http://www.titansonline.com/news/ask-jim.html)
After four straight home games, the Titans hit the road on Sunday to take on the Texans.
First, let's hit some mail…
Daniel Diaz from El Paso, Texas
Question: Hey Jim, big fan over here in the Sun City. My question is simple: Instead of having so many tight ends, at this point wouldn't it make more sense for the team to have some wide receivers in case of another injury like Harry Douglas' injury? I get they waived Chase Coffman for Rico Richardson. But I still think letting Hakeem Nicks go might not have been such a smart move. I'm sure he still had a couple good years left in him.
Jim: Hey Daniel. Thanks for the questions. I'll be honest: Nicks looked done at the end of training camp. He couldn't separate from defenders, and that's why he was released. The fact no other team has picked him up proves others saw what the Titans did. The Titans are cutting it close at receiver, but they generally only play four in a game. So there's no use carrying extra guys. They value the tight end position, and feel Coffman and Phillip Supernaw on the back end would be better that the fifth receiver.
---
Gabe Varney from Kingpsort, TN
Question: Hi Jim. First of all let me say I'm a big fan of your work and am impressed with all your answers and articles. I know the Titans have a "by committee" process with their running backs depending on who the opponent is and ect.  RB Matt Forte could be an available player to snag. He would bring some stability to our running game and help take some off the pressure off Marcus Mariota with him being a rookie QB. What are the chances of the Titans going after Forte? It seems to me like Forte would be better than having 3 or 4 mediocre running backs. Thanks!!!!!!
Jim: Hey Gabe. I appreciate the mail, and the kind words. For starters, I don't know Forte is available for sure. He's a good back, I agree. If I'm the Bears, I wouldn't trade him. We'll know soon enough – the deadline is November 3. I can't see the Titans trading for a running back. They have a stable, and Antonio Andrews is starting to look pretty good to me. Keep in mind David Cobb is nearing a return as well.
---
Kenny Gore from Horse Cave, KY
Question: I know in interviews Whiz does not like to talk about the AFC South standings; at least it seems that way. However, I am very interested to know what the owners, CEO, GM, coaches, & players are thinking right now about the playoffs. Normally in a 1-5 season teams would not be thinking about playoffs at all. I really hope that is not the case in TN this year. I know it has not started well. However, if the Titans win this week and Indy loses we are in great position to take over the division. This all hinges on getting more wins of course. My question I guess: Are the Titans as a whole aware of the very unusual and great opportunity they have in the AFC South this year??
*With Indy playing badly, this division is up for grabs. The Titans could very well come back from a 1-5 start, and WIN THE DIVISION!!!! I am psyched that we are STILL in the playoff race, even at 1-5!! *
Jim: Hey Kenny. You're right, the Titans are still in it. That can't be said for other teams off to a bad start, because their division leaders are running away with it. As for the buzz about being in a playoff race or winning the AFC South, folks are aware. But let's keep it real here: the Titans have to win some games. No one with the team should be talking much about what's going on elsewhere until some games are won here.
---
Dan Johnson from Cedar Rapids, Iowa
Question: Hi Jim. We're in the middle of nowhere here in Iowa Hawkeye Land! Heard David Cobb may be starting this week or next week. Do you know if there is any truth to this? Actually heard it on ESPN last night! Thought you could clear this up, Thank you very much.
Jim: Hey Dan. Sounds like you got some bad information. Cobb still isn't on the active roster. He won't be eligible to play until Nov.8 at the earliest, against the Saints. The Titans can activate him anytime from Monday until November 12. And I wouldn't necessarily expect him to start if that's his first game back either. He's going to have to work his way back into the mix.
---
Josh Craig from Cookeville, TN
Question: Hello Mr. Jim. When will Coach Whisenhunt decide to let Andrews be the three down back every drive and Dexter McCluster to come in on passing situations on 3rd down? I feel like he is the front runner for all the running backs and if we were to give him the ball more, we have a better shot at winning. I will cheer for this team everyday no matter what but the play calling is getting so hard to understand.
Jim: I hear ya, Josh.  And I like Andrews, too. Whisenhunt loves to use a bunch of backs, like you said, for matchups. When Cobb returns, things will be even trickier.
---
Rex Greene from Athens, Alabama
Question: Jim. Do you know why we hear so many whistles during time-outs on Titans radio?
Jim: Hey Rex. That's an easy one. It's Mike Keith and Frank Wycheck ordering hot dogs. It's sometimes tough getting the attention of the vendors down below.
---
Question: Is Dorial Green-Beckham so far behind, rusty, or … incapable of make any impact on the Titans this year?  The coaching staff seems to think so.  I mean at the very least use him in the Red Zone, he'd probably out jump most CBs I would think. One throw his way in the Atlanta match up???  Without game experience how is he ever to progress and seriously, Hunter needs to sit a bit more anyway. Keep up the good work!
Jim: Hey Scott. I like DGB. I like his tenacity, and his athletic ability. I'd like to see more balls thrown his way myself. When he's gotten the opportunity, he's delivered. The coaching staff has been careful not to overload him so far, but I have a hunch he's going to get more chances coming up. I'm predicting a breakout game in the not-so-distant future.
---
Jane Britton from Nashville, TN
Question: Would Coach Whisenhunt consider starting Charlie Whitehurst next weekend against the Texans? I think he gives us the best chance to win given his experience and skill set. Thanks.
Jim: Hey Jane. Thanks for the question, but the answer is no. Marcus Mariota is the starter, and Zach Mettenberger is the backup. With Mariota hurt, Mettenberger will start and Whitehurst will be the No. 2.
---
Michael Teter from Oak Grove, KY
Question: I have been watching the Titans since they came to Nashville from Houston. I have been a fan even when they were at their worse. Do you think they will get back to the playoffs this year? It seems on be out of reach for them now? Also I like that you took over and have been following you and like what you are doing with the website. Thanks for doing a good job on the website.
Jim: Thanks Michael. I mentioned earlier, the Titans are definitely fortunate to still be in it. It's hard for me to forecast playoffs while the team is on a five-game losing streak. I think this team has plenty of upside, but it's time to get going. Appreciate you checking out the site.
---
Tyler Kuppler from Sullivan, IN
Question: *Hey Jim got a couple quick questions to throw at ya. First off, you are the man. You were the reason I read articles on the Tennessean. So first question, do you think at any point this season Whiz might let Jason Michael handle play calling duties? Second question, do you think David Cobb might actually be the guy to step up and end this joke of a RB by committee? Third question, is Mike Keith going to do any "Titans Flashbacks" again really enjoyed those last year? *
Jim: Hi Tyler. First off, the check is in the mail – thanks for the kind words.
I'll be surprised if Whisenhunt gives up the play-calling to Jason Michael.
Cobb will be in the rotation at first. Coaches weren't real happy with him before his injury, so he has a lot to prove.
Mike Keith said some new "Titans Flashbacks" were shot recently, and they should start airing in November. He's glad you've enjoyed them.
RECOMMENDED: