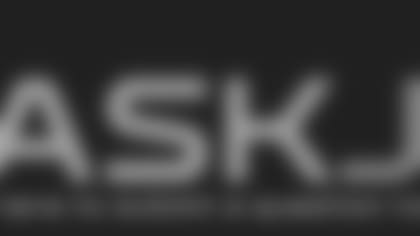 ](http://www.titansonline.com/news/ask-jim.html)
OK, we're halfway through the preseason, and drawing closer to the start of the regular season.
This is an airmail version of the mailbag, since I banged out the answers on the flight to Oakland.
But enough chatter here. Let's land this plane and get to some questions. Here we go…
Michael Bailey from Greensboro, NC
Question: Hey Jim! First let me thank you for your continuous insight into our team. I'm originally from NJ but moved down to NC for school, got married, had kids, and stayed. I've been a Titans fan since their move to Nashville and have stuck through these hard times since. It's funny that I get called "the only Titans fan in NC" even though it's only one state away...oh well, I'll be that. Anyway, I know you have probably received this question/topic 100 times but I honestly feel like Derrick Henry is earning his reputation and has the exact same thought process and running ethics Eddie did (George). He has stated that no matter what happens, he wants to try to find a way to fall forward every time. I think it would be very inspirational if Mr. George came to some practices and watched Derrick in the final 2 preseason games. Then if Eddie feels like he showed enough to earn it, he could ceremonially christen Henry to wear the beloved 27 jersey. I think he has proven himself so far and would make Eddie proud. What do you think about that? Could it be a possibility?
Jim: Hey Michael. Stay strong in NC! Eddie likes Derrick Henry. I've talked to Eddie about him. And he's gotten to know him a little bit at Heisman events. Henry does remind me of Eddie with his running style, and his size. And I think he's going to be a good one. He's not going to be in No.2 this year, that's for sure. But I suspect he'll eventually bounce to No.24. In my mind, the 27 is one of the sacred numbers in Titan-land, so I don't think Henry's going to get that one.
---
Federico Alatriste from Queretaro, MEXICO
Question: Hola!!! From Mexico!! First of all I would like to say that I like a lot the way that you answer to the people I think you write in a very warm, human way; I remember that one time someone wrote to you in Spanish and you answer to him in Spanish as well, I appreciate that cause here in Mexico not everybody is lucky enough to get an education that includes English. I have two questions for you: 1) I've heard and read a lot about Kevin Dodd, Kevin Byard (I think he is gonna be awesome), Jack Conklin and Derrick Henry, Even Aaron Wallace... but not a single comment on Austin Johnson, why is that? Is he not doing as well as the other rookies or is it just a matter of time? 2) If you ever consider to do a "Titanes de Tennessee" clip in Spanish for your Latin Audience, Do you think you could consider me to be the reporter? Have a Great day!
Jim: Hey Federico! Thanks for checking in from Mexico. And I appreciate the comments. I do my best to answer in Spanish when I can, but I must admit, I'm afraid I'm butchering the language when I do! All those guys you mentioned are off to nice start. Dodd fell behind, but he's catching up, and he's scheduled to play tonight. As for Johnson, he's been solid. But an undrafted rookie by the name of Antwaun Woods has been really good at nose as well, and actually jumped him on the depth chart. The team is still high on Austin Johnson, however. As for the Spanish clip, that's a good idea. Judging from this mailbag, the Titans have a good fan base in Mexico. If we ever go that route, I'll definitely keep you in mind. Gracias!
---
B.J. Dugan from Easton, Pennsylvania
Question: Hi Jim. First I want to thank you for all your hard work at constantly updating the Titans fans on everything relevant to our team. My question centers on the much discussed receiving corps. Who do you think the Titans are relying on to stretch the field and keep safeties honest so the run game can flourish now that DGB has been traded and the fact that Justin Hunter is not a guarantee to make the roster? Thank you very much!!
Jim: Hey B.J. A lot is still to be determined here, but several guys are capable. I know Tajae Sharpe isn't necessarily considered a "burner" but the guy has consistently gotten open in practices downfield, and he seems to already have good chemistry and timing with Marcus Mariota. I know Mariota's deep ball has been scrutinized, but I can say it's looked better of late, and a number of guys have been on the receiving end.
---
Ed Reynolds from Quartzsite, AZ
Question: Hello Jim. 2nd time writing you, thanks again for answering my first time in about our running backs. With the new resurgence of a front line that I have watched this preseason, and things are looking MUCH more improved over the previous season, is it safe to assume we will be keeping this stable of fellas and doing cuts in other areas of the team. I think there should still be some address to the D-line on an emphases of hole plugging. Thank you sir. PS. I sent the commissioner a request to leave Mr. Henry with the #2 for the season, I think it should not matter what numbers are designated to which positions, and the fella has had it all season. Petition time.
Jim: Hey Ed. Thanks for writing back. The Titans will be heavy on the offensive line, but some guys aren't going to make it. The team currently has 15 offensive lineman (6 tackles, 6 guards, 3 centers) on the 90-man roster. When cuts are made, the team will get down to nine or 10 I believe. Look for the team to keep several guys capable of playing several spots on the line. By the way, let me know what Roger says about the request.
---
T. Pierce from Nashville, TN
Question: Although it seems premature to assign a superlative tag to our two new running backs, I couldn't resist. But if they deliver, and the beginnings of a great offense were to unfold this fall, why couldn't we see a line that read, "The Titans turnaround can be attributed in part to their 'slam bam' running attack"? Slam as in Murray and Bam as in Henry (from Bama). "Slam and Bam".
We definitely need to get past Thunder and Thunder!
Love Titans Online and the work that you do. Thank you.
Jim: Hey T. Appreciate the email, and the suggestion. I've been getting slammed with them on Twitter, I know that!
---
Wayne Clanton from Canyon Lake, Texas
Question: Hi Jim! I am an Oilers-Titans fan for 56 years and counting. Last Saturday I was looking for some good consistency and I didn't find it with the offense or defense. On the offense, you can't cough up the ball three times against a good team and win. On the defense, the guys seem to be out of position and sluggish to make the tackle. Knowing it's only a preseason game, but what you do now may determine what you may do doing the season. My question is do we as a team have the depth to be consistent this year? In the interviews many times you cannot hear the question of the interviewer. Case in point in the locker room. Will the sound system be improved this season? Thanks Jim for all you are doing for the Titans.
Jim: Hey Wayne. Sounds like you're a great, loyal fan! I agree with the mistakes – they can't continue. But I really do believe some of the sloppiness can be attributed to guys getting back in the swing of things, and knocking the rust off. As for the depth, there's no question it's a whole lot better. The team is so much deeper than a year ago, at just about every spot, because of the work done in free agency and the draft. The quality of the depth is so much better. And that will help when the regular season rolls around. Sorry you're having trouble with the sound quality. The microphone is usually positons close to the player, so when the questions are asked, I suspect they're just not being picked up well because the reporter is several feet away in some cases.
---
Luis Murra from Torreón, MEXICO
Question: Hi again from Mexico, Jim!
1) Are we planning to wear all white uniforms a lot? I think our dark blue jersey should be used at home (I really like the light blue one too)
2) When does the first cut is scheduled?
3) Is there any position you believe the starter is not in the roster right now?
Jim: Hey Luis. Thanks for the questions. I'll knock these out:
1) Get ready to see more dark uniforms at home. Yes, some white jerseys will be in the mix as well, but they'll wear the dark blue most of the time.
2) The first round of cuts will happen on August 30. That's when they'll get from 90 to 75. On September 3, the rosters will be reduced to 53.
3) This is an interesting one. I don't think so, but I do think there will be some key additions made via waiver claims.
---
Daniel Cotterell from Clarksville, TN
Question: Hi Jim, first off I just wanted to say I love your writing, and love that you came to the Titans after leaving your former job. Also, the Hawaiian shirts you wear are killer! On to the question though. I watch a lot of football, mostly NFL football. As I've watched at least some of almost every preseason game so far this year, I find that the Titans seem to be one of the only teams that never play bump & run on the outside receivers when we're on defense. And quite frankly, it drives me insane! I know the point of a big cushion is to respect a guy's speed and not give up the big play, but we saw how that worked out against Carolina. Did the coaches not see that Benjamin and Ginn Jr didn't even have to put forth any effort to beat us on that drive last week? I mean, when you're giving receivers (regardless of their speed) 15-yard cushions on the outside, it kind of makes it easy on them. Then one missed tackle and next thing you know their celebrating in our end zone! What are your thoughts on this? And PLEASE tell me the Titans will be playing more bump & run this season, as it seems to work for most teams. Thank you for your time!
Jim: Hey Daniel. I appreciate that. It's been a good move for me, even though I loved my time at The Tennessean as well. And I appreciate the praise on the Hawaiian shirts! OK, let's get to football. You raise a good question on the cushion, and it's been a topic of discussion this week. I agree – I think they gave them too much room as well. I believe the Titans will be more physical and in your face as a secondary this year, especially at corner. Keep in mind Perrish Cox and Jason McCourty didn't play against the Panthers, and that contributed to the way things played out as well. When they're back, look for them to be more aggressive on the outside.
---
Marco Antonio Alfaro del Ángel from Mexico City
Question: Hi Jim, is the first time that I write a question although I always read this section and almost all your articles. In fact, I have seen all and each game of the Tennessee Titans since 2008 (and that is not something easy to do living here in Mexico). But I have been a loyal fan of this team since the early 2000's because my father was a great fan of the Houston Oilers. My question is also a kind of suggestion in something related with the identity of the team: we are named Titans but our mascot is T-RAC, he does a nice job but it would be more suitable if we could have a mascot related with our name, with the Greek mythology Titans; it can be a designed one or an adaptation of one of them like Prometheus, Atlas, Perses, etc. I want to know if there is something that I can do to achieve that this idea get considered. And also about the #TitanUp, I believe that is not so original and it doesn't has too much sense; again, we should have something related with our name! Only to make a suggestion it could be #ReleaseTheTitans since the Titans are imprisoned in the Tartarus, by the way it could be great that the stadium could be named Nissan Tartarus but I know that is too much ask for it. Thank you Jim!
Jim: Mexico is en fuego here! Thanks for all the questions. This make three! Sounds like you're a great fan, Marco. And man, you're thinking outside the box! Props to you. I don't have enough moxie to get these things changed, of course, but this could at least get the conversation started. I just hope T-Rac doesn't read this!
---
Jonathan Leavitt from Riverside, CA
Question: Jim, First off, I'd like to thank you for all the great Titans coverage. As a Titans fan, I am super excited to see our team moving in the right direction! Our O-line is looking much better than in past seasons, Taylor Lewan and Jack Conklin are both great physical players. More than anything I am very hopeful that DeMarco Murray and Derrick Henry can get things going in the run game.
During the game vs Carolina the announcers were expressing their dislike for the "Thunder and Thunder" nickname. I'm not a huge fan of that name either, they suggested "Boom Brothers"... I'd like to throw one out there: "Double Trouble"
Jim:I've seen some good ones out there. Bruise Brothers is another one I like. I have a feeling sooner or later one of these is going to stick.
---
Darin Finkelstein from Chatham, NJ
Question: Hey Jim. After watching tape of the game against the Panthers it appears Henry and Jalston Fowler in the I-formation is going to be powerful. Fowler's blocking skills are incredible. Any chance we will see Fowler on the field more? It would be great to see some pass plays to Fowler over middle. Teams don't utilize the fullback today but as we move to this retro smash mouth attack it may be great to utilize his skills in different ways. Have you seen any of this taking place in practice? Thanks-Darin
Jim: Hey Darin. I like Fowler, and Mularkey clearly likes him, too. He was raving about him last week, and it definitely sounds like he's going to have a bigger role on the team. How big of a role? Well, that remains to be seen, and it will be determined by how the games are going, whether the team is in the lead or playing from behind, etc. I do think he'll have a chance to catch a pass here or there, but I'm not so sure I'd pick him for my fantasy team…
---
John Peay from Christiana, Tennessee
Question: Hello Mr. Wyatt. I'm a big fan of your work. This is my first time writing you so thanks in advance. I wanted to know what your opinion was of Antwon Blake. I know many people are really high on him being one of our top corners. I'm hoping he just had a bad day against the Panthers. I believe he was thrown at six times, all for receptions, positive yardage, and a missed tackle for a touchdown. I believe our defense is going to be better this year with the coaching, and new players they have signed. I am concerned with them letting teams score first. Once is play, twice is practice, three times is a habit, and habits are bad! I like the fact that on offense Marcus Mariota, and Tajae Sharpe have good chemistry together. Last thing. Everyone is trying to think up nicknames for the running backs. How about the O-line, and the D-line. I like "The work crew" for the O-line, and "The wrecking crew" for the D-line. Just throwing it out there. Again Mr. Wyatt thanks for all you do for the fans, and the Titans organization.
Jim: Hey John. First, let's tackle Blake. I think he just had a bad day. He was really good in practices at the end of camp, and I thought he played well against the Chargers. But he definitely struggled against the Panthers. Right now, I think Blake makes the team, but he's obviously not going to be a starter. He'll be used in situational packages, and with his speed, he'll help on special teams. Yeah, the nickname game is all the rage right now. I'm sure the o-linemen and d-linemen don't mind being tossed into the fray. Hey, it's fun to talk about. Thanks for the suggestion.
OK, I'm wrapping this up over one of the flyover states. Have a great weekend everyone! And hope you're prepared to stay up late for this one!
P.S.: I took a break and watched the Creed in flight. If you're a fan of the Rocky movies, you should check it out.