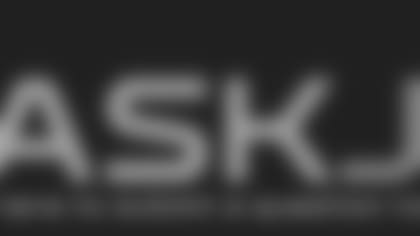 ](http://www.titansonline.com/news/ask-jim.html)
The Titans have won two in a row, and they return to Nissan Stadium on Sunday to face the Colts. It's a big game, no doubt.
To help pass the time, I'm diving into another batch of mail. Let's do this …
Devon Chester from Memphis, Tennessee
Question: Hey Jim. How did you like that incredible victory the Titans got on the Browns Sunday? My question is with the Colts coming in on Sunday do you think Andre Johnson wants to prove to the Colts they made a mistake in not keeping him? And I was also wondering how much longer will Chance Warmack be out for? Thanks again and Titan Up.
Jim: Hey Devon. I talked to Andre this week. He has no ill feelings towards the Colts, just like he had no issues with the Texans, where he spent his first 12 NFL seasons. Johnson has a lot of respect for Indy coach Chuck Pagano, who recruited him to Miami (Fla.), and he said he enjoyed his time with the Colts last season. He just wants to contribute in Tennessee. As for Warmack, Titans coach Mike Mularkey indicated when he went on Injured Reserve he probably wouldn't return in 2016. The way Josh Kline has been playing at guard in his absence, it makes sense to keep rolling with him.
---
Pepe Herce from Mexico City
Question: Jim, I'm Titans/Oilers fan since Dan Pastorini, Ken Burrough time, so you see I'm with the team in the good and the bad times. My son is 11 years old, and he is fan for the Titans. He told me and if you review when the Titans played in dark blue or light blue, we have more wins than when we played in white uniforms. Iif you can review that my son and I will appreciate. Luv ya blue.
Jim: Hey Pepe. Sounds like you're a good fan. I wish I could find the stat for you. I bet your son is onto something, but I'm not sure. I don't have the uniform W-L record. Navy blue used to be the primary home uniform, and the Titans racked up a ton of wins in those in the early days. So I'm thinking that's the winning wardrobe choice. The Titans won in navy blue last Sunday against Cleveland, and they'll be back in them this Sunday against the Colts.
---
Sean O'Connor from Nutley, New Jersey
Question: Hey Jim. BIG thanks to you and the entire organization for your nonstop coverage of the Titans. It means a lot to those of us northerners ...hope to see you down in Nashville for the Thursday night game when I'm in town! I've been a Titans fan long enough to know to temper my expectations when it comes to momentum with this team, especially when it comes to position groups that are "carrying" the bulk of the weight.  As far as the offensive line goes what are some of the weaknesses that we should be concerned about? Will depth or penalties become an issue as the season continues? Looking forward to hearing from you! Sean
Jim: Hey Sean. You're welcome, and thank you. Right now, it's tough to find weakness on the o-line. The Titans have only allowed nine sacks in six games – Marcus Mariota was sacked 38 times in 12 games last year – and the team is ranked No.3 in rushing offense. Depth is good, with Dennis Kelly, Brian Schwenke and Sebastian Tretola. The group has given little reason to have holes punched in them at this point. Give me a shout if you see me Thursday night!
---
Robbert van Giffen from Boise, Idaho
Question: Hey Jim thanks for your coverage keeping all us fans in the loop. I unfortunately don't get to see a lot of the games but listen to them on the radio. Just listening I don't get to see plays made away from the ball. My question is how are the young guys coming along? Is Kevin Dodd creating much pressure aside from the sack he had vs the lions? Is Jack Conklin holding his own as RT? Are Byard and Stafford making plays on defense when they're in and are they getting more playing time? Thanks!
Jim: Hey Robbert. Dodd isn't getting a lot of snaps because he's playing behind some productive guys. He got off to a slow start because of the injury. He was added to the injury report this morning for tomorrow's game vs. the Colts. Conklin has been great. He hasn't allowed a sack – or even a hit – according to Pro Football Focus. And Kevin Byard is getting more snaps each week. I think it's just a matter of time before he makes a huge play.
---
Steve Hargrove from Huntsville, Alabama
Question: Could you tell me what 15-yard penalty call the referee made Sunday against Delanie walker on a block he made toward the end of the play, please? I have never heard of that particular penalty he called out. I also didn't think much of the call on Antonio Andrews block. Are they planning to change the game to touch football?! Thank you very much!
Jim: Hey Steve. I thought the Delanie call was questionable myself. They called him for unnecessary roughness. As for the Andrews hit, they're going to err on the side of caution there because of injury risks. But Andrews was not fined by the NFL for the hit, which means the league reviewed it and deemed it to be a clean hit.
---
Joel Rohm from Yuba City, California
Question: Hey Jim. The "flaming thumb tack" midfield at Nissan Stadium is way too small. It looks pitiful, maybe the grounds crew can make it bigger? I think it would make the field look better, IMO. Thanks Jim TITANUP
Jim: Thanks Joel. I'll pass it along. The "fireball" logo is the preferred terminology, though. :)
---
Leslie Dixon from Cologne, Germany
Question: Hey, Jim! As always, thanks for your time. The Titans are looking great so far this year. It's really exciting and Sundays are fun again. My biggest concern right now is the development of Tajae Sharpe. He had an excellent offseason and even looked great against Minnesota. What's going on?
Jim: Hi Leslie. Hope all is well. Thanks again for the postcard. It's hanging on the bulletin board in my office at Saint Thomas Sports Park. Sharpe got off to a great start, probably the fastest start of any rookie receiver I've ever covered. The coaching staff wants him to be more consistent with his route-running, and that's led him to having quieter days of late. But I have no doubts he's going to be a good one. He's a hard-working guy with a good attitude. When he settles in, he's going to make more plays. And since you're in Germany, Pass gut auf dich auf.
---
Darin Finkelstein from Chatham, New Jersey
Question: Hey Jim-Thrilled with the victory against the Browns.  Although the Titans typically make no name back-up quarterbacks look like Pro-bowlers, these Titans are different as they came away with a victory...My question is on punt returns.  Seems like every time the returner runs east west and tries to make a big play we get hit with a block in the back penalty.  When there is room why don't the coaches demand a straight return and take what is available and avoid the penalty?  Seems like the reward of breaking the long return is not worth the risk based on our track record.   Thanks Darin
Jim: Hey Darin. I understand where you're coming from. The penalties on special teams need to stop. I can tell you the coaches are preaching discipline in that area. Marc Mariana has been dependable fielding punts and he's made good decisions, but they've definitely shot themselves in the foot here on multiple occasions.
---
Bryan T from Pawleys, South Carolina
Question: What's up Jim!? Hope all is well with you. With all the praise Tre McBride is getting for being the top receiver in scouting for the weeks game prep, why isn't he being promoted?
Jim: Hey Bryan. Mularkey and teammates have praised Tre for his work in practices, and he's looked good. He had a great offseason. I really do think he's going to get a chance at some point, but right now they're rolling with the guys they have. Harry Douglas has been inactive in recent weeks. But he can play a number of positions in the event someone gets injured, and he brings leadership to the position as well. Again, I think Tre is going to get a chance at some point, but it's hard to say when.
Have a great weekend everyone!