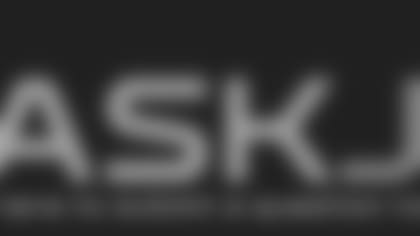 ](http://www.titansonline.com/news/ask-jim.html)
NASHVILLE, Tenn. –Well, it's starting to feel like football season around here.
Watched the rookies practice on Friday at Saint Thomas Sports Park, the first day of this weekend's minicamp. Later this month, the veterans will be on the field for organized team activities.
No more waiting on this week's Titans mailbag, though.
Dave Bettlach from Chesterfield, Missouri
Question: Hey Jim. After drafting the best return man in the draft, do you think Adoree' Jackson will be the primary returner right away? If so...does it seem unlikely Eric Weems makes the final roster? The guys on Path to the Draft predicted Jackson could be an all-pro return guy his rookie season. Really improved in that area. Gonna be exciting!
Jim: Hey Dave. Well, it's going to be interesting in that department, and that's a good thing. I assumed Weems would be the guy in March, but the addition of Jackson changes things. And don't forget seventh-round pick Khalfani Muhammad has return skills as well. Plenty will depend on what happens in training camp, and in preseason games. Jackson's primary focus will be to get up to speed in the secondary, but I'm sure he'll be thrown in the mix in the return game as well. If he breaks one in the preseason, well, he'd be hard to hold back I'm sure.
---
Don Williams from Dunkirk, New York
Question: Hi Jim. I've been a fan of the franchise since 1978. On offense, it looks like we're going to be very talented and have a wide open playbook. I liked the term exotic smash & dash earlier. My question is: How do we get more production out of the guys we already have on defense, since there haven't been as many significant additions to the defensive unit?
Jim: Hey Don. Well, some returning players will need to keep performing at a high level, Pro Bowlers like Jurrell Casey and Brian Orakpo and others around them. But I disagree about the lack of "significant additions" on defense. I count as many as four guys who could be new starters this fall on defense – cornerback Logan Ryan, safety Johnathan Cyprien, defensive lineman Sylvester Williams, and Jackson. That's a pretty good number, and they'll be counted on to step in and mesh with the returners.
---
Keith Dierks from Chattanooga, Tennessee
Question: Hey Jim! Long time reader...first question in public! There were rumblings of Titans uniform design changes this season. Have you had any sneak peeks?
Jim: Hey Keith. Not sure I'd call them "rumblings." Titans controlling owner Amy Adams Strunk has been on record on the subject. But it's for 2018, not 2017. I haven't gotten any sneak peeks, however, and from what I hear it's still a work in progress.
---
Chris K from Brooklyn, New York
Question: Hey Jim. Huge Titans fan from N.Y., believe it or not. Just want to get your thoughts and opinion but I feel if Bears never made that trade with 49ers to swap 3 to 2 (to get QB Mitch Trubisky) I think the Browns would of pounce with us (Titans) in my opinion I think it was a blessing in the skies it never happened cause granted we would of had a 2nd round pick and it would of been nice but I think it's time to get game changers. We are close to really competing with the big boys and the 2nd round pick would of possibly be a starter but not a game changer but I know u can always find a game changer in later. But Jon Robinson did an awesome job once again on knowing which players will be off the board cause if we made that trade Corey Davis would of not lasted at 12 and to me watching film on Davis to me he looks like complete wr in class u hear a lot of analysts say T.O. some say Julio Jones. I would definitely take that we finally need a true # 1 and to me that might of been a big break that browns didn't trade with us cause Davis was gone at 12 with 3 wr's going top 10. But only time will tell u ever know with these prospects but this kid looks good and seems like he has high character and presents himself really well from some of the interviews I heard .. Thanks, Jim # titanup
Jim: Hey Chris. I was kind of expecting the Browns to be on the move for Trubisky, too, but I guess we'll never know for sure because of the early action. But I do agree: Davis would've been gone if the team would've moved back to 12, and in my opinion he was the best receiver in the draft. I felt that way beforehand, and seeing how things played out, it's a good thing the Titans got him when they did. Mike Williams and John Ross have their pluses as well, but a draft class that didn't include Davis wouldn't have looked nearly as good to me.
---
Stephen Berrey from Greater Manchester, England
Question: Hi Jim. What a fun draft we just had, although it was a long time waiting through the 2nd round, and again the 4th round. It looks like a really good draft class this year, from Corey Davis to Khalfani Muhammad. I have a couple of questions, firstly, the Adoree' Jackson pick seems to have a lot of mixed reactions with a lot of people really liking his athleticism and versatility, but also others thinking he wasn't really worth pick 18. Although he has tremendous athleticism there's obviously a lot of room for development with him as a CB before he can be viewed as a true no.1. It's difficult to know without actually being in the war room but it seemed like Robinson was set on Jackson and didn't hesitate to get his name on that card after the Redskins took Jonathan Allen. How much influence do you think Dick LeBeau add on this pick, in particular picking Jackson over one of the other CB's still available at the time?
Question 2: I think a lot of Titans fans expected 2 CBs at least, rather than just the one being drafted and it could be argued that the team could do with picking up one more starting quality CB this off-season. That being said it could also be argued that the top free agent CB currently on the market (as of writing) is Jason McCourty. Do you think there's a chance the Titans and J-Mac could re-enter contract discussions if Robinson does feel the need for another CB? Also just one last bonus question on the CB group. From afar it does seem Robinson and the coaches are pretty high on LeShaun Sims. Is there a real belief that Sims could compete for a starting spot this year?
As always, thanks for all the great work Jim. Let's hope the summer flies by, next season will be a fun one. TITANUP
Jim: Hey Stephen. Make no mistake, this was a Jon Robinson pick. While LeBeau will have fun using Jackson now, Robinson's the guy who makes the final call on the picks and he liked Jackson. As for McCourty, I'd be surprised if your scenario played out. A big reason things didn't work out -- and the roster move was made – was because of opportunities for him. With Logan Ryan, Adoree' Jackson, Brice McCain (slot) and LeShaun Sims in the mix, McCourty would be competing for a 4th or 5th corner spot moving forward. I just don't think that's what either side had in mind when the decision was made last month. Injuries could always change things, of course. I know things ended on good terms, and McCourty is highly respected. I would expect other teams to make a run at him, too. As for Sims, he's definitely in the mix. He ended the year strong and coaches like him.
---
Mike Walker from Nashville, Tennessee
Question: Jim: As a Founder's Club Member, I can say it's been a long time coming, but we have probably turned the corner toward being a playoff contender for a while. My concern is the ability of Marcus Mariota to stay on the field for an entire NFL season. My question is, do you feel that our backup situation is such that we can compete for a playoff spot if Marcus gets injured again, or should we be looking to upgrade that position as well for the upcoming season?
Jim: Hey Mike. Things obviously change when the starting quarterback goes down. So Mariota needs to stay healthy and be on the field to give the Titans the best chance to win. I do know coaches are confident in Matt Cassel and Alex Tanney. I just don't see many backup QBs out there that would be a big upgrade/fit.
---
Jeremy Stone from Lakeland, Florida
Question: Hi Jim. Thanks for all your hard work! Question: Overall I think the Titans improved as a team, especially offensively. If Jayon Brown can cover tight ends over the middle he may just be the steal of the draft as I saw that as a major flaw last season. My question is the secondary. With letting J. Mac go it seems that we have one CB2 in Ryan and then a guy in Jackson that is probably going to take some lumps this season. With Cyprien being a liability on coverage can we realistically expect to stop anyone, namely Andrew Luck and company? And if we give up 300 yards a game passing, will our offense be enough? Seems like we are going to have to score a bunch of points to contend. What do you see happening in the secondary? Am I overreacting? Do you see additions or are Reed, Sims, and Jackson enough?
Jim: *Hey Jeremy. I appreciate it, but I do think you're overacting. Jackson's a player, and while he'll surely go through some growing pains, he's going to be counted on. As for Cyprien, he's always been regarded as more of a run-stuffer. He's not going to be matched up one-on-one with guys like T.Y. Hilton or DeAndre Hopkins. Logan Ryan is solid, and Sims is on the way up. Kevin Byard was good in coverage as a rookie, and will be even better this fall. So there's talent. So yes, I think you're panicking too early.   *
---
Neil Adams from Saint George, Utah
Question: Hey Jim. I'm lifetime Titans fan out West. Jonnu Smith instantly became my fan favorite player.  You know the guy you like just because he's a good dude.  The only thing I have seen is his interview with Amie Wells.  The Titans seem to really value character. About how many players were removed from the Titans board because of character concerns?  I was so impressed with Jonnu heart/knowledge about how to help the community.  Could you tell Jonnu we are routing for him, when he starts his charity I would like to be the first one donate. And if football doesn't work out I'd vote for him for president. Sincerely, an average guy.
Jim:Hey Neil. Don't sell yourself short with the "average guy." As for Smith, he seems like a good guy. I met him during his predraft visit, and again on Friday. I think he's going to fit in well. As far as how many guys were taken off the board because of character concerns, Robinson has never revealed the answer to that one. But all the guys who've been taken over the last two drafts fit the type of player and person he's talked about. He hasn't strayed. I'll let Jonnu know you're fired up he's in town.
---
Tarn Sandhu from Selma, CA
Question: Hey Jim! Just wanted to start off by saying I love reading the work you do for the Titans! Been a Titans/Oilers fan since I was 10 years old (27 now). Haven't been this excited since the McNair, George, Wycheck, Kearse & Mason days! Being a Titans fan in California it's tough to watch games. I plan on going to the Titans vs 49ers in December but was wondering how schedules are decided? We play Oakland again this year but in Nashville.
Keep up the good work Jim! #titanupcali
Jim:Hey Tarn. Thanks for the question. Well, the Titans got matched up with the Raiders again in Nashville this year based on each team's finish in their respective divisions. The AFC South's No.2 team was set to host the AFC West's No.2 team in 2017, and since the Titans and Raiders filled those spots based on the 2016 season's finish, the Raiders are headed back to Nashville. Again.
---
Michael Vogt from Bemidji, Minnesota
Question: I don't really have a question. I just wanted to say I love what we have done this offseason. We already were getting sacks but now that we got some upgraded talent in our secondary -- no offense to last year's players. But with better coverage and the QB will have to take more time to find someone open we will have good chances of us getting more hits. Then you go to the offense and we gave Mariota some new weapons. Two receivers and a Tight End with the potential of being a difference makers. Matthews and Walker did a great job last year and if they can at minimum duplicate that. Then with all the upgrades we made on special teams. We barely lost so many games. I am so hyped up for this season and I can't be any more ready for this. The NFL should really start taking notice when this season starts up. #TitanUp
Jim: Thanks for the comment Michael.
---
Nate McKinney from Doyle, Tennessee
Question: Hey, Jim. I hear Marcus is a few weeks away from running full speed again. I know they plan on holding him back from mini-camp and OTAs but with these shiny new additions added in the draft, about how much longer before they can start getting reps together? And can we expect to see Marcus in action during the some of the preseason? Thanks.
Jim: *Hey Nate, this remains in the "to be determined" department. It all depends on how he does each step of the way. Believe me, he wants to be out there and the team wants to see him out there. But they're not going to rush him. Coach Mike Mularkey said again on Friday there's no rush at this point.
*
---
Eric Woods from Lawrenceburg, Tennessee
Question: Jim, with the addition of Logan Ryan and drafting Jackson in the 1st round, do you see the Titans secondary upgraded from what it was last year? Also, do you see Marcus's passing numbers going up with our key additions on offense? Thank you.
Jim: Yes, I think the secondary will be improved from a year ago. As for Mariota's numbers, well, it depends on how the games go. He has more weapons to help him pile up the numbers for sure. But if the team is able to play with a lead and take over games running the football, maybe Mariota won't throw the ball as much? I do think the offense has big potential.
Have a great weekend everyone!