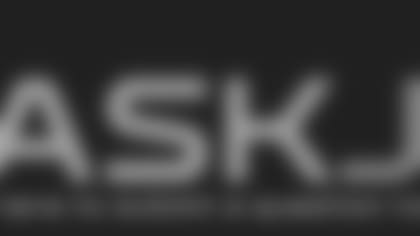 ](http://www.titansonline.com/news/ask-jim.html)
The Titans looked good from the get-go in last week's preseason opener.
The challenge will be even tougher on Saturday when the Panthers visit Nissan Stadium.
This mailbag, it's up and going again. Let's get to it…
Mr. OTitan from Vallejo, CA
Question: Hey Jim- First time writer here from the Bay Area in California. Thanks for keeping all us Titan fans in the loop with your updates! So my question is this: I was reading last year about New England implementing a system where they rotate their offensive linemen with faster intervals than normal (Ok that's the basic idea though not the full scheme) to keep them fresher throughout the game. With new GM Jon Robinson having a New England background do you think he may suggest the Titans implement a similar system to coach Mike Mularkey? In any case keep the info flowing Jim!
Jim: Hey Mr. OTitan. That's an interesting question, and an interesting name. I haven't asked Mularkey or Robinson. But I'm thinking the answer is no. The Titans have spent the entire offseason looking for five starters, and they want those guys to build chemistry by playing together. Rotating guys in and out sounds like a communication nightmare to me.
---
Devon Chester from Memphis, TN
Question: Hey Jim. My question is with Dorial Green-Beckham going to the Eagles could this possibly open the door for Roddy White? Do you think he would be a good addition to the wide receiver group? As always I enjoy reading your columns and Titan Up.
Jim: Hey Devon. Thanks for the question. Even after trading DGB, the Titans have numbers at receiver. And I believe Andre Johnson fills the veteran receiver spot. With Harry Douglas also in the mix, the Titans aren't lacking in experience. Johnson has looked good in camp, so at this point, I just don't see it happening with Roddy White. But as we saw this week, things can change in a hurry. I'm just not expecting it.
---
Rick Davidson from Paducah, Kentucky
Question: Jim, we need your help. When the chant of DE-FENSE comes out over the sound system it does not sound like it is saying defense. I swear it sounds like T-SHIRTS! I know this sounds stupid but I'm not making this up. Everyone sitting around me on Saturday night at the Chargers game said the same thing. We all were looking at each other and asked if we were hearing t-shirts? And yes, we all did and we were sober. It is hilarious but does need to be changed. Please talk to somebody about this. Thanks!
Jim: So that explains why T-Rac kept throwing t-shirts in the crowd…
---
Joey Harvey from San Antonio, TX
Question: Tajae Sharpe has obviously impressed coaches during training camp to the point that he's been listed as a starter already on the depth chart, got starter reps in Preseason Week 1, and has been moved to a starting WR locker after the DGB trade. It's clear he has had the kind of camp that the coaches are treating him as a starter and almost like a multi-year veteran. And he's earned that. However, it sounds like Kevin Byard is also having an impressive camp (and obviously a solid Preseason Week 1 game). He's getting good reviews, but nothing to the point of a consideration of a promotion to the starting lineup yet. How close is Byard to getting the same kind of recognition and move up the depth chart that Sharpe has received?
Jim: Hey Joey. Tajae has earned everything he's gotten. He's been a pro since the time he walked in the building. He doesn't look like a rookie. In fact, his route-running and technique makes him look like a veteran. He also plays a position where some guys opened the door for him to slide into the starting spot. Before moving to Byard, let me clear this up, though: Sharpe didn't move into a "starting receiver locker" because there's no such thing. He simply joined a row of lockers belonging to receivers across the room. As for Byard, he's also been a pro, and he's getting more and more opportunities. Byard has been working with the twos, so he's already worked his way up. He's going to get a chance in the return game on Saturday as well. Byard just happens to have a reliable veteran ahead of him right now in Rashad Johnson.
---
Darin Finkelstein from Chatham, NJ
Question: The first preseason game exceeded expectations on many fronts. Clearly the running game and the offensive line looked very good. Going into the game I thought the strength of this team was the defensive line. This may still be the case but the result against the run in this first game was below expectations. From your perspective can you let us know who on the d-line played well and who has more work to do. In addition, it feels like Justin Hunter is nowhere to be found. Do you think they will try to get him some plays to see if he is capable of contributing or is he going to be part of the second round hall of fame joining: Tyrone Calico, Ben Troupe, LenDale White, Chris Henry, Akeem Ayers, Zach Brown and perhaps Bishop Sankey? Thanks, Darin
Jim: Hey Darin. I wouldn't get too worked up about the defensive line. Those guys hardly played. Jurrell Casey and DaQuan Jones were on the field for just 15 snaps, and Al Woods played 5. That's your starting three, and all three have been solid in camp. As for Hunter, he had a good week in practice. And I liked what he said after DGB was traded. He knows he's on the spot. I do think he'll get more opportunities, and the Titans hope he can stay off that list. Bishop Sankey, too.
---
Tracy Crymes, Lavergne, TN
Question: Jim, First a statement then a question. The Titans have managed to lose close games in the fourth quarter for the past couple of seasons. I believe this year they change that and pull out the close battles. Since people are giving nicknames for different aspects of our team; I am officially calling our fourth quarters "Tragic Magic". What will be magic to us will be tragic for our opponents (Tell Mr. Keith he can use that catchphrase...LOL). My question....Why is Bishop Sankey still being considered as someone who might not make the 53-man roster? Wasn't he the best RB when drafted in 2014? Isn't he the change of pace back that Coach Mike Mularkey desires to have behind the Thundercats? Isn't he the only back that hasn't missed games due to injury? Isn't he the only back to score behind the same line Antonio Andrews and Dexter McCluster failed to score with? In my opinion, Bishop is the model player that the Titans organization needs. Unfortunately for him, his first two years were marred with a coach who minimized the importance of an effective run game. While we blame Demarco Murray's woes on a coach who ran a West coast offense; Bishop received the same treatment in Tennessee. Do you think there is any way we will see Bishop for who he is instead of the system he is associated with?
Jim: Hey Tracy. I'll pass those suggestions to Mike Keith. As for Sankey, there's no doubt he's a great guy. And there's no question he looked good last Saturday. But let's keep in real here, too. He's fighting for survival because of a disappointing start to his career. He was the first running back taken in 2014, but he hasn't proven to be the best a few years in. Bengals running back Jeremy Hill, for instance, has nearly 2,000 yards rushing already. Sankey was inconsistent in his first two seasons, and he kept himself from securing a role in the return game because he was shaky catching the football when given the chance. And so far, Mularkey has made it sound like McCluster is his change of pace back. With that said, Sankey is making a case for himself. He's looked good in practices, and he looked good last Saturday. Bishop just needs need to keep having success. If he does that, he'll keep himself in the conversation.
---
Andrew Butcher from Adelaide, South Australia
Question: Hey Jim, Long time reader, first question. I've been a Titans / Oilers fan for 20 years and the improvement in coverage over the years is fantastic. Hoping to travel to the US in 2017 and see my first live Titans game. I'm just a little excited, I think I must be the biggest Titan fan in Australia. Anyway my question, Austin Johnson was a high 2nd draft pick. We have heard so much about all the other rookies but I haven't heard hardly anything about him. What do the coaches think about him and what impact do you see him having this year. Cheers, Andrew
Jim: Hey Andrew. Thanks for checking in from Down Under! Coaches like Johnson, and he's going to be a good player. An undrafted bulldozer has emerged at the position, however, in big Antwaun Woods. He's actually worked ahead of Johnson in stretches at nose tackle, with the twos. I still think Johnson is going to have an impact this year, however, and in years to come.
---
Dave Stalder from Albuquerque, NM
Question: Hey Jim--First, I need to extend to you my sincerest apologies. Early last year I vented my frustrations about the team and the coaching staff onto you in a most deplorable way, saying a few things that were uncalled for and certainly untrue. You do a great job keeping us informed--which I actually saw last season and ignored in my butt-hurt, petulant way--and without you, our perspective of the team would be largely blind. So thank you, and once again, I'm sorry. (I just hope you get to read this and haven't banished my emails to your spam folder.) The preseason opener was fantastic in terms of getting a view of Mike Mularkey's vision for the team, but my concern and thus my question is, given that shift in vision towards the running game, what does this mean for Marcus Mariota? He went 5 for 5 vs San Diego but I could tell he never got into a rhythm. I know it's only the preseason and we've got a long way to go, and I know he'll get more reps, but … I would hate to see that heart sacrificed on the altar of Mularkey's vision and our star QB relegated to game manager, just because we're pounding the ball over 150 yards a game. Once again, thanks...and sorry.
Jim: Hey Dave. I appreciate it. You're forgiven, but Mularkey and others are still ticked. ... Just kidding. Hey, when you win three games, no one is expecting love letters around here. As for Mariota, the weapons around him should make him a lot better, even if he's asked to throw the ball less. Remember, winning is the most important thing. It's what Mariota cares about most, more than stats. And keep in mind he only threw 15 passes in the season opener last year at Tampa Bay. Of course he completed 13 of those, with four touchdown passes, in a 42-14 win. A lot of folks around here would be very happy with that.
---
Question: What a great game last week. Wasn't able to watch it live out here on the West Coast but I was able to keep track of it through the mobile app. My question is: With the excellent performance that Derrick Henry made, what is your thoughts on what would he would be like if he infused his style with a little bit of (Marshawn Lynch) "Beast Mode"?
Jim: With Marshawn retired, someone has to fill that role, right?
---
Hunter Phelan from Los Angeles, CA
Question: Hey Jim. Thank you for all the coverage you do keeping our Titan bellies full of knowledge. I have lots of optimism for the Titans in 2016. I truly believe we are going compete for the AFC South division. Friends say I am crazy. I do know the first 10 games last year the Titans were in almost every one of them and could have been a different season. With the depth we have added I say why not us. I've been an Oiler/Titan fan since 1978. I've had DirectTV since 1998 and have watched every Titans game since relocation. Even own an EDDIE GEORGE TENNESSEE OILER JERSEY. And have flown to the great city of Nashville twice for games – my last one being Tennessee vs Baltimore in 2006 -- Vince Young's rookie year, and the return of my favorite player of all time Steve McNair. WHAT a game it was. Sure do miss that Jacks BBQ. Living in Los Angeles, I bought tickets already vs San Diego Nov 6th. Can't wait for the game and my 6 year old daughter's first NFL experience. Know we will be rooting loud!!!!
NOW my question. How is coach Mularkey being received outside of the Titans locker room? I know in the offseason fans seemed to want someone else to sail the ship. I for one am glad ownership brought him back. Nonetheless he doesn't have the best track record with top ranked offenses in the coordinator department. I like the idea of ground and pound but if we get in situations where we fall behind early, do you think the offense can adjust to an different style or attack to try and get back in the game with the pass happy NFL these days? GO Titans!!!
Jim: Hey Hunter. You're in L.A. cheering for the Titans, and I'm in Nashville rooting for the Dodgers. Swing by Killer Shrimp in Marina del Ray when you get a chance and get an Original for me before cheering for the Dodgers! I'll eat some BBQ for you. I'll say this about Mularkey: I received a lot of negative feedback earlier this offseason, including some from Dave, but I believe the tide has turned in Nashville and beyond. Mike is a good man. He treats the players well, and guys respect him. He's honest with the players, and I can assure you they're ready to lay it on the line for him. And that's what matters most. But I'm not naïve enough to think everyone in the fan base is on board. I understand some fans remain skeptical, and need to see some improvement, and wins. But from the beginning Mularkey said all he wanted was a chance. The Titans are going to have to win games to convince the ones who weren't happy in January and February to get on board. The chance comes beginning in a few weeks.
---
Jonathan Cleveland from Kernersville, NC
Question: Huge fan Jim, young but dedicated. First I gotta say I love the moves that have been made the past couple years bringing in some of my favorite players in DeMarco, Andre, Rak, & Wesley and the development of some of the younger guys. What I really want to know is how's camp going for guys like Lewan, Chance, Morgan, and Avery? I don't hear much about them and they are a huge part of the success formula.
Jim: Hey Jonathan. Thanks for writing. All those guys you mentioned are key parts. Lewan has looked really good, and Avery Williamson is appears poised for another big season as well. Morgan is healthy, and he's looked good. The Titans are looking for more consistency from Chance, but he's working on it and seems to be settling in. Now get back to that homework! :)
---
Chris Chapman from Hermitage, TN
Question: Hey Jim!!! Here we go my bro, its TITAN FOOTBALL TIME AGAIN!!!! Ive watched a cpl of the preseason games over the past 2 days and I have to say that there are a few teams out there who were previously in need of some talent that have done well this offseason and its already showing now even with their 2nd and 3rd teams playing. Last year at this time there was a lot of buzz around the Titans for obvious reasons; everybody was saying that things felt very diff and a lot of that revolved around Marcus but then things took a turn. This offseason for us bore more positive changes for our Titans than any other year since they've been here in Nashville. The players deserved the building/locker room changes long before now, I'm glad Amy and family stepped up and rewarded our players before they had a chance to reward her, the coaches, and us fans as well as our new GM. You go girl!!! We have had massive influx of talent to an already talented organization. Do you believe with all the talent we have that roster cuts are gonna be more difficult by far this year as opposed to other years? Marcus Mariota has mad talent, mad skills and is an out of the gate leader; do you and the coaches think he has mastered the ball security probably and has he learned to get rid of the football and not take sacks while waiting for last minute windows to open up? My last question is about all the RB's we have, obviously Demarco, Derek, Dexter, and most likely Jalston Fowler are safe, but who do you think out of the remaining RB's left that just doesnt have the " smashmouth" ability that coach Mularkey needs? I believe Bishop Sankey could use a season on our practice learning from Demarco but i think its gonna come down to Antonio and Cobb; what a tough choice there! As always thanks for this and I'm 1 fan who truly believes in this team and its return to greatness this yr and we owe that to Jon, Mike, Dick and all the staff!!! LETS DO THIS!!!!
Jim: Hey Chris. Appreciate your enthusiasm. Man, a lot of stuff in here. A CliffsNotes version answer: Yes, roster cuts will be more difficult. There's just so much more talent and depth. Mariota says he's working on ball security, but we'll have to wait and see if it's out of his system. The running back battle behind Murray and Henry is wide open, and the next few weeks will tell a lot. Pace yourself Chris! You don't want to peak too early!
---
Brenda J Bilbrey from Rickman, TN
Question: I never watched football until the Titans came to TN. and I believe Steve McNair and Eddie George were 2 of the toughest players we have had. Do you think Marcus will stand up to the toughness that McNair did. I believe he has started out showing that he might be as tough and work through his injuries like McNair did. So far we have not had the men on the field as tough as the guys were in the late 90's and 2000's. Please let me know your feelings on Marcus showing Steve's love and endurance to work through the pain while he's playing. I think we stand a GREAT chance with Marcus and I hope the other players will not only protect him but be as great as our old teams that got us to the playoffs and to the Super Bowl. Just a woman's thoughts. GOD Bless and keep everyone safe.
Jim: Hey Brenda. Thanks for the email, and the blessing. McNair was one-of-a-kind. I've never been around anyone like him, and probably never will again. He played through so many injuries, a lot of times when he had no business playing. Mariota is tough, there's no doubt about it. If he can play, he'll do it. But I'm not sure in today's game coaches and trainers would allow Mariota to play a lot of times when McNair did.
---
Ramon Vargas from Winton, CA
Question: Hey Jim long time Titans fan here from California. Just bought tickets to the Titans Raiders preseason game just wondering when you think it would be a good time to arrive at the stadium to get autographs and where to be to get them? Looking forward for this season. Keep up all the good work you've been doing. And Titan up for life.
Jim: Hey Ramon. Guys usually start taking the field a few hours early for warm-up, so that's your best bet. You won't be able to get close enough to the team bus because it pulls inside the gates. I'd suggest getting into the lower bowl during pre-game – as close to the tunnel where the team comes out -- and yelling loud at guys. But be careful if you're in Titans colors – those Raiders fans can be tough. See ya there.
---
Jim Gill from Rochester, MN
Question: It seems the coaches are not thrilled with their choices at left guard. Is it too late for them to add Louis Vasquez who the Titans had in for a visit in March? Seems he wanted too much money or they would have added him. Not adding him seems to fit with Robinson's idea of adding competition and if you give him too much money guaranteed there is little competition. Is that a fair assessment? That being the case, surely they will churn the roster with the last cuts as well?
Jim: Hey Jim. The Titans have numbers at left guard. Quinton Spain has worked with the first group since the start of the offseason, and so far he's given the team no reason to pull him out of the first group. But guys like Sebastian Tretola, Jeremiah Poutasi and Brian Schwenke are all in the mix as well, and this week the team traded for Dennis Kelly, who can play four positions on the offensive line. It's been five months since Vasquez visited. If the decision-makers wanted him back in Nashville, he'd be in Nashville.
Have a great weekend everyone! Even Dave. :)