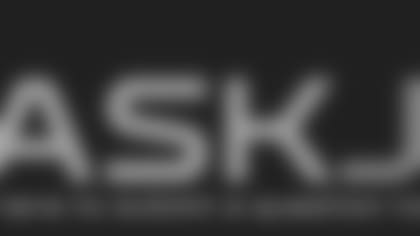 ](http://www.titansonline.com/news/ask-jim.html)
Week 1 of training camp is in the books. Time to knock out some more mail. Thanks for the questions …
Alex Onushco from Allentown, PA
Question: I haven't read too much on the run game thus far into training camp. Has any running back distinguished themselves from the rest of the pack?  And what would you expect the carries distribution to be this year?
Jim: Bishop Sankey has stood out the most to me. He looks more decisive, and confident running the football. Antonio Andrews is getting a lot of work, too. Don't dismiss him. The jury is still out on David Cobb. I'm looking forward to seeing him in games. He's big enough to move the pile and get tough yards, and it's tougher to gauge some of that in practices. Dexter McCluster will be in the mix as well. Right now, I'm thinking Sankey leads this team in carries and yards if he stays healthy.
---
Question: I know it is still really early in camp, but from what you have seen from Marcus Mariota so far, how would you compare his readiness as a rookie QB compared to previous Titans rookie QBs? (Locker, Mettenberger, and even Vince Young)
Jim: Hey Yasir. Yes, it is early, but I'll say this: Mariota has been better than I expected him to be. He plays with poise, and so far he's made good decisions in practices. I remember Young and Locker having some issues in camp early in their careers. They looked a little skittish as they settled in. Heck, I remember even last year Locker had a day in camp when he threw at least four INTs. Mariota is due for an off day, but he hasn't had one yet.
---
Blake Williams from Tulsa, OK
Question: Hi Jim. In my opinion, the most crucial "x" factor for the upcoming season will be the gains made by the D-Line in particular. Improving the run stopping and QB pressure has to be the most important key for this team, right? Am I wrong to think that even a small improvement in both of these categories could make a large impact on the overall defensive success?
Jim: Defenders have said stopping the run is priority No.1 this season. But I do agree, pressuring the quarterback is also a big key. Much of that is on the defensive line, yes, but the play of the linebackers will be crucial. The addition of linebacker Brian Orakpo should help a great deal across the board, and getting Zach Brown back is like having another new starter since he was injured in Week One. Cornerback Perrish Cox will be physical in the run game as well. On the defensive line, DaQuan Jones should make a difference. There are plenty of reasons to think things should improve.
---
Mickey Tusitala from Melbourne, Australia
Question: Hi Jim! I'm a big McNair fan and even bigger Mariota fan. How's Mariota's speed looking? He looks a lot heavier now, compared to last year in Oregon. And how is his "relationships" with teammates and organization going?
Jim: Mariota looks fast. He escaped the pocket the other day and was down the field in a hurry. As far as his relationship with teammates, the players – and coaches – seem to love him. He's a pro who puts in the work, but he's also about as nice a guy as you'll meet. It didn't take him long to make friends in the locker room.
---
Bud Judkins from Brentwood, TN
Question:Does Charlie Whitehurst make the roster, or do the Titans free up a roster spot and only keep 2 QBs? Or do they go with 3 young QBs?
Jim: I'm expecting them to keep Whitehurst. Mariota hasn't played a game, and Mettenberger has just six starts under his belt. Whitehurst provides valuable leadership, and the guy stepped in and did a nice job on a bad team a year ago, throwing seven touchdowns vs. only two interceptions while completing 57 percent of his passes.
---
Sam Walker from Wellington, New Zealand
Question: How do you think William & Mary's Tre McBride is coming along in training camp and do you think there is an opportunity for him to make an impact on offense as well as special teams as a rookie?
Jim: McBride is a good-looking prospect. One of the things that makes it tough on him is the depth at the receiver position. I count five guys who should make it in front of him – Kendall Wright, Harry Douglas, Justin Hunter, Hakeem Nicks and Dorial Green-Beckman. Can McBride convince the team to keep six? That's the big question. If he proves he can be a big asset in the return game, he has a chance to stick. Right now, I have a hard time thinking McBride's going to get much of a chance on offense because of the veterans ahead of him. I'll say this: Nicks needs to keep performing at a high level to convince coaches he's a better option on the roster than a youngster like McBride.
---
Daryl Roberts from Newport News, Virginia
Question: Do you feel that if we reached out to Chris Johnson to be our running back again, he would happily come back regardless of the contract we give him?
Jim: Hey Daryl. I wouldn't bank on a return for C.J. It was a great run for Johnson with the Titans, but the Titans have moved on and are going with younger, more versatile backs. Plus, Johnson made about $8-$10 million per year in his later days with the team. I couldn't see him coming back for veteran minimum. Plus, it's a different team now, with a different coach.
---
Jamie Ray from Stayton, OR
Question: One thing no one has mentioned about Mariota since camp started is "sacks."  I know they can't hit him, but has any defender gotten a hand on him behind the line of scrimmage? Have any plays been blown dead because the defense was closing on him? Has his mobility allowed him to escape?  Or is the O-Line just doing their job that well?
Jim: You're right about him not being hit. He's in the red jersey, and defenders are regularly reminded not to hit the quarterback. He has faced pressure from time to time, but I've been impressed with his ability to step up in the pocket. Occasionally Mariota has tucked the ball and took off running downfield. He's also just throw the ball away or dumped it off when he's been under pressure.
---
Mitchell Despot from Nashville, TN
Question: After an unproductive season with the Colts, it's hard to imagine Hakeem Nicks having an impact season, but it sounds like he's off to a great start in training camp. What are realistic expectations for him this year?
Jim:Hey Mitchell. Nicks didn't have a great offseason. He was overweight and just didn't impress me that much. But he's changed my mind early in training camp. He's been making plays on a regular basis, and stood out. Still, it's hard to say what kind of impact he'll make. Kendall Wright and Harry Douglas will be on the field a lot, along with Justin Hunter. If he keeps performing, the Titans will have to gets Nicks on the field. How fast Dorial Green-Beckham develops will have an impact on his playing time as well, too, though.
---
Question: Does Marcus get the rookie treatment of carrying veteran pads/equip. or picking up dinner tabs etc.?
Jim: That's a good question. I haven't seen anything yet, but I also can't remember the last time a rookie escaped unscathed. I'm doubting he'll get stuck with a $12,000-plus bill Pacman Jones got stuck with back in 2005, however.
---
Alberto Tellez from Durango, Mexico
Question: Buen día Jim, soy fanático de los Titanes, desde 1977 cuando eran los Petroleros de Houston y fan del periódico The Tennessean. Mi pregunta es podrán hacer el equipo Tre McBride, Hakeem Nicks, Antonio Andrews, Sammie Hill, Fernando Velasco, Mike Martin and Al Woods.
Jim: Gracias por leerme en el Tennessean. Estoy feliz de estar a bordo con los titanes. Todos aquellos jugadores que has mencionado son en las batallas. Como McBride y tiene un valor extra porque él puede devolver punts y patadas. Los nicks es un buen comienzo, y Andrews tenían una buen de junio. Colina de Sammie ha sido ralentizada por lesión y Velasco, Martin y Bosques están encerrados en la competencia.
---
Question: What do you think about the battle between Craig Stevens and Anthony Fasano for the blocking TE job? Seems like they are gonna us a lot of double TE sets. Stevens coming off injury, Fasano old vet new team. How do they look so far?
Jim: Fasano has been impressive. He's made several catches across the middle in traffic, and he's definitely a sturdy blocker. Stevens has recovered from last year's injury, and is doing well, too. With Delanie Walker back, the Titans are in good shape at tight end. I'd look for Walker and Fasano to be 1-2 among tight ends in catches.
---
Julie Crenshaw from Newport Beach,Ca
Question:The Titans had 3,400 fans show up to watch training camp and a chance to get an autograph from Mariota. Before Mariota got drafted, did a lot of fans show up to watch TC? Did Mariota revive the fan base to get more excited about the team and the season? I'm not a Titans fan but I am a huge Mariota fan so I will be watching Titans games this year and following them as well as my own team the Packers.
Jim: Hey Julie. There's definitely a buzz in the city that hasn't been felt in a while. Fans have been showing up for practices in Mariota uniforms with the Titans and Oregon Ducks. The crowds at training camp in the first week have blown away turnouts from recent years for sure.
---
Dickie Rathamon Murfreesboro, TN
Question:Whenever Mariota scores a TD, can we play the song that plays when Super Mario gets a star in the video game? Nissan Stadium would go bananas. Make it happen!
Jim: I'll run that by the higher-ups. You want that jingle for Mariota touchdown passes as well as runs?
RECOMMENDED: