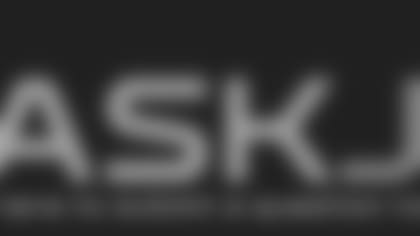 ](http://www.titansonline.com/news/ask-jim.html) The Titans just wrapped up a three-day minicamp at Saint Thomas Sports Park.
The next time they'll be on the field will be for the start of training camp at the end of July.
Meanwhile, the mail keeps flowing in.
Let's get to it …
Zach Peterson from Atlanta, Ga
Question: Jim, It's obvious that we will be keeping Mr. Kendall Wright, Dorial Green-Beckham, Rishard Matthews, and Tajae Sharpe in the wide receiver room this fall. What will we do with the other one or two spots? Who will be the odd man out? Harry Douglas? Justin Hunter? Or Tre McBride? I think it should very obviously be McBride. Though he did show some upside, it needs to be him. He just isn't Harry Douglas and he doesn't have the skill or potential of Justin Hunter, limited as he too may be. And I tell you Jim, if we do get rid of two of these three, I really hope Harry is the one we keep. Harry is a proven vet with an 80 catch and 1000 yard season to his credit, plus OC Terry Robiskie obviously knows him well and he can be the leader of the WR group. Thoughts?
Jim: Hey Zach. I think you're right on the four sure things, but after that it's a competition. I think the team wants to keep Hunter, and if he has a good camp, he should stick. Hunter is talented, there's no question about it. But he hasn't been able to stay healthy and for one reason or another he always seems to need a motivational push. He needs to get down to business, and heading into the last year of his deal, he knows it. I like McBride, and think he's looked good this offseason. He offers the ability to be used as a returner as well. As for Douglas, he does have familiarity with the coaches, and he's a veteran leader. The only thing I can say with some certainty right now is not all seven are going to make it. How it shakes out, however, will be determined in camp.

---

Matthew Priest from Hendersonville, TN
Question: Hey Jim. I just want to say you're doing an outstanding job with all the articles, reports, stories, and updates from the Titans training camp. I'm checking the website every day to see what you have for us in Titan Nation. So I'll give you a good question that some of us fans might be wondering about. Last year everyone was counting how many or when Marcus Mariota would throw an interception. I've noticed that no one is talking about Mariota, Matt Cassel, or Alex Tanney throwing any interceptions this year but we are talking about who is getting the interceptions. So if you can, go by the numbers who has done what? From the QB's to the secondary? Thank you.
Jim: Hey Matthew. Appreciate you visiting Titans Online on a regular basis. We're keeping the stories and videos coming, and will continue to do so. It's a team effort that involves a lot of folks, including Mike Keith, Amie Wells, Ashley Farrell, Gary Glenn and Jeff Harding. As for the INT numbers, reporters began tallying those in training camp last year, so it's still early. Marcus will have a hard time topping last year's training camp start, though. He threw 230 passes without a pick to start camp last year. Defenders have made plays – and interceptions – during offseason practices. Balls have been tipped, and defenders have made clean plays. Perrish Cox, Cody Riggs, Blidi Wreh-Wilson, Curtis Riley and Nate Palmer -- those are some of the guys I can remember getting picks off the top of my head. I think all the QBs have been victimized. But the real tally won't start until camp.

---

Joel Rohm from Yuba City, CA
Question: Hey Jim. With rosters pretty much set for camp throughout the league and free agency pretty much a wrap I ask, what about trades? Since the loss of Byron Bell we're not exactly "deep" at tackle. Do you see Jon Robinson maybe shopping around for another solid tackle or even a top tackle via trade? Obviously our first pick this year was used on O-line so I can see where he would be hesitant to over-invest at the position. But is there a chance that we use one of our picks in next year's draft to pick up another solid tackle? Maybe for the lower of the two 3rd round picks? I can see where it would seem crazy now, but if either Taylor Lewan or Jack Conklin were to go down the team and especially Marcus Mariota could be in real trouble. Thanks TITAN UP
Jim: Hey Joel. I wouldn't put anything past Robinson. The guy has made four trades since taking over, and he's always on his phone. The guy would make a good agent if the whole GM thing doesn't work out, but I'm thinking it will. I do think the team is looking to upgrade the depth on the offensive line, but keep in mind the team has the No.1 spot on the waiver wire. After the cuts down to 53 around the NFL, a lot of quality tackles – and good players at other position – will hit the market and be available to pick from. I'd say that's a more likely scenario to acquire a tackle than via trade. But you can be sure Robinson is exploring all his options.

---

Paul Kahele from Waimanalo, Hawaii
Question: Running backs nickname: How about THE BRUISE BROTHERS?
Jim: That sounds like more of a suggestion than a question, but I like it. I'll run it by the fellas.

---

Will Sevier from Smyrna, TN
Question: Jim, I have a quick comment before my question.  I've followed your writing for many years. The smartest thing the Titans have ever done is hiring you. My question is simple: With so many areas of the team improved from a personnel standpoint,  such as the receivers, defensive backs, running backs, and defensive line to name a few, is it too early to expect the improvement on the field to result in more wins this year?  I know coach Mularkey has said he expects to compete more often, but is it selfish of a fan to want more than that?
Jim: Hey Will. I appreciate that. I left this one in for my bosses to see. :) The check is in the mail. The team has looked better, no doubt, in many areas. It's hard to say how many wins will come as a result. The NFL is all about winning close games. In recent years, the Titans haven't been able to pull out the close ones, and the record has suffered as a result. The Titans are good enough to be in every game this year, but the team has to find a way to win them. I do believe the days of the two- and three-win seasons are long gone, though.

---

Kenny Gore from Horse Cave KY
Question: Hello Jim. Hope all is well in Titan Land. I know it is the time of year that not a lot is reported, but I love this time of year. The competitions for jobs always brings about my favorite part of the game; the mental aspect.
We have heard a lot about the offensive players this year. Mike Mularkey & other seemingly talk about the offense more than the defense. I understand as the offense is the side that needed the most improvement IMO. However, I am very curious about the secondary this year. Last year the biggest weakness the team had on defense was giving up too many big/deep passing plays. Is there a new comer to the team that is shocking or surprising coaches with their ability to play in the secondary?? Who do you see as the starters in the secondary at this early stage?? Thanks for the great work Jim. We as fans appreciate the loyal & honest reporting!!
Jim: Hey Kenny. For starters, having a healthy Jason McCourty back helps big time. Da'Norris Searcy has looked good this offseason and should be better in Year 2, and veteran safety Rashad Johnson and rookie Kevin Byard give the team some quality playmakers. The battle to watch will be at the cornerback spot opposite McCourty. Mularkey said he plans to let Perrish Cox and Brice McCain battle it out for the starting spot. I think Cox ends up playing on the outside and McCain inside, in large part because McCain's strength is in the slot. But this won't be decided until later this summer.

---

Garrett Burkhart from Dover
Question: Hey Jim, I am from Tennessee and lived here all my life. Long-time fan of the Titans ever since they have been in Nashville. I believe the duo of Derrick Henry and DeMarco Murray will pay off and make our opponents wore out quicker while also giving Marcus Mariota a break from the defense. Do you think we are going to be a passing or rushing team or try to do a little of both? I also think it's a triple threat with Mariota as we seen how he can run if he has too. Thanks Jim love reading your answers every week. Can I get an autographed poster of the Titans? Thanks, Garrett
Jim: Appreciate it, Garrett. The Titans will do both, and the presence of Murray and Henry will help open things up for Mariota both as a passer, and a runner myself. As for the autographed poster, you should come to training camp and get a lot of players to sign it. It's not a bad drive from Dover, unless you're in Dover, Delaware, that is.

---

Aaron Quarles from Birchwood, Tennessee
Question: Hey Jim, you've been doing a great job! I'm not sure how many questions you choose to answer every time and this is my first time asking a question so I hope to see it in your next mailbag. I've been a Titans fan since I was seven and watched Steve McNair and Eddie George bully defenses every week. I went to my first game last year (Titans vs. Dolphins not the best first game memory) I'm hoping to go to my second game this year and I'm wondering when is the best time to arrive to the stadium and get good parking and have time for tailgating?
Once again keep up the great coverage....oh and tell Amie Wells that I'm single and put in a good word for me. 
Jim: *Hey Aaron. Welcome to the mailbag. Thanks for the question. I'd get there a few hours early and make a day of it. Are you sure you didn't send this just to get in a good word with Amie? *

---

Andrew Hardaway from Chapel Hill, NC
Question: Hey Jim. Thanks for all your efforts to keep us Titans fans informed. I am leaning on your coverage to get me through this sports dead zone prior to the start of training camp (sorry not a baseball fan). I would love to hear your take on an idea that several have written about lately. With the growth of spread offenses and 3/4 WR sets and playmaking, receiving tight ends, NFL defenses have adapted by playing subpackages with more defensive backs, hybrid safeties, and smaller faster linebackers. Chris Wesseling at NFL.com wrote an interesting article proposing that a return to a power running game for teams like the Titans and Cowboys might be an advantage against teams that have stacked their rosters with subpackage players. He also proposed that Jon Robinson, with his background working for the forward-thinking Patriots organization, might the type of GM to engineer this offensive counterpunch. What do you think? Is the smaller, speedy, playmaking Jaguars linebacker Telvin Smith equipped to tackle Demarco Murray and Mack truck Derrick Henry for four quarters? So much depends on Marcus Mariota and the offensive line, but I like that matchup. Keep up the good work Jim! Titanup!
Jim: *Hey Andrew. It's an interesting theory, that's for sure. Defenses will adjust, and I truly believe defenses have the personnel to get big or small and quick, depending on what's lined up across from them. I do think, however, Murray and Henry are both big and physical enough to make hay and break tackles against smaller defenders put in one-on-one situations in the open field, when the team spreads them out. But you're right, so much hinges on Mariota and the offensive line.  *
Have a great weekend everybody!