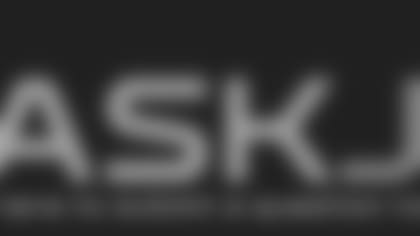 ](http://www.titansonline.com/news/ask-jim.html)
Well, the big day – or weekend – is almost here.
The NFL Draft kicks off on Thursday. The Titans currently have the 15th overall pick in the first round, and they're scheduled to make nine picks in all.
But as general manager Jon Robinson has already proven, nothing is set in stone.
While we wait, let's get to the mailbag…
---
Jon Kerlikowske from Franklin, TN
Question: You ready for the draft Jim? Looking forward to actually talking about our draftees instead of speculating? Ready to see how GM Jon Robinson handles the draft. Speaking of speculating, here is my best shot at our top 6 picks using Walterfootball as a base. #15 pick has getting Ronnie Stanley OT, sounds good to me. #33 they project Xavien Howard CB Baylor. Chris Jones DT/DE Mississippi State would be my pick. #43 they project Michael Thomas WR Ohio State. I am staying defense and taking Karl Joseph S West Virginia. #45 they project Austin Hooper TE Stanford. Staying defense channeling my inner LeBeau and taking a risk on Noah Spence DE/OLB Eastern Kentucky. #64 they project Jeremy Cash S Duke. We already picked a safety so here is help for Marcus - Leonte Carroo WR Rutgers. (PFF has him ranked in their top 25 prospects overall). At #76 they project Kamalei Correa DE/OLB Boise State. Same position but let's go with Big 10.s Shilique Calhoun DE/OLB Michigan State. I have heard multiple analysts say the players ranked 20-80 are all about equal, just depends on the teams scheme. What do you think about this? Just know I am glad our GM is running the draft and am excited to read your analysis of our new Titans. Have a fun draft weekend Jim.
Jim: Hey Jon. Looks like you're ready for the draft! Some nice picks here. I suspect Joseph and Spence will go sooner than they're listed here. But we'll see. And yes, I'm ready.
---
James Mahoney from  Hixson, TN
Question: Will there be a Draft Party at the stadium?
Jim: Hey James. Yes, there is one. Gate 1 opens at 6 p.m., and there's parking in lots A, B, C, D. Players will be there, and discounts will be available for season ticket members at the concession stands and the team store.
---
Glenn Millam from Louisville, KY
Question: Hey Jim, thanks for all the good work. I was wondering what your thoughts were on where the Titans will go on the 15th pick if they choose not to move up. In particular, I am interested in what prospects you think for RT may be available, and who the Titans staff seem to be interested in. I have been looking at Taylor Decker as someone who may be available at that point. Who do you feel may be available, and who would you go with?
Jim: Hey Glenn. It's hard to say. I believe the offensive tackles are in play, from Ronnie Stanley to Jack Conklin to Taylor Decker. How long will Laremy Tunsil be on the board? It's hard to say which guys will be there for sure, though. In a mock draft I saw the other day, Stanley and Conklin went before Tunsil.
---
Charles Hill from Tucson, Arizona
Question: I have been a lifelong Titans fan, and a huge football fan all together. Do you think Scooby Wright III from U of A would be a good late round steal for the draft, or are his injury concerns too much?
Jim: Hey Charles. I like Scooby Wright. I watched him many late Saturday nights in the Pac-12, and he's a baller. I talked to him at the combine as well. I think he's going somewhere in the fifth or sixth round, and he'll be worth it.
---
Rathje from Redmond, Oregon
Question: I've been following the Titans for just over a year. Probably not a surprise why. With the quarterback position solid, can this draft really help this year or do you see it will require two or three solid drafts to put the pieces together? Liked the coverage of DeForest Buckner's visit. At 6'7" and 300lbs, and a Duck, he will be super quick off the edge. He has lots of potential and I hope he ends up in Titans blue. Go Titans! (Go Ducks)
Jim: Marcus has fans everywhere! This year's draft will definitely help build the roster. With six picks in the top 76, some good players will be landed. And with 10 newcomers already added, the team is improving. As for Buckner, he's a heck of a player. I was able to talk to him when he was in Nashville, and he's an impressive young man as well.
---
Jonathan Bolt from Knoxville, TN
Question: Tried to ask a question last week but it didn't work out because well we traded the pick so my question didn't make sense. So, let's try again. I've already seen some of the mock drafts have Titans taking one of the other lineman. I honestly do not see a difference in Decker, Conklin and the 2nd rounders like a Spriggs. So my question would be: Wouldn't it be better to trade back down or up? I do not see many options that make sense at 15. Thanks Jim.
Jim: Thanks for the question. I think every team judges these offensive linemen differently. Mike Mayock said yesterday he has Conklin as his 3rd best tackle, behind Tunsil and Stanley. Others disagree. I think it's a good draft for offensive linemen, but if Jon Robinson has fallen in love with one of them then he'll try and figure out a way to get him. If he thinks he can wait, then another position could be addressed early.
---
Darin Finkekstein from Chatham, NJ
Question: Jim, I follow you and Twitter-- thanks for doing a great job. Exciting time for employees and fans of the Titans. With the run first ideology it appears Mike is going to put in place do you think the Titans will draft a kicker in a later round. Feels like we need greater range from this position? Thanks-looking forward to hearing from you. Darin
Jim: Hey Darin. Thanks for the question, and for following on Twitter. Fans do seem excited about what has transpired in recent weeks. Frankly, I'll be surprised if the team drafts a kicker. Ryan Succop is coming off a solid season, and he remains under contract. I suspect an undrafted free agent will be signed to kick some in camp, but I doubt a draft pick will be used on a kicker.
---
Shaun Lutterloh from Chapel Hill, North Carolina
Question: So, I'm not too sold on this trade with the Rams for the #1 pick! For some reason I feel the Rams are gonna hoodwink us and draft one of the defensive players that we wanted instead of taking a QB like they said they would. So with that being said, at #15 what options do we have not to pick from that will fit the Titans! #TitanUp.
Jim: Hey Shaun. I think you're in the minority on this one. Rams are going to take a quarterback at No.1. To borrow a line from Nashville's very own, George Plaster, book it! As for options at No.15, as you know, plenty hinges on 1-14. And don't rule out a move up.
---
Gabriel Varney from Kingsport, Tennessee
Question: Hi Jim. I love reading all your posts and articles. Ever since the Titans moved to Tennessee I have been a die-hard Titans fan. My question is this: Now that the Titans have traded the number one pick in the draft, what do you think of them going after free agent Louis Vasquez? I know we brought him in and talked to him earlier. He would be a huge asset to our offensive line, especially sense we are not going to get Laremy Tunsil to help solidify our O line. Thanks and GO TITANS!!!
Jim: Hey Gabriel. After his visit, there's been little buzz about him. I don't want to say the ship has sailed, but the boat is at least in the water.
---
Tyler Beene from Knoxville TN
Question: Hey Jim. It's me again. Hope you're well, my friend. I was never 100% sold on the Titans selecting Tunsil with the first overall pick. I also don't believe the Titans were either. Now with this monster trade in place, where do you think the Titans will go with #15? Decker or Conklin sound solid, but I have a hunch that Jon Robinson may sneak back in the top ten somehow. Your thoughts? As always sir, keep up the great work.
Jim: Hey Tyler. That's a great question. With Robinson, you never know. Stay tuned. We'll find out soon.
Enjoy the draft everyone!