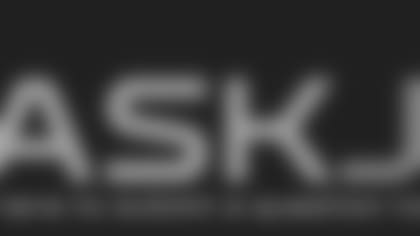 ](http://www.titansonline.com/news/ask-jim.html)
It's time for another Titans mailbag…
Question: Hey, Jim! Question... Are the Titans looking at running back in the draft? Honestly that'll be a great 1st round pick. If people know their history – Steve McNair got drafted in 1995 and Eddie George got drafted in 1996. Those two athletes were the start of a great duo, with a great key additions. If Titans want to win they'll have to make a handful of changes, even if they got rid of 3 of their TE and 2 or 3 RB for draft picks.
Wyatt: I definitely remember that talented duo. The Titans need to improve in the running game, no doubt about it. But in my opinion there's not a running back in this draft worthy of that high of a pick. Don't get me wrong – I'd love to have Alabama's Derrick Henry and Ohio State's Ezekiel Elliott on my team. But not with a Top 5 pick. Teams around the league are getting it done with running backs who weren't drafted early, and I think they'll continue to try and do that moving forward. The Titans will see more of what they have in Antonio Andrews and David Cobb at the end of this season.
Julie Crenshaw from Newport Beach, Ca
Question: Hi Jim. Some of the players did not put effort into the game against the Jets. I feel bad for Marcus Mariota and Delanie Walker ....they play with heart, and care and to win every Sunday and not all players do. Did some of the players quit on the team?
Wyatt: Hey Julie. Last Sunday wasn't pretty, there's no getting around it. And there were some disturbing plays in that game. But I don't subscribe to the theory guys have "quit." I know defensive lineman Jurrell Casey hasn't, and anyone who saw his all-out effort while trying to run down Jets receiver Brandon Marshall would have to agree. Now the play near the goal line when defenders let Jets running back Bilal Powell run into the end zone without having to take a hit, I agree, that can't happen. Mike Mularkey said himself there were some "loafs" afterward. I think there were plays on Sunday when the effort was lacking at times, but it certainly wasn't everyone.
Frank Foti from Nashville, TN
Question: Hey Jim. In 2013 I moved from New York City to Nashville. The first thing I purchased was a Titan PSL in a great location (Section 112, Row U, Seats 1&2). My wife and I have supported the team since traveling to many away games. This weekend we went back to New York to watch the game with friends. I would like to send you Monday's edition of the NY Post detailing the Jets win. I believe it would be motivational to the Titan Coaches, players, and Staff. One section describes the "Hero", "Key Stat", and "Zeroes". The author, Bart Hubbuch wrote the following about the "Zeroes"..."The ENTIRE TITANS ROSTER gets the nod here after an embarrassing no-show in which Tennessee was outgained (sic) 324-72 in the first half and trailed 27-0 at intermission. It wasn't hard to figure out why this team is 5-24 the past two years".
Jim, in New York you are either a Jet or a Giant fan (I am a Giant fan). The NY Post had article after article demoralizing the Titans. You would have thought the Jets won the Super Bowl and Ryan Fitzpatrick was Joe Namath. Even just leaving this newspaper in the locker room may inspire some passion. Thank you for reading my e-mail and please provide an address if you would like the newspaper.
Wyatt:  Hey Frank. I like that you got worked up over the story – shows that you care. I'm not so sure about leaving the paper in the locker room, but I've included it here. I'm sure the guys check out the mailbag on a regular basis. *J*
Sidel Pablo from Austin, TX
Question: With the Patriots coming up, I personally think that the team should watch the movie the "Replacements" with Keanu Reeves.  Hey, they have nothing to lose going up against the defending SB Champs. The Titans have to come out the remaining games and let the rookies play with aggressive play calling. Hell, a lot of them, coaches included will not be here next year.  Play your hearts out and see what happens. Make it exciting and go for the wins!  Unless you want the #1 overall pick, which might not be bad either. Just win or lose big this next 4 games!!! Make it exciting, let MM8 free to throw, run, or catch at will!!! That was the statement, question is, what are your plans for the holidays Jim?
Wyatt: Hey Sidel. Thanks for the feedback. I'll be home for the holidays – watching Titans practice on Christmas Eve and Christmas Day, and a Dec. 27 game against the Texans. Hopefully I'll have a few presents to open in between!
Jim Beckner from Nashville, TN
Question: Not sure I have seen Dick LeBeau or anyone discuss the defense post game. Why not? I thought we had a good D until the last two games.
Wyatt: Hey Jim. There's no question the play of the defense slipped against the Jets. Tackling was poor, and execution wasn't great. They're missing Derrick Morgan, who got off to a great start before his injury. And they're missing cornerback Jason McCourty. Still, the play should've been better than it was last week. Defensive coordinator Ray Horton said the Titans plan to pressure Patriots quarterback Tom Brady on Sunday. They'll need to get there some, and the unit will also need to tackle much better.
Leslie Dixon from Nashville, TN
Question: Some mock drafts already project that the Titans should/would draft an offensive lineman in the first round in 2016.  Given our recent draft history (Lewan, Warmack, Schwenke), do you feel we have greater needs?
Wyatt: Hey Leslie. Upgrading the offensive line should be, and will be, a point of emphasis moving forward. The team has its quarterback, and it needs to protect him. But the Titans also need weapons. I'm expecting the team to add more pieces on the o-line this offseason, but I'd be surprised if an offensive lineman is taken with the first pick.
Mike Gabris from Waipahu, Hawaii
Question: Hey Jim. Not to jinx the Titans, but I've been following Mariota since college, and I was wondering if ... Norm Chow doesn't have a job, will Mr. Chow be looked at as offense coordinator if the job is vacancy? I guess if he still wants to coach and he's 69 years old?
Wyatt: Hey Mike. I'm a big fan of Norm Chow. Loved dealing with him here. He's a friend of mine. But I can't see that happening. Would be a heck of a story, though – both guys from Hawaii.
Super Star from Columbia, SC
Question: Hey Jim, wonder why my questions never get answered?
Wyatt: Hey Super Star. The streak is over! Seriously, I haven't been ignoring them, I promise. I'll be on the lookout moving forward.
RECOMMENDED: