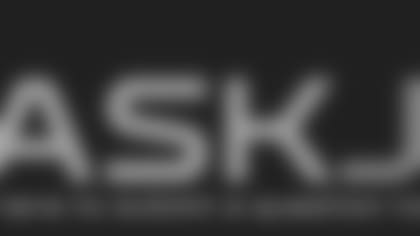 ](http://www.titansonline.com/news/ask-jim.html)
Only five games remain in the 2015 season for the Titans.
On Sunday, the Titans return to action against the Jacksonville Jaguars at Nissan Stadium. They'll be hoping to snap an 11-game home losing streak.
In the meantime, let's open some mail…
John Olthoff from Red Oak, TX
Question: Do you think Titans will keep Dick LeBeau, no matter who is named Head Coach?
Wyatt: It's a great question, and right now it's an impossible one to answer. Dick LeBeau signed a one-year deal. He's signed a one-year deal each year in Pittsburgh as well. He just prefers to take it year by year, and that's understandable. LeBeau has been a great addition, and I get the feeling he wants to keep coaching. But there's also a scenario here where it wouldn't be up to him. If interim coach Mike Mularkey should get the job on a permanent basis, the chances of LeBeau returning figure to improve. If the Titans hire a new head coach, then a decision on LeBeau would likely be up to the new coach. So what if the Titans hired a defensive-minded coach? He'd obviously want to run the defense his way. Right now, it's just too early to say.
Charlie Vosheen from Lakecrest, MI**
Question: Why can't they just send Dorial Green-Beckham straight down the field and have him out jump a DB for the ball?  If he has such a hard time running routes how about having him run a straight line, use his 6'5" 230 lb. body to block out the DB and out jump him?  I'd figure you'd get incomplete, completed catch, or PI.  At the very least you take a DB and/or Safety out of each play.  Probably not that simple though. Happy Holidays!
Wyatt: *Hey Charlie. I hear this one a lot. Green-Beckham is a great athlete, and I'm with you – I like his chances going one-on-one with a DB in a jump ball situation. He has the size and the strength. The Titans are trying to put him in better situations for him to win. But he's still learning and adapting to the NFL.   *
Paul Taylor from Chapel Hill
Question: Why has this organization since it left Houston NOT drafted a first round MLB? If the MLB is the QB of the Defense then why don't they take a super quality MLB to secure the spot and stop the run? Reggie Ragland is TOP quality MLB. This one guy alone will change the entire defense to No.1, not top 10. This guy is the real deal and if they really want The Man on defense then this is the guy. I fully understand the position is deep and Avery Williamson is Spectacular in my opinion but with RR in there no one would have the time to pass cuz he can hit the gap with the best of them and he is fast enough to cover. My first round pick if ya ask me and if not the Derek Henry will give this running game exactly what it's been missing. He is the real deal too may be better than AP one day. And in case you're wondering the answer is yes. Roll Tide and Go Titans.
Wyatt: Hey Paul. I like the looks of Ragland too. He's a heck of a player. But I can't see him going as early as it looks like the Titans are going to pick right now. Inside linebackers just usually don't go that early.
Super Star from Columbia, SC**
Question: Hey Jim, do you think Titans should look towards a running back in the draft for a first round first pick? It'll remind us of Steve McNair (95) and then the next year Eddie George (96).
Wyatt: The Titans are going to use the rest of this season to see what they have in Antonio Andrews and David Cobb. Those two backs are going to be in more of a rotation this week. Ohio State's Ezekiel Elliott looks to be the top back in the draft right now, but I can't see him as an early, early pick. Plenty can change between now and the end of the season to determine where the Titans will end up picking, of course.
Matt Horrocks from Rocklin, CA
Question: Hey Jim. I'm a lifelong Oilers/Titans fan from California. I'm sure this makes me sound like I have no life, but I live and breathe with Titans football. So, basically the past two years have been a rough for me. I've seen the Titans a number of times in San Francisco, Oakland, and San Diego, but last year I attended my first game in Nashville when we narrowly lost to the Jets. While I was there, I purchased a copy of the Monday morning Tennessean just to read your articles, so I'm a big fan of your work. Congrats on the new job with the Titans.
So here's my question. As you know, we drafted Steve McNair with the third pick in the 1995 draft. It took until 1997 for McNair to get the nod as the everyday starting QB. With what we have seen so far through Marcus Mariota's first 9 starts, do you think it would have been more beneficial for the Titans to have sat him this year to better adjust him to the speed of the game? Each week I watch the games and it just looks as if the game is too quick for him. If he would have gone through his progressions yesterday on the final play, he would have seen a wide open man along the left sideline. Marcus is the first rookie in franchise history to start on opening day, and I'm wondering if it was a poor choice to throw him in there so fast. He has now made late game turnovers against Cleveland, Indianapolis, Buffalo, and Oakland. I was skeptical when we picked him because of his style (He didn't seem like a pro style QB). So overall, what are your thoughts, should we have started so quick? I know most of the blame goes on the coaching staff, but QB is the most important position on the field. I just hope throwing him out there so fast won't hurt not only his future but the future success of the franchise.
Wyatt: Hey Matt. I appreciate your passion for your favorite team, and I appreciate you reading my work, and the kind words. It's a different day now compared to when McNair came into the league. Teams just can't afford to wait on quarterbacks to develop, and learn. The Titans threw Mariota into the fire, and it has proven to be the right decision. Sure, Mariota has had some rookie moments, and he's still a work in progress. But he's developing nicely, and the experience from this season should have him really prepared for Year Two.
Donnell Cathren from Tampa, FL
Question: Hey Jim, My question for you is how can the Titans address the run game and offensive line in this off-season? That's clearly our weak point also the WR position could use an upgrade. Also Jim I currently reside in Tampa due to military obligations, but I have been able to attend two homes games this year and I noticed how empty the stands are how does ownership plan on fixing this problem?
Wyatt: Hey Donnell. The Titans definitely need to improve the run game. And I think they'll continue to address it by adding to the mix in the backfield, and also the offensive line. They also need some young guys to develop, and mature, up front. As far as the empty stands, the biggest way to address that is by winning. And believe me, ownership definitely wants to fix the problem the team has had in this area.
Rafael Rodriguez Ochoa from Saltillo, Mexico
Question: Hello Mr. Wyatt!! First off, I've been a Titan fan since the 1999 season, always doing my best effort to watch every game (live), which is too expensive here at Mexico. I have read every note and story (so I am your fan too, back to The Tennessean). I went to Cowboys Stadium, which is the closest to my town in Mexico, to see my Titans. I´ve purchased all kind of jerseys and sweatshirts. I've been doing my best to be the best Mexican fan.
But I finally will go to Nashville for the first time this December the 6th!!  I've saved money all year long for this trip. And I have to ask you, how can I have the ultimate fan experience?? Is there any chance I can get my fan stuffs signed? That would be awesome!!  At what time do you recommend to be in stadium? This in order to get the most of my trip? Is there any stores that sell just titans stuff? My intention is to fill my closet with Titans clothes, we found hard to get those kind of things down here!! I will appreciate any advice regarding my fan experience in Nissan Stadium!!
Wyatt: Hey Rafael. You sound like a great fan! Getting stuff signed on game day isn't easy, but it's not impossible. If you want the full experience, I'd get to the stadium around 8:30-9 and head to the west side of the stadium, where you'll see some fans gathered around a fence outside. There you can see players head into the stadium. They'll be on the other side of the fence, but you'll be able to see them heading in. The gates open at 10, and that's your best bet for heading to the lower bowl to try and get autographs and pictures. There's no guarantee they'll stop and sign – many players will be listening to music and won't hear you yelling at them, but it's probably your best bet. There's also a pro shop at the stadium, on the east side. You'll be able to buy a ton of stuff there. Have fun!
Jonathan Lake from Deming, New Mexico
Question: Jim, I enjoy reading your q&a article every week. Great stuff. Keep it up. My question is are frustrated Titan ownership and players not really having any real home field advantage? Cause it seriously frustrated me watching the Panthers game to hear the stadium chanting defense and cheering on the Panthers offense. I notice this week end and week out. How can you expect a team to really want and play their hardest if it seems no one comes to watch you? I am a true blue Titan fan and that is a gut wrenching heart breaker for me. I would think the organization would do something to draw more home team support. I know I live far from Tennessee (and would kill to go a home game.. lol) but feel the home town fans should be ashamed of themselves for not showing up.(win or lose). Thanks
Wyatt: *Hey Jonathan. I can tell you no one likes to see fans of the opposing team take over the stadium. Ownership doesn't like it, players and coaches don't like it, and other Titans fans shouldn't like it either. The Titans have plenty of loyal fans who will be there every Sunday win or lose. And those fans should be applauded. And like other fan bases, the Titans also have fans who won't show up when things aren't going so well, or if the weather isn't ideal. Winning cures a lot of this. I was talking to Derrick Morgan on Friday and he said he hates seeing fans of the other teams in the stadium, making a lot of noise. But he said it's the team's fault that they're in there. The Titans haven't won enough games to encourage their own fans to be there every Sunday. The more the Titans win, the more the fans will show up. And the tougher it will be for fans of the opposing teams to get their hands on tickets. *
Mike Rheinholtz from Fort Wayne
Question: How is Bishop Sankey doing, and does he have a future in Tennessee?
Wyatt: Hey Mike. Right now, Sankey is the odd man out. As I mentioned earlier, the team plans to use Cobb and Andrews more moving forward, which isn't good for Sankey, who hasn't had a carry in four of the last five games. Sankey continues to practice and work hard, but until something changes, it looks like he'll be used sparingly in games as other backs get the carries.
RECOMMENDED: