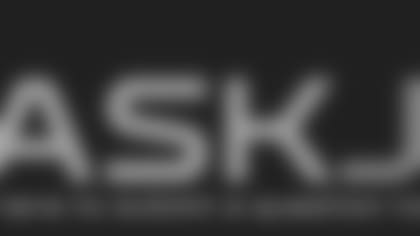 ](http://www.titansonline.com/news/ask-jim.html)
Let's open some mail to help pass the time (and to take my mind off the Dodgers being bounced from the playoffs)
Jim Glover from Santa Fe, NM
Question: I am a big fan of Marcus Mariota and now a fan of the Titans as well. In your opinion, what has Marcus Mariota meant to the strength and stature of the Titans brand?
Jim:  Hey Jim. Marcus is a face-of-the-franchise player, something the Titans desperately needed. The city has embraced him, and from the look of things so far, he's going to be around for a long time. Single-handedly he's reignited the fan base not only in Nashville, but he's also put the team back on the map from a national perspective. Now, the Titans just need to start winning some games so we can all see just how popular he can get.
---
Matt Wyatt from Greensboro, NC
Question:  Pass defense starts up front with pressure on the passer. I did not see a Dick LeBeau front, but they seem to me they take plays off after they get a lead. The offense is scoring but the defense has to step up. I would like your opinion. Thank you.
Jim: Hey Matt. Great last name, but I don't agree with your thinking. The Titans' pass rush has been one of the strengths of the team so far. The defense in ranked No.1 in the league, in fact, in sacks per play. Derrick Morgan leads the team with 4.5 sacks. The defense has blown two leads this season, but it's not because guys are "taking plays off," especially the pass rush. The secondary has allowed too many third-and-longs to be converted by allowing plays downfield. That has to stop. Do the defensive linemen and the outside linebackers get tired late in games? It's tough to argue with that one. But if guys take plays off in the NFL, they'll find themselves on the bench and out of a job.
---
Tom M from Livingston New Jersey
Question: *Hi Jim, thanks for the great job handling Titans news. My question is this: Back in March, around Tommy Smith stepping down, and again in June, rumors swirled about the team being sold and some were adding in relocation buzz. Every once in a while that pops back up. Do you see any telltale signs or flags that indicate that the franchise will be sold and/or relocated? Thanks for your time. *
Jim: Hey Tom. Thanks for the question. Seems like that "for sale" rumor keeps staying alive because one national reporter keeps throwing it out there. I was told there was nothing to it when it was initially speculated last fall, and here we are over a year later and I still consider it just what you called it – a rumor. The team isn't going to be relocated, and ownership continues to say the team is not for sale.
---
Michael Newsome from Drexel, NC
Question: Hey, Jim.  I think we all feel like this is a VERY talented team that is a 3rd and 20 stop in the Colts game and 3rd and 24 stop in the Bills game from being 3-1.  And being that close is EXTREMELY frustrating to everyone, fans and players alike.  Is Kendall Wright's comments that he isn't being used enough have any traction within the locker room?  Is there any dissension in the locker room?  Or is it viewed as just frustrated comments made in the heat of the moment.
Because my view, as a die-hard fan, is this: You have the most targets (26), most receptions (16), most yards (242), and most TDs (2) on the team.  Plus, you have rush attempts in 2 of the 4 games.  They're making getting you the ball a priority.  They're even making you the primary, trusted target in the most important situations.  On 3rd and 3 in the red zone, if Wright makes that catch, we have a chance at a 10 point lead instead of kicking the field goal for a 6 point lead.  That could've easily changed the game.  I feel like comments like Wright's is dangerous, because it's going to make a young player like Mariota feel like he is in the wrong and he will start to force more passes to Wright, resulting in mistakes and turnovers that end up taking us out of games that we could've been in.
Between Brown and Wright ... is the locker room as lost as it appears from the outside?  Or is it just a matter of finishing a couple of these games to putting together a couple wins to relieve the frustration?
Jim: Hey Michael. That's a fair question. I'll say this about Wright – he's a good guy who just wants to help the team win. He's not a bad apple or a prima donna, and the way he made his point in the locker room on Sunday certainly didn't remind anyone of a Terrell Owens or Dez Bryant. It was hardly a temper tantrum. Wright just wants to be more involved in the game plan going into games. You do have a point with your numbers – he's getting his chances. As for Brown, he spouted off because he knew he was losing his starting spot because of inconsistent play. Wins would solve a lot of issues like these. But I've covered this team since 1999 and I can't remember a year when a receiver didn't want more chances, or when there was no drama from time to time. Derrick Mason was always calling for the football when he was around in the early 2000s. It just wasn't viewed as a big deal then because the team was winning games.
---
David Garcia from El Paso, Texas
Question: The Titans have some big backs, yet they continue to use Dexter McCluster. Shouldn't they be pounding the rock and open up defense for passing. Play calling seems very bland.
Jim: Hey David. Coaches like Dexter, but they're giving all the backs a chance. Bishop Sankey leads the team with 36 carries, while McCluster is right behind him with 25. Antonio Andrews has 10 totes. What the Titans need is a running back who convinces them he can't be taken off the field because he's having so much success. As far as numbers go, McCluster's had the most success of all the backs – he's averaging 5.3 yards per carry, more than Sankey (4.1) and Andrews (3.1).
---
Isaias Ortiz from Cedarville New Jersey
Question:Hey Jim, love reading your work glad you're a part of the Titans organization. I was wondering why there aren't any media segments showing the positive things that happen in the games, like highlights of individual players, the progress and growth of our players and team in general? I'm pretty sure this would be a boost to the many fans who are disappointed on the outcome of these past few weeks. Really impressed by our Titans this year even through the losses we're moving in the right direction. Thank you and God Bless. #TitanUp.
Jim: Hey Isaias. Thanks for the question, and comment. After the Tampa Bay game, it was all positive. That's what a 42-14 win will get you. Even since, I feel like the positive aspects of this team have been well documented. But let's face it: the team needs to win games to keep things positive. There's no question the Titans are a much improved team compared to last season. I really believe things are headed in the right direction. Some wins would go a long way in cranking up the positive vibes, that's for sure.
---
Briget Campbell from Clarksville, TN
Question:Hi, Jim, Could you please tell me who is performing at the halftime show tomorrow? Thank you.
Jim: Hey Bridget. Tennessee State University's Aristocrat of Bands will be performing at the half. It'll be a good show.
---
Sean Roberts from Honolulu, Hawaii
Question: Aloha Jim, of course we are now Titans fans as we follow Marcus. And we always enjoy you and Amy in Titans in Two. Coach play-calling however, have been otherwise and questionable.  One poor coaching decision from the Buffalo game, I believe, was in the 1st quarter, 1st drive.  4th and 2 around the Buffalo 30.  The offense is looking good and had the Buff D on their heels.  Why punt?  The eventual punt resulted in a 20 yard risk.  If Whiz wants to "establish an identity" why not start with confidence in the team's ability to "the play" both O and D.  The buzz word on this team and around the league is start fast. It was early and the pace was in our favor. To me this was a critical moment in the game, as a large pace of the entire game was then set.  I feel this is why the offense had impressive drives but could not finish.  It seemed like the overall feeling of the team fell into a psychic energy depression.  The analogy is like practicing on a 90 yard field. We're good getting to the 10 but are not conditioned to finish.  That moment was a perfect opportunity to condition and force our team to make "the play".  IMO the coaching staff's decisions have been too conservative.  Your thoughts?
Jim: Aloha Sean. I hear ya, but we're going to disagree on this one. I'm with you on this – I like to see aggressive play-calling, and going for it when the time is right. In this instance, however, I thought it was too early myself. You're right in that it was a fourth and 2, but it was from the Buffalo 36. The Titans could've gone for it, kicked a 53- or 54-yard field goal, or punted. Whisenhunt elected to punt, and the Titans downed the ball at the Buffalo 11. The Bills then went 3-and-out, and punted the ball back to the Titans, who ended up back in Buffalo territory a few minutes later. The Titans had another fourth and 2 from the Buffalo 39 late in the second quarter and punted that time, too. I was OK with the Titans playing a field position battle with the Bills, and they controlled the game because of it. The Titans ended up costing themselves because they let the Bills off the hook several time in the contest because of faux pas. If they don't give up the 3rd and 23 the probably win the game. But they did, of course. We definitely agree on this: the Titans need to find a way to finish drives, and games. If they don't, it's going to be a long season.
---
Kevin Alexander from Nashville TN
Question: *How far in advance is the choice of uniforms made for each game? Do you know why the Titans hardly ever wear their powder blue tops or bottoms anymore it seems?  What color jerseys are they wearing Sunday against Miami? *
Jim: Hey Kevin. The uniform decisions are made before the season. The Titans wore white in the first two games to be in lighter colors, taking the heat into consideration. But they'll be decked out in navy blue on Sunday against the Dolphins, and you can put them down for navy blue the following week against the Falcons, too.
---
Joel Bourgouin from Winnipeg, Manitoba
Question: Do you see Cody Riggs getting any playing time now that he is healthy?
Jim: Hey Joel. The Titans like Riggs, but he's probably going to have to wait his turn. As long as the veterans in front of him are healthy, they'll play.
RECOMMENDED: