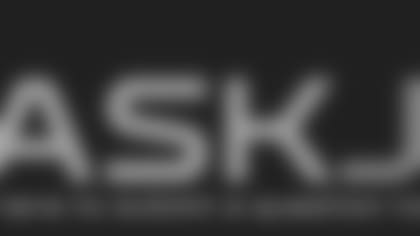 ](http://www.titansonline.com/news/ask-jim.html)
It's back to football for the Titans on Sunday. The Bills are up next.
Let's hit the mailbag first…
Ryan Bickford from Muncie, IN
Question: How close are we to being "good?" And how much does a win vs a solid Buffalo team move us in that direction?
Wyatt: The Titans are a much improved team, there's no doubt about that. But it's a 1-2 team right now, and that's not good enough. The Titans need to start winning games. A win over Buffalo would go a long way in helping a young team gain confidence, and it would also keep the Titans in the conversation in the AFC South. They can't afford to let the Colts start building a cushion.
---
Corey Heyes from Savage, MN
Question: This week against the Bills, should our defense be more concerned about the run game or deep pass game? The Bills have injuries all around the offense.
Wyatt: Hey Corey. You're right, the Bills are banged up. Running backs LeSean McCoy and Karlos Williams are both out for Sunday's game, which means Boobie Dixon should get the bulk of the carries on Sunday. The Titans will need to gang tackle on defense, but they can't sleep on Bills quarterback Tyrod Taylor. He's an athletic QB who's capable of doing damage with his arm or his legs.
---
Anthony Mosley from Atlanta Georgia
Question: When will Dorial Green-Beckham be a real part of this offense?
Wyatt: Coach Ken Whisenhunt said this week he doesn't want to overload Green-Beckham, who has passed every test he's been given so far. I think DGB is not only gaining confidence in himself, but he's also gaining the trust of the coaching staff. The better he performs, the more he'll play moving forward.
---
Rodney P from Woodbridge, NJ
Question: Jim, how are the troops feeling physically? Sammie Lee Hill, David Cobb, Jason McCourty, Antonio Andrews and Chance Warmack? Do you think Sammie Lee will be a difference maker when he comes back?
Wyatt: McCourty is a go for Sunday against Buffalo, and so is Andrews, who played against the Colts. Warmack will be a game-time decision, while Hill won't play. Cobb still has a few weeks to go, and he remains on the Reserve/Injured list. Hill is still working his way back. The good news for the Titans is Al Woods has played well in his place.
---
Jason Schwanke from Portland, Oregon
Question: Lifelong Oregon Ducks fan here. Obviously now a Titans fan as are most Oregon fans! My question: with Marcus' performance through 3 games generally being outstanding save for the rough day holding onto the ball in Cleveland, what are realistic expectations for him the rest of the season? Still 13 games to play and a lot can happen, but it is hard not to expect him to do great things every week. Having watched him at Oregon, I saw him come out as a freshman and play outstanding football from game one and he only improved every single week. With 800 yards, 8 touchdowns and only 2 interceptions through 3 games, that puts him on page for 4,000 yards, 40 touchdowns and just 10 interceptions. That probably won't happen... But what do you think is a realistic benchmark based on what we've seen so far to measure his success? I think expectations must have changed based on the early returns. In the preseason most probably would have said 20-25 touchdowns and around 15 interceptions would be a very successful rookie campaign. At this point that would almost feel underwhelming based on what he has done in his first 3 starts.
Wyatt: Hey Jason. Marcus has exceeded everyone's expectations so far.  But it's impossible to project his numbers. It all depends on what kind of games the Titans are in, whether they're catching up or whether they're able to have success running the football moving forward. Sure, he's bound to have some off days, but the Titans just want to see him making improvements each week. I feel safe in saying this: If he keeps playing like he has he's going to win Offensive Rookie of the Year.
---
Travis Jackson from Dickson, Tennessee
Question: Do you think we can score on Buffalo's defense?
Wyatt: Yes. Buffalo has a good defense, but it's not like they've been pitching shutouts. They've allowed 14 (to the Colts), 40 (to the Patriots), 14 (to the Dolphins) and 24 (to the Giants). The Titans can't afford to turn the ball over on offense, and they'd better protect Mariota.  The Bills are stout up front.
---
Dan Davis from Sidney, OH
Question: Hi Jim, thanks for keeping me updated via Twitter. It definitely makes following the Titans from Ohio a whole lot easier. Anyway, for the Bills this week, what will be more imperative for the Titans to win:  creating turnovers on defense or taking care of the ball on offense? The Bills' defense is pretty nasty, but I'm confident Whiz will find ways to utilize Mariota this week. I think Mariota will use his feet this game more than we've seen so far this season. Thanks for the great coverage, looking forward to seeing what the Titans can do the rest of this season with all our young talent.
Wyatt: Appreciate it, Dan. I think a combination of the two. I agree, one of these days we're going to see a game when Mariota makes a big impact running the ball. Will it be this week? I can't say for sure, but the day is coming.
---
Question: Which receiver do you think Marcus Mariota will have the most confidence in, with the game on the line by the time the season is over?
Wyatt: Hey Kyle. I believe Mariota has the best chemistry with receiver Kendall Wright so far. The two are definitely on the same page with timing patterns. But tight end Delanie Walker is definitely one of his go-to guys as well. When the team needs a big play, I think Wright and Walker are the two guys he'll be looking for – defenses might not allow it sometimes, though.
---
Penny Kennedy from Nashville
Question: Jimmy, Do you know which game will be Breast Cancer Awareness?
Wyatt:Hi Penny. It's this Sunday. See you at the game!
RECOMMENDED: