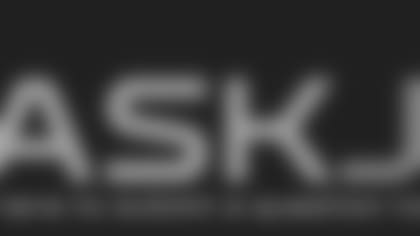 ](http://www.titansonline.com/news/ask-jim.html)
The Titans are halfway through the season, and despite a 2-6 record, are still in it in the AFC South.
Coming off an emotional win in New Orleans, they're set to welcome the Panthers to town on Sunday.
Let's hit some mail to pass the time until kickoff…
Rodney Pyram from Woodbridge, NJ
Question: What's up Jim? You know I always have a few loaded questions for you.... What did you see in training camp that Bishop Sankey was doing well that he isn't doing now and ultimately landed him in the dog house? What does Mike Mularkey have to do to keep his job after the season? Any whispers of potential coaches that we might look at? Bevell? Gruden? Payton? (my personal fav) Pagano?
Wyatt: Hey Rodney. Sankey was a confident runner in camp. He looked good. But he's always had a tendency to hesitate, and the Titans a back who's going to pound it in there. His muffed kickoffs and fumbling have also set him back. What does Mularkey need to do to keep the job? Well, the Titans need to keep winning, and he needs to keep the positive vibes going with the team. It's way too early to speculate on potential coaches. At least I'm not going down that road here.
Daniel Gutierrez from Snyder Texas
Question: Would there be any reason to keep Bishop Sankey on the roster if David Cobb performs well in the coming weeks?
Wyatt: I can't see the Titans parting ways with Sankey any time soon. He was a second-round pick last season, and what happens if one of the top backs gets injured? This is an area where a team needs insurance, and after releasing Terrance West last week, the Titans don't have a lot of it right now.
Bart Walls from Jackson, Tennessee
Question:Hi Jim. I was curious, with a mid-season coaching change, what affect does that have on Marcus Mariota with respect to the playbook? Does he have to learn new names for the same plays? Also, with the announcement that the Colts claimed QB Charlie Whitehurst, do the names of the plays change (again?), given we still have to play them one more time this season? Thanks.
Wyatt: Hey Bart. The playbook won't change. Yes, Mularkey has made some changes with protection, play-calling and other concepts, but he's not going to overhaul the playbook. As for Whitehurst, the Titans don't play the Colts until January 3. There's no guarantee he'll still be with the team by then.
KB Cannon from Nashville,TN
Question: Hey Jim enjoy your work. My question is about Michael Griffin. It's been a lot of noise about his play here lately. I've watched when he 1st came in as ball-hawking youngster to now a major leader & solid vet. I was just wondering how the team views him at this point and are the intrigued by getting one of these young dbs from the draft i.e. Jalen Ramsey?
Wyatt: Hey KB. Appreciate you reading. Griffin has been a real pro since he's been here. He's played through injuries, is accountable, and is a guy the team can count on being out there on Sundays. Is he the "ball-hawking" youngster he used to be? No, and I think he'd tell you himself. Injuries have slowed him down, but he's still doing a solid job. How many years does he have left in him? We'll see. As for Ramsey, I'm a big fan. And I think the Titans will target a cornerback in the draft. It's still too early to know whether they'll be in a position to get a guy like Ramsey, who will go early.
Chuck Lawson from Antioch, TN
Question: Is this whole captaincy thing getting overplayed just a bit. Yes, I understand Taylor Lewan having it taken away probably was a shock to him. However, I don't think you can put a "C" on a guy's uniform and that automatically means the other guys will follow them. I'd bet Mariota gets quite a bit of respect in the locker room and he isn't designated a captain.
Wyatt: Hey Chuck. What you are saying is true. The "C" doesn't automatically make a guy a leader, and guys without the "C" can have just a big an impact, if not more. I don't think it's getting overplayed, though. It was a significant development. I can't remember the last time a coach made such a bold move, to switch captains in season. I think it shows Mike Mularkey is going to do things his way. Lewan has said himself he's a little uncomfortable being called a "leader." I did a story on him earlier in the season and even then he made that clear. The move gives him time to grow, and do his own thing. But you're right on one thing – Mariota isn't a captain, and he's a guy players rally behind and are inspired by on Sundays.
Mark Orkeny from  Hungary
Question: Hey Jim! I really like our tight ends, but let's be honest, we'll need some young players next year. Do you see that as a primary FA/draft need? Yours sincerely, Mark
Wyatt: Hey Mark. Delanie Walker's contract expires after the 2016 season, and that's also when Anthony Fasano's deal is up. Craig Stevens has a contract that expires after this season. Just looking at those deals and the age of these guys, yes, I think tight end will be a draft/free agency need in the near future.
August West from Nashville, TN
Question: How important is it for the next permanent head coach of the Titans to be able to keep the defensive coaching staff together? Should that be a top 3 qualification for candidates?
Wyatt: Hey August. Hope you're having a great November. Sorry, couldn't resist.  I agree – keeping the defensive staff together is important. And I think it's one of the reasons Mularkey has a solid chance to land the job on a permanent basis if things go well. Keeping Mularkey probably gives the team the best chance to keep Dick LeBeau and Ray Horton.
Refugio Lopez from Mcallen TX
Question:Has there been a difference in the locker room with the players since Mularkey became the head coach?
Wyatt: *Hey Refugio. Players like Mularkey, there's no doubt about it. And that was clear see after the team's win in New Orleans. Mularkey is a genuine guy, and the players see it. Winning, of course, helps the mood. *
Kenny Gore from Horse Cave, KY
Question:Got a couple this week. The 1st goes directly to you! How different are the questions & comments this week following an AMAZING WIN?? Not just a win -- that was an all-out AMAZING game!
Next: Mariota ran the ball a lot in college. I believe the Titans are wise to use his rookie season as more of a pocket passer 101 class. However, part of what makes him special is his run threat. Do you think Mularkey will play more to that strength than Whisenhunt did? Especially around the goal line. I believe he has shocked the NFL world with how well he has played from the pocket. I would like to see more of him threatening the defense with his natural rushing ability though. Not a lot more. Too much risk for injury, but more than 4 designed rushes in 9 games.
Wyatt: Hey Kenny. Well, half my questions before last week went something like this: When is Ken Whisenhunt going to get fired? So that's changed. As for Mariota, I'm with you as far as the running threat goes, but keep in mind he's coming off a knee injury and the coaches have to be smart about it.
Jeremy Raymer from Beechwood, New Brunswick   Canada
Question: What a great team victory this past week! So many things went right to make it happen including (offensive coordinator) Jason Michael's play calling from up in the booth. My question is do you believe the play calling will continue to be as effective while going through a "middle man" to our rookie QB? I remember Norm Chow did it that way, but that didn't end well. Of course, Vince Young and Marcus Mariota have their differences. Bring on Carolina ... Go Titans!
Wyatt: Hey Jeremy. It was definitely smooth on Sunday – Jason Michael to QBs coach John McNulty to the field, and Mariota. You made a good point when talking about Chow. Vince Young and Marcus Mariota are completely different guys, and that's a huge factor in all this. If Chow had Mariota to work with, he might still be coaching in the NFL.
Jon Bobst from Hamden, Ohio
Question: Jim, How long can we expect Kendall Wright to be sidelined with his injury?
Wyatt: Hey Jon. Kendall's out again this week, and on a short week, it might be tough to get him back for the Jaguars. We'll have to wait and see on that one. But I'd definitely expect him back by Oakland (Nov. 29), if not before then.
RECOMMENDED: