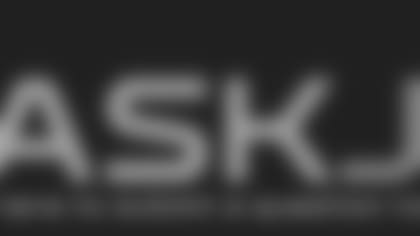 ](http://www.titansonline.com/news/ask-jim.html)
The Titans wrapped up organized team activities this week, and now players turn their attention to a three-day minicamp.
Me? I'm all about this Titans mailbag right now.
Cole Flatland from Springville, Iowa
Question: Hey Jim. Any chance we see Brian Schwenke in the left guard competition? I know he's always played center in the pros but he has had experience at the position in college I believe.
Jim: Hey Cole. Yes, he's actually gotten some work there in the OTAs. I wrote about Schwenke last week at Titans Online. He played three years of guard in college. Right now, he said he's still working his way back to 100 percent after last year's injury, but he's getting closer. I think he's a valuable swing guy in the middle, but a lot of big guys are in the competition.
---
Eric Charnquist from Beaverton, OR
Question:Jim, so glad to read your stories and this column. It's great to see a writer hired by a team be as objective as you are. Thank you! Though they were the Oilers then, I've been a fan since '96 when I used to live out there and just about came unglued when the Buccaneers tanked the last two minutes of the last game two years ago. Thought for sure they were going to pick Marcus Mariota and was so glad they went with Jameis Winston so the Titans had the shot. That said, on to my questions. There has been a lot of talk about Mariota working on his deep ball, but my question is... what does that look like? How do you work on throwing the deep ball? Your answer may be better as a full article outlining drills and things coaches do to improve that. Seems to an armchair guy like me you either have that touch or you don't. Also, who do you see as backups at both tackle positions? After Taylor Lewan and Jack Conklin, seems a little thin. Thanks for keeping us informed Jim. Us west coast fans appreciate it.
Jim: Hey Eric. Appreciate the questions, and comment. Marcus is working on it. It is an area where the team struggled last year. Some of it was on Marcus, and some of it on the receivers. A lot of it has to do with timing. Mariota has said himself he underthrew some deep balls last year, and was off target on others. But on some of the deep passes, receivers were in a position to attack the ball and catch it, and it didn't happen. Guys like Dorial Green-Beckham and Justin Hunter are big and tall enough where they should be able to win one-on-one battles by outjumping defenders if the ball is close. It's a work in progress, but I think it should improve in time. They've hit on some in practices, one just the other day involving Kendall Wright. As for the tackle position, a lot of guys are in the mix. Will Poehls is getting reps, and a guy like Quinton Spain is capable of kicking out. But the back-up tackle spot is one to monitor. Byron Bell's injury left a big question mark there.
---
Chris Chapman from Hermitage, TN
Question: Hey there Jim!!! I hope things are going well for you my bro. I spend a lot of my days reading all the different analysts opinions about this team or that team; this player or that one and while most every analyst is giving Jon Robinson and coach Mike Mularkey their due props, I believe they're not taking this team these two men have built seriously at all. We have needed this sort of influx of leadership and talent for several years now. There's no way on this earth that Ruston Webster could've ever orchestrated the moves that Jon Robinson made this offseason, let alone brought in the kinda talent he and coach Mularkey did. Bucky Brooks just posted some rookie player projections. A kinda best case/worst case scenario for some of the league's best rookie stand-outs. He projects that Derrick Henry worst case will be limited to 145 carries/500 yards and 3 scores. I'm sorry, but like Demarco Murray and Derrick Henry are special running backs and I don't believe either running back will be limited to just 500 yds and 3 scores. What do you believe? My thinking is these two guys are gonna be as tandem as tracks on road grader... What's your thoughts? As always great job with keeping us informed. I also believe the 2 latest open roster spots were created in hopes of keeping an extra QB and an extra RB... Take care man!!! GO TITANS!!!!
Jim: Hey Chris. Thanks for the mail, and your passion. Projections are tough, especially with running backs. If DeMarco Murray lights it up, that's going to cut into Derrick Henry's carries. Personally, I think they're both going to get plenty of work, but so much hinges on other things, from the defense's performance to whether the team is playing from behind or in the lead. So we'll have to wait and see how it all plays out. As for the extra spots on the 90, I wouldn't read anything into it right now. The team will eventually fill them to get to 90 by camp. The team has to be at 53 to start the regular season, of course.
---
Nicolas Delamare from Laval, FRANCE
Question: Hi Jim, thanks for your job on titansonline.com. Since I live in France, I appreciate Amie's work and Mike's work ...You can thank them too. I have one question on DGB...I've read that Mike Mularkey said that DGB wasn't ready for being starter at WR spot (I know that we have Kendall Wright, Justin Hunter, Rishard Matthews, Harry Douglas, Tajae Sharpe too) but since in France, when I watched the game against Jags at Nissan Stadium, you cannot forget DGB's touchdown with all his potential on this action. ...I follow Marcus Mariota's and Dorial's progress since their draft and DGB was nicknamed "The next Randy Moss"...So my question is What can we hope for Dorial's season? Maybe I'm too fast for his career?? Lol...Thanks and Let's go Titans !!
Jim: Hey Nicolas. I know I've seen you on Twitter, so thanks for stopping by here. I really think Mularkey is trying to motivate DGB, and temper expectations at the same time. DGB has not arrived. He'd tell you that himself. He was inconsistent last season, and coaches are pushing him to improve. He has enormous potential, no doubt. But I've seen a number of big receivers come through town, from Tyrone Calico to Kenny Britt, fall short of expectations with the Titans. Coaches think DGB can be different, and I do, too. Yes, he's capable of being a top-flight receiver. But he has to stay healthy, and commit himself. Personally, I like him. I think football means a lot to him. But he has to prove his worth on the field, and Mularkey knows it.
---
Josh Pennington from Huntsville, AL
Question: Hey Jim. Thanks for your coverage of the team! It's always great to read your posts and get an inside look at what's going on. My question has to do with Rashad Johnson. There doesn't seem to be much excitement surrounding this guy, but he had more interceptions last year (5) than the Titans top two guys combined (4). I've even seen some people saying that Kevin Byard might be starting over Johnson at some point this year. I know Byard looks like a promising player, but why isn't Johnson getting more recognition?
Jim: Hey Josh. You're right – Rashad is a proven veteran, and he does bring playmaking ability to the Titans. He has nine picks over the past two seasons. He's looked good to me so far. I think the Byard talk is because he's a local product who was drafted third overall, and keep in mind Rashad only signed a one-year deal. Plus, Byard has been pretty darn impressive I must say. But the team is high on Johnson, and if he performs well, he's going to play. Unless, of course, Byard progresses so quickly the team feels it has to find a way to get him on the field as much as possible.
---
Fesauai Thompson from Riverside, California
Question: Talofa (Samoan word for Hello) Jim Wyatt. I'm a Broncos fan but I find myself reading a lot of football on the Titans website. I followed Marcus because of who he is and just another Samoan taking everything in stride the way a pro should handle it. Anyways my question is. Why is Louis Vasquez still out there? Is there another OL out there that can maybe help these young guys? I think the more veteran this team get, the more the young OL can learn from them. Thanks for your time
Jim: Hey Fasauia. Talofa to you! Thanks for checking in. We'll take Broncos fans here. I've received a lot of questions about Vasquez since his visit earlier this offseason. Vasquez is still a free agent. The Titans didn't jump to sign him, and they're currently working with the guys they have. But that doesn't mean another interior lineman won't be added at some point in the coming months. Keep in mind the Titans have the No.1 spot on the waiver wire, so some nice options could present themselves in the coming weeks and months. So don't rule out adding a vet, even if his name isn't Vasquez.
---
Kirk Lowe from Greeneville, Tennessee
Question: Hey Jim, Huge Titans fan for life, fellow Tennessee native. My question is on Avery Williamson and Kendall Wright, both have been productive players and have gotten better each year, but they just haven't busted through the threshold so to speak. Could this year be the year they do just that? Care to give your expertise opinion?
Thanks Jim, keep doing what you're doing!
Jim: Hey Kyle. Avery is on the upswing, no doubt. Some would probably disagree with you saying he hasn't broken through yet – he had 107 tackles as a rookie, and a whopping 137 tackles last season, with 3.5 sacks. Even as a young player, he's been one of the best on the team. As for Kendall, he had a 94-catch, 1,079-yard season in 2013. The hope is for him is to get back to that level.
---
Dustin Rogers from Durham, NC
Question: Hey Jim, Can you provide more about Kevin Dodd's injury. From my experience foot bone injuries and surgeries are not short recoveries so I'm a little confused that they are saying he will be back by training camp. Also, the comment Coach Mularkey made about Dodd needing to stay off it made me feel that Dodd wasn't listening to the training staff. Is there an attitude problem with him? Maybe I read the body language wrong but seemed like there was something there when coach talked about Dodd.
Jim: Hey Dustin. I can't give exact specifics here. If I did, someone else would be answering questions for Titans Online not named Jim Wyatt. Hope you can understand. I can tell you the procedure was done to give Dodd a chance to heal up and be ready for training camp. He had some issues with the foot during the rookie camp, and it lingered. The best move was to fix it now. But you're right – foot injuires/surgeries can be tricky, and need time. So keep your fingers crossed for Dodd. I can also tell you Dodd doesn't have an attitude problem, and Mularkey wasn't insinuating that with the comment you're referring to. Your body language reader is off on this one. :)  Have a good one.
---
Jabari Jackson from Greenville, SC
Question: Hey Jim. Love what you do as a writer! I think you're one the best doing it. With Coach Dick LeBeau becoming more involved vocally with the defense how do you believe this will affect that side of the ball? Do think DGB has a shot at starting the season as our #1 receiver?
Jim: Hey Jabari. Appreciate it. The check is in the mail. I do think LeBeau being in complete control will help during the practice week, and on Sundays. I think it will be a more cohesive unit – and I think you'll see more pressure on the opposing quarterbacks as well. As for DGB, I hit him a little earlier responding to Nicolas from France.
Have a great weekend everyone!
Titans veterans and rookies take the field for Day 10 of OTAs at Saint Thomas Sports Park. (Photos: Gary Glenn)