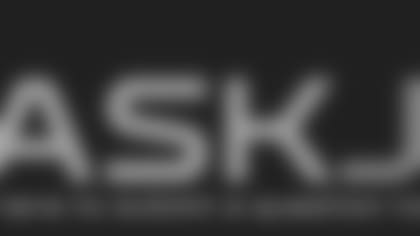 ](http://www.titansonline.com/news/ask-jim.html)
The Titans started the season with a bang in Tampa Bay, winning in convincing fashion.
Now, it's on to Cleveland.
Let's bang out some mail first….
Connie Felipe from Beaverton, Oregon
Question: A while back, someone asked if the Super Mario sound could be played when Marcus Mariota throws or rushes for a touchdown. My question is if that could be changed to the theme of "Hawaii 5-0"? We did it at Oregon when Marcus rushed for yards or touchdowns or even just moving the chains at a high rate of speed. Besides giving homage to his home state, for Ducks fans watching the Titans games, it will be reminiscent of Marcus's college days. Coincidentally, the "5-0" ties in this Hawaii as the 50th state, which also ties in with Super Bowl 50. Is it crazy to dream BIG?
Jim: Now that sounds like a lot of fun. Pretty creative for sure. I'll ask around and will let you know if anyone says, "Book 'em Danno." Sorry Connie, couldn't resist.
---
Kenneth Bascomb from Hamburg, New Jersey
Question: When do you see more opportunities for Dorial Green-Beckham?
Jim: Hey Kenneth.  Dorial is coming along, and I think you'll see him more as the season goes on. But be patient, and keep in mind Titans receivers just didn't get a lot of snaps in the opener. Green-Beckham had just 9, but Kendall Wright had just 25 himself. The Titans played multiple tight ends against the Bucs as they focused on the run in the second half to run the clock.
---
Trejean Watkins from Mt Juliet, Tennessee
Question:*Hi Jim, been a Titans fan since I was 4. How long could the plan of Titans leaning on only 4 receivers last? *
Jim: As long as those four guys stay healthy. If the Titans had kept five, the fifth guy would likely be inactive on most Sundays, so there's not a huge need for a fifth. And keep in mind the Titans have two receivers on the practice squad – Tre McBride and Rico Richardson.
---
Adam Quick from Tampa, Florida
Question: Are the Titans comfortable running the spread style offense for Mariota, and is that something a defense can plan against easily?
Jim: Hey Adam. The Titans aren't running the spread. They've incorporated things into the offense to take advantage of Mariota's skill set, but they're not changing to a spread. It is easy to defend against? I'm not so sure a lot of Oregon's opponents from recent years would agree with that.
---
Brian Moore from Soper, OK
Question: Will Antonio Andrews play this week? All his hard work and effort this offseason... Do you figure it's imperative for him to get on the field before Terrance West gets comfy?
Jim: Andrews hasn't practiced all week, and on Friday he was officially ruled out. I feel badly for Antonio because he worked hard to put himself in a position to play, and contribute. But the Titans aren't going to play him until he's healthy. The reality is Andrews left the door cracked for West to run through it, and if West has success while Andrews is sidelined, he's going to play.
---
Kris Garcia from Litchfield Park
Question:Hi Jim, I've heard about Marcus' prowess as a good soccer player going well into his high school years. A fun question I would ask him is if he had to kick a field goal in a game 1) could he? And 2) What's the longest distance he thinks he can?
Jim: That's an interesting question. I'm thinking he probably could in a pinch – I've actually seen him drop-kick a few with success before. I'm not so sure the Titans want him risking an injury to his legs by kicking field goals, however.
---
Kevin Berkner from Kill Devil Hills, NC
Question: First Jim, congrats. You do an awesome job at TitansOnline.com. Is there any talks of adding any possible free agents, even after a good performance Week1? With only 4 WRs on the depth chart, could we possibly try and talk to Wes Welker? I love our WRs and like both McBride and Richardson on the practice squad, but what a weapon addition Wes Welker could be for the Titans and a young Mariott. Just a thought.
Jim: Hey Kevin. Thanks for the question, and kind words. Don't bet on the Titans going after Welker. They're happy with the four receivers they have, and aren't currently looking.
---
Steven Tilton from Safford, AZ
Question: Hi Jim, thanks for taking fan questions!  Coach Whisenhunt has talked about how game planning plays a factor in new player progression and team readiness.  I was wondering how the game planning process works. Does Coach Whisenhunt and his staff create a game plan Monday and then prepare the team accordingly, or does the game plan evolve as the week progresses?  I am wondering if the new guys (West, David Bass, and Steve Johnson) will have opportunities to "earn" a place in the game plan this week or if they have to be patient and learn more of the system first.
Jim: Good question Steven. Coaches spend the first part of the week putting together the game plan. Monday and Tuesdays are big days. When the players report for work on Wednesday, they begin practicing the plan. West is going to be involved this week. Bass and Johnson will help primarily on special teams for now, but they're getting their chances. Bass played in 25 snaps in the opener, and Johnson played 21 snaps. Both played a bunch on special teams.
---
Tevin Britton from Lebanon, TN
Question: Why won't y'all take my advice about the team?
Jim: Don't worry, Tevin, folks are taking your advice seriously. I told coach Whisenhunt you thought Mariota should throw four touchdowns in the opener, and that's exactly what he did.  Good call.
RECOMMENDED: