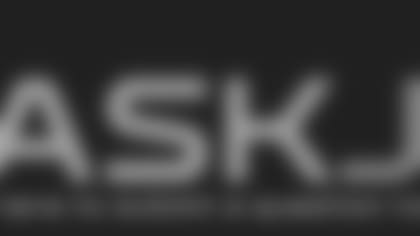 ](http://www.titansonline.com/news/ask-jim.html) The NFL Combine is in the rear-view mirror. The start of free agency is now just days away.
It's a busy time at Saint Thomas Sports Park.
So let's get straight to the mail…
Jay Spivey from Kirkland, WA
Question: Hey Jim. First off, long-time Oilers/Titans fan from around '87.  Secondly, love your columns and think you do a great job staying objective when you write. Alright, about this #1 pick thing the Titans have in front of them.  The consensus pick is Laremy Tunsil, that's what we keep having pushed in front of us at least.  But my question to you is this, A. If we are looking to get Marcus Mariota more out of the pocket this year to allow his skill set to shine, why would our 1st pick need to be an OT?  B. How could TN pass on a local guy, super beefy big DB like Jalen Ramsey when it's so obvious from a sheer talent level that's he's the most talented guy period.  C.  It wouldn't get fans that excited to get an OT, we know that and I know Jon Robinson is a smart guy. He's not going to draft who we the fans want, but he's also aware that there will be many more lineman either in free agency or further down in the draft that we could pick up.  So Jim, what do you think?  This is not a hit against Tunsil, but it's not even reasonable to think we should just be safe and take an OT when ultimately we want to be more out of pocket anyways right!?  Ramsey #1. Thanks Jim!
Jim: Hey Jay. Appreciate the comments, and thanks for questions. I can't lie – I like what you're thinking. Don't get me wrong, I think Tunsil is a heck of a prospect, and if he's the pick, I'll understand it. But I like Ramsey, too. Free agency will tell a lot. If the team can land an offensive tackle in free agency, then the position won't be as much of a need in the draft, and it might open the door for Ramsey. But a lot of things will be considered, including a trade. I do know protecting Mariota is key, and some moves are going to be made to make sure that happens. The how part is TBD.

---

Kevin Miller from Bethlehem PA
Question: Hey Jim. I was wondering is there by any chance that the Titans will go after Doug Martin from the Tampa Bay Buccaneers? I hope so, we definitely need a running back.
Jim: Hey Kevin. The Titans definitely need to improve at the position. While a lot of guys will return and be in the mix, from Bishop Sankey to David Cobb to Antonio Andrews to Dexter McCluster, help is needed. Robinson knows Martin from his days in Tampa Bay, so that's a plus. He knows his background, and knows whether he's worth the investment. I'm thinking Martin is going to want a ton of money, though. He's pretty much said so. Just how much might decide whether the Titans are in the mix for him or not.

---

Jeremy Smart from Naples Florida
Question: Hello Mr. Jim Wyatt.  Do you think we will draft Jalen Ramsey with the first pick, to help defend DeAndre Hopkins, Allen Robinson and T.Y. Hilton!! These guys I just named get the best of us each year. It would be nice knowing on Sundays that we have a guy like Jalen back there to stop these WRs. That's it. Thanks. #titanup
Jim: Hey Jeremy. Thanks for the question. That's question No.2 for Ramsey. As I mentioned to Jay, I like Ramsey too. He's a baller. He's in play, I feel safe in saying that. But also keep in mind, veteran cornerback Jason McCourty will be back and at 100 percent after being slowed with an injury before eventually being sidelined last year. When he's healthy, he's reliable as well.

---

Andrew Hardaway from Chapel Hill, NC
Question: Hey Jim. Great work keeping up with all the draft coverage. Lot of talk about right now about what Robinson will do the #1 overall pick. Talk to me about pick #33. Who are the guys that you think will fit Robinson's value designation there? Will the Titans try and trade down there and get another 3rd or 4th rounder? To me, three guys that might be there that would be really hard to pass up are Josh Doctson, Derrick Henry, and Ryan Kelly. These guys would all be difference makers for the young TEN offense.
Jim: Hey Andrew, Appreciate it. I really like Doctson and Henry myself, but they both had impressive showings at the combine, so impressive it could take them off the board by 33. I think Henry would be a great get, but I know other teams probably feel that way, too. As for Kelly, he was really good at Alabama and I think he's going to be a good pro. I'm thinking the Titans look for veterans on the offensive line to help supplement what they have. But a guy like Kelly has traits any team would have to like.

---

Will Gilstrap from Fort Worth, Texas
Question: Hey Jim. Following the Super Bowl, many analysts raved about Denver and Carolina's defensive lines, suggesting that the best way to rebuild was to do like the Panthers did in 2013 and draft big defense (Star Lotulelei and Kawann Short) as a way to indirectly help second-year pro Cam Newton on offense. This could be an ideal year for the Titans to emulate that plan; I'm wondering what you think about the Titans going defense for both rounds one and two? Obviously we don't need two DT's like Carolina did in 2013, but what about Jalen Ramsey or Oregon's DeForest Buckner at pick 1 and see if Nkemdiche or Eli Apple etc. drops to us at 33. Ruston Webster under-emphasized the defense at the top of his drafts to his detriment, and I think the recent postseason serves as a nice microcosm for the benefits of having a defense with elite talent on all three levels.
Jim: *Hey Will. Thanks for the question. I like the look of Buckner, too. He's a big guy who would fit in well in a 3-4. And you've probably seen me talk about Ramsey. I wouldn't rule out a defensive player at 1. Ndemdiche scares me, though, and what happens at 1 could go a long way in deciding whether the Titans take a bite out of Apple. See what I did there? *

---

Jeremy Raymer from New Brunswick, Canada
Question: Jim, would the Titans see any value in bringing in Matt Hasselback as a 3rd QB veteran for Mariota to draw on? If not him, do you see another vet that would be suitable for the task or is a veteran needed in this case?
Jim: Hey Jeremy. I really enjoyed Hasselbeck when we was here previously. Great guy, and teammate. He'd definitely be a guy who would help Mariota. I'm thinking he'll end up being a No.2 somewhere, though, after playing well when called upon last year in Indy.

---

Tom Montesion from Livingston NJ
Question: Hi Jim. As always, thanks for keeping all us fans in the know constantly. I have a question and a request. First off, being a fan of this team since 1970, I have seen so many of our first round picks fade into oblivion without ever living up to their hype. That said, my question is whether you think taking Tunsil is really our best choice? I know he's a talent and that protecting Marcus is a must, but this would be an OL pick 3 of our last 4 1st rounders which begs the question, why are we still talking about needing an OL after two first OL picks in the last 4 years. Maybe that's not our best route on this ie FA? Secondly, my request. Next time you're around Amy Adams Strunk or Steve Underwood, can ya throw the notion of a uniform update out there please?!?! Our unis are 17 years old, they're dated and tired. Two-tone shoulders?! Seriously, it's 2016. If they want to re-energize us fans, that's definitely part of the puzzle. Thanks Jim and keep up the fantastic work. #Titanup
Jim: Hey Tom. I like the idea of the experience on the offensive line myself. The question the decision-makers here will have to decide is whether or not Tunsil is a can't-miss prospect who could be a dominant LT for 10-12 years. If he is, he's worth considering, and picking. But there are no guarantees in the draft. As for the uniforms, I'll pass it along. So you think the two-tone shoulders are out of style, huh?

---

Randy Phillips from Mount Vernon, IL
Question: Is it just me or should the Titans try to trade back to 3-7 and hopefully still get Ramsey in the 1st, Henry at 33 and then with the 2nd rounder they get for trading back get Doctson? Those 3 players in the top 40 picks would be awesome!
Jim: Hey Randy. Not a bad plan for sure. I know I'd feel good with a Ramsey-Henry in first two picks, and I like Doctson, too. Thanks for the question. By the way, I always enjoy stopping at the Steak n' Shake in Mount Vernon on the way to see my Dodgers in St. Louis. It's my dad's favorite spot!

---

Bob Anderson from Walton, Ky
Question: Hi Jim. Any chance the Titans could trade the #1 pick for DeMarco Murray? We get a top notch RB and they get their pick of the best QBs. We could also command Philly's 1st and 2nd round picks in addition to Murray. What do you think?
Jim: Hey Bob. I can't give a definitive no on Murray, but I wouldn't bet on it.

---

Vicki Smith from Clackamas, OR
Question: Hi Jim...I love that you have this Q&A feature. Last night, I re-watched the 1st game & noticed that when Kendall Wright caught Marcus Mariota's 1st TD pass, he dropped it on the ground in the end zone. When Vincent Jackson caught Jameis Winton's 1st TD pass, he handed it right to Winston.  Did anyone make sure Marcus got that ball? Thanks!
Jim: Hey Vicki. You're a hard-core fan if you're re-watching that game from back in September! I can't say with 100 percent certainty, but I'm pretty sure Marcus got that football. And his cleats from that game are in a safe place – the Pro Football Hall of Fame in Canton.

---

Dustin Djureen from Omaha
Question: Hey Jim. On Friday of the combine, you said on The Wake Up Zone that you weren't on that train that believed to be the Titans were going to take Tunsil 1st overall. Did you change your thought at all, after how performed at the combine? I think Tunsil at LT and Lewan at RT can be very appealing. Bottom line, we gave up the most sacks last year and the hype around Tunsil is insane. Haven't seen that much hype around a linemen in quite some time. Thanks Jim.
Jim: *Hey Dustin. You're right. I did say that, so thanks for listening. And I still that way – right now. I just think a proven veteran is needed at one of the tackle spots. But there's still time for me to change my mind. I'll be honest – early last offseason I didn't think the team would pick Mariota at 2, but my feelings started to change in the weeks leading up to the draft and by draft time, I was locked in on Mariota. I picked him in the mocks. So there's a chance I could still flip this year – especially if the GM clues me in on the big secret! *

---

Jeremy Smart from Naples Florida
Question:Hi Mr. Wyatt. Big Titans fan here. Do you think we could go with Jalen Ramsey with the top pick? And give us a big-time ballhawk for are defense!!!Your thoughts? Thanks.
Jim: Thanks for the question, Jeremy. To all: I promise I didn't stuff the mailbox with all these Jalen questions! I went straight down the inbox and these came in. As I mentioned previously, I like Jalen. He's in play, and I can tell he'd be a popular pick.

---

Mike M from Tacoma, WA
Question: Hey Jim! Love the coverage you're doing for the Titans. How likely is it that the Dallas Cowboys would want to trade up in the draft to No. 1 to pick a QB before the Browns? They'd make an attractive trade target for the Titans: pick up an extra pick or two and still get whatever top-flight player falls to No. 4 (be it Tunsil, Bosa, Ramsey, or whoever).
Jim: Hey Mike. I appreciate it. It's hard to tell fact from fiction at this point, or at any point leading up to the draft for that matter. But Jerry Jones told Gil Brandt the team won't be taking a QB at 1. I just can't the Cowboys moving up for any other position, but you never know in the draft!

---

Antwon Ford from Columbia
Question: Is it safe to say a great idea in the draft would be to trade down to acquire two first-round picks or one first round and two second-round picks. I mean Mariota needs weapons of mass destruction! We need a consistent running back. I like Henry but I Love Ezekiel Elliott at running back. We also need a weapon on offense I'm looking at a Wide receiver. Yes, we do need help on defense, let's not be afraid of going into the free agency pool and getting a name -- not an old name that has a lot of injuries and we still thinking about we he did 5 years ago. But someone who compliments our defense and our offense if need be. Is it safe to say this would make sense?
Jim: Makes sense to me!
**
---

Name: Sara Smart from Naples, FL
Question: Hello Mr. Wyatt. My husband and I are huge Titans fans. Yes, we live in Florida but we still bleed two-tone blue. Are the question is about this year's draft. We know we need to protect Mariota and Laremy Tunsil looks like he could be the one. With that said please let someone know we could not stop the ball in the air. We think Jalen Ramsey can change all of that. So please let someone know Jalen Ramsey is our guy. Sincerely Sara and Jeremy. Go Titans and Titan up
Jim: Thanks for the email and suggestion Sara! Just heard from Jeremy, too. Some here might say picking Ramsey is a "Smart" idea, including you and your husband!
OK, I'd better stop after that one. Thanks again for all the questions! Hit me up on Twitter @jwyattsports if you're not following me already. Have a big weekend! I'll try and get to more questions next week.

RECOMMENDED: