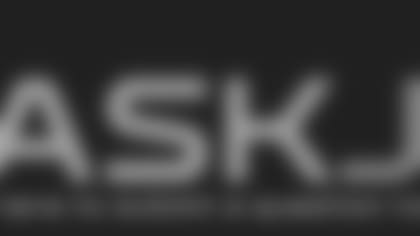 ](http://www.titansonline.com/news/ask-jim.html) NASHVILLE, Tenn. – The first round of OTAs is in the books for the Titans.

The opener? Well, it's still over three months away.
Let's dive into the Titans mailbag to pass the time…
Robby Karr from Dallas, Texas
Question: Hi Jim. Long-time Titans/Oilers fan here.  Two questions: Usually after the draft we pick up 12-15 undrafted free agents, this year we signed 5 thus far bringing our roster to 78 or so of the 90 allowed.  Most of these guys are training camp bodies, I know.  But it seems like every year 1-2 of these guys make the practice squad and provide depth.  Do you see the Titans adding some more pieces before camp? Secondly, we are stout at OT, yet we drafted 1 and signed 1-2 as UFA. If the rookies prove capable......might we have a swing tackle to trade for a 5-7 round pick next year?
Jim: Hey Robby. The Titans actually signed 12 undrafted free agents after the draft, but some of them were swapped out with guys who made the team after tryouts. The roster count right now is 90, but there will be some shuffling, of course. It's going to be tough for an undrafted free agent to stick this year, but maybe someone will surprise me. As for the tackle position, I think the team will look to develop the young guys they drafted/signed behind Taylor Lewan, Jack Conklin and Dennis Kelly. And if some don't make the 53-man roster at the start of the season, they could land on the practice squad.
---
Charles Burdick from Clarksville, Tennessee
Question: Hey Jim, as a fan that goes back to Earl Campbell rookie season, I will admit the salary cap math confounds me at times. Is the reason the Titans kept so much cap space this year is because it carries forward next year?  I know Taylor Lewan and Marcus Mariota have big contracts coming soon. Plus both starting edge rushers. Thanks.
Jim: Hey Charles. You're not alone. You're right, the Titans do have some extra space, but so do a lot of teams. And you're right in your thinking-- some key players have deals expiring in the not-so-distant future, guys who could be up for extensions. A good chunk of the money will be needed to get those guys locked up.
---
Dylan Edward from Houston, Mississippi
Question: Hey Jim! Love how you do these mailbags to connect to the fans. I have two questions.
1) What's the news on the Tajae Sharpe and Sebastian Tretola situation? Will this hinder their stock on our team?
2) Have you ever considers getting someone like Mariota or Murray to have a special Titans Mailbag? Just something fun since it's the off-season. Thanks for the time!
Jim: Thanks for the questions, Dylan. I can't address the Sharpe/Tretola situation. I wasn't there the night the incident allegedly took place, and I know Tajae and Sebastian haven't addressed it themselves. Keep in mind no criminal charges have been filed against either guy, only a lawsuit. So that raises some questions in my mind. As for question No.2, that's not a bad idea about getting Marcus or DeMarco to do a special mailbag. I know players have done live chats in the past. But I also know they're pretty busy, so you might be stuck with me. :)
---
Tim Reynolds from Geneva, New York
Question: Dear Mr. Wyatt. I've been a fan of the Titans since I was old enough to understand what football really is, and I've seen some really good players come and go that we have drafted through the years. What makes Corey Davis any different than how we handled Dorial Green-Beckham? To me both have good physical attributes, but we gave up on that project, I guess I'm asking how can we promise to not give up on Corey Davis? Another question that I have is what are the serious expectations from our first two picks in this year draft?
I know we let Jason McCourty go this offseason, but do we have someone on this roster that can fill this void?
Jim: Hey Tim. Thanks for questions. I can assure you the Titans aren't going to give up on Davis any time soon. Plus, I should say Davis is a completely different guy than DGB. Listen, I like DGB. But he arrived in the NFL under completely different circumstances, and wasn't as NFL-ready as Davis. This has been proven in Tennessee, and Philadelphia. Davis has the right mindset and approach, and I think you'll see that early. As for the expectations of the two first-round picks, they're going to play, and be counted on to produce early. As for McCourty, one of the reasons the two sides parted ways is because the Titans feel good about the group on the team now, starting with Logan Ryan, LeShaun Sims, Brice McCain, Jackson and others.
---
Bruce Caccia from Clarksville, Tennessee
Question: Thanks for doing a great job keeping the fans informed! Over the last couple of years, my biggest issue with the Titans has been their defense and that it seems like they only play a partial game. With that, I'm loving the new additions this year.
It seems that while the offense has improved and is able to score quickly, the defense is running out of steam in the 3rd and 4th quarters allowing our opponents to score. This has forced Mariota and the offense into "desperation" mode to score which is never a good thing.
My question is this: Have the coaching staff come up with a better conditioning and practice plan to ensure that the defensive players are able to fully play all four quarters?
Jim: Appreciate it, Bruce. Not sure I agree with you on this one. The defense stood tall and kept the team in it in several games that were won late, including Detroit and Kansas City. The defense was stout from beginning to end in the win over Denver.  Yes, everyone remembers the ugly finish in Chicago, when the defense limped to the finish before finally holding on. It was an ugly ending, no doubt. I agree there needs to be improvement in several areas across the board. But I don't think it was a conditioning issue. It was an execution, and personnel issue. Hopefully things will be better in 2017, and I think it will be.
---
Matt Horrocks from Rocklin, California
Question: Hey Jim, I love the work the Titans did during the draft. I've been thinking since last season that Adoree' Jackson could be a perfect fit for this team with his defense and special teams abilities, so to see him put on two-toned blue this year will be a real treat. His abilities in the return game are something that will really benefit us and help ensuring good starting field position. But my question is where do you see this leaving Eric Weems? My initial thoughts when we signed Weems this offseason are that he would be the kick returner, and I liked the signing. Will Jackson return both punts and kicks, or will Weems return the kickoffs with Jackson handling the punt game? Also, with Corey Davis and Richard Matthews starting at outside receivers, and Taywan Taylor and Tajae Sharpe taking the three and four spots, do you see the Titans keeping six receivers with Weems and Harry Douglas making the squad, or could they go with just five this year? Thanks once again for answering all of our questions.
Jim: Hey Matt. Appreciate the question. Adoree' is going to be fun to watch, that's for sure. Good question on Weems, and time will tell. Keep in mind Khalfani Muhammad can help in the return game as well. Weems is a veteran, and he can do a lot of things on special teams aside from returning. Coaches love him, and he'd be a good leader. When he was first signed, I penciled him in as the guy myself. So I'm interested to see how it plays out as well. As for the number of receivers, this will also be determined in competition, and other roster spots will factor into the decision as well. Five or six receivers is the range in my mind.
---
Randy Howard from Kennett, Missouri
Question: Hey Jim, appreciate ya! Can't wait for the season to start, going to the Rams game on Christmas Eve with a buddy who is a Rams fan, should make for an interesting 3 hour ride home! I'm coming loaded with a couple of questions:
1) I've read multiple stories online that have said we are planning on using Adoree in all three phases of the game; offense, defense, and special teams. Is there any truth to those rumors that you know of or can speak on?
2) I know the team has picked up multiple defensive players via free agency and the draft, is there anyone else available right now that the team may be looking at? I personally wouldn't mind seeing Alterraun Verner back in two tone blue. He was awesome with us before he left and has a good head on his shoulders. Thanks for the updates Jim, and as always TITANUP!!
Jim: Hey Randy. Let's do this. Adoree' will focus on defense first, then special teams. Offensive coordinator Terry Robiskie said this week nothing is in works to get Jackson in on offense yet, and Mike Mularkey said they want to get him up to speed in other areas first, too. Right now, the plan is to give guys a chance to impress in OTAs. Not ruling out some more additions could come in the coming months, though. As for Verner, I would be surprised if that happened. Have a good one.
---
Patrick Dintino from Murfreesboro, Tennessee
Question: What do you think we're planning to do with all that money saved in the cap? We let guys like Spence, Mccourty, Woods, Bell, and Fasano, go, and picked up Lewan's 5th year option, all cap saving moves but what do you think we have planned? Will we sign more free agents before or after camp? Or do we have a mega deal planned for Mariota if we make the playoffs?
Jim: I touched on this with Charles earlier. The reason the Titans let some of those guys go wasn't strictly because of money. Value, and the desire to play/sign others factored in as well. On the horizon, clearly some contracts will need to be extended. And the team has flexibility to add others, too.
---
Alex Alejandro from Weslaco, Texas
Question: Hey Jim. I am a huge Titan fan from South Texas, which sucks because I am around too many Texan fans. I appreciate all the great insight you provide week in and week out. My question's regards injury status. It appears Kevin Dodd is still suffering from foot pain. Do you have any updates regarding his status? Do you think he will be participating in OTA's? My next question is regarding Corey Davis. I know Davis said he was about 85% healthy. Do you know how slow the Titans plan on bringing him back? Will he be good to go by training camp? Last question, which rookie that we drafted impressed you the most during the rookie minicamp? I am pumped for what the future holds for this organization. Hopefully, I can make it to my first Titan's game this season. Thank you, Jim.
Jim: *Hang in there Alex. Dodd is still working his way back. Mularkey said this week he probably won't take part in workouts until training camp. The feeling is they've been patient this long, so it's best to give him more time so he'll be ready to hit the ground running. Davis is getting better each week. He said this week he could play on Sunday if in-season. He'll be good to go for camp. As for the rookies, I sure like what I've seen from Taywan Taylor early.
*
---
Justin Taylor from New Haven, Connecticut
Question: Hey Jim! I'm 28 years old and I've been a fan of the Titans since I was in 5th grade. Which by the way was in 99 the Super Bowl run. Big fan of your tweets as well. So I have two questions for you today. With the great draft picks and free agents we have signed do you see us winning the division? Secondly, do you see our defense being top 5 this year in total defense?
Jim: Hey Justin. Thanks for following, and anyone not following me on Twitter should do so @jwyattsports. I'm going to keep the feed loaded with Titans info. Same on Instagram (@jwyattsports). As for predictions, I'll just say this: There's potential for the team to be better than last year, when the Titans finished 9-7 and lost a tiebreaker to the Texans for the AFC South's top spot. But the team has to stay healthy, and keep winning these tight games. The defense, with potentially four new starters (Logan Ryan, Adoree Jackson, Johnathan Cyprien, Sylvester Williams) has a chance to be solid, too. But players have to produce, and stay healthy.
---
Rob Lesa from Auckland, New Zealand
Question: Hello Jim, thank you for all the insight about the Titans organization. If Marcus's contract is up at the end of this season, is it possible for another NFL Team to take him if they offer a better deal? Or do the Titan's keep him until they let him go? Just wandering 'cause the guy is awesome and I can imagine other NFL teams making a bid for him in the near future, 49er's for one. I've grown to really enjoy the Titans franchise as a whole over the last 3 years, been promoting Tennessee Titans down under for the last 2 years, and push the point as Marcus Mariota as their exceptional leader. So I hope to see him here for the next 10 years plus. Thank you once again.
Jim: No prob, Rob. The team drafted Mariota to be the franchise's QB for a long time, and as long as he keeps playing well, and stays healthy, that's still the plan. He remains under contract, so teams can't steal him away either.
---
Chris Chapman from Hermitage, Tennessee
Question: How goes it Jim? Sorry I missed you on the Caravan Tour this year. My son Alec and I were not able to make it to the closest destination which was Spring Hill. I'm hoping to take Alec to a cpl of the team practices though. As a fan we can't thank you enough for all that you do to keep us informed throughout the season and off-season as well. I tend to read a lot about other NFL teams and the people who cover them and aside from John McClain from the Texans nobody puts in the extra effort year round than the 2 of you. GREAT JOB BRO! All these rookies have a chance to be a real "threat" if they learn from the coaches and most of all the players like Tajae Sharpe and Delanie Walker what it means to be a Titan now... Our atmosphere has changed drastically since Jon Robinson and Coach Mularkey have joined forces. I may not be a football player, in fact I'm just a lowly mechanic who restores VW's, but these players need to welcome the newly signed Titans with open arms and show em what they don't know... "And that's all I got to say about that".... Thanks Jim all of us appreciate everything you do. I hope to see ya at 1 of the practices!!! GO TITANS!!!
Jim: Hey Chris. I was at the Spring Hill Caravan stop, so sorry you couldn't make it. Appreciate the compliment as well. The culture has definitely changed, and Robinson and Mularkey deserve a lot of credit. The veterans in the locker room are also good examples for the rookies to follow, which is why Corey Davis and Adoree' Jackson and others are coming into a good situation. Give me a shout when you come to practices!
---
Michael Bailey from Greensboro, North Carolina
Question: Hey Jim! I'm so excited for this season. Everything seems to be coming together quite nicely. I believe we can contend for a Super Bowl THIS YEAR! However, I do have one question/suggestion. I'll phrase it as an analogy. First. If you have a 4 wheel drive pick-up truck to drive off road for farm work and it breaks down, would it make sense to replace it with an economy car such as a Prius that's not made to do the same things? Now bringing it back...Matt Cassel is a good QB but he is not equipped to do what Marcus Mariota can do. So if (Heaven forbid) Marcus goes out for whatever reason, our entire offense is altered and we lose a few threats. They may not be looking at it, but could we possibly look at signing Colin Kaepernick or Robert Griffin III as their skill sets are more like Marcus Mariota's and they would be able to step into the same scheme and game plan and still pose the additional running threat. I am thinking just bring them in to camp and at least let them compete for a roster spot. Just a thought because I know I'm not the only Titans fan who's biggest fear is getting everything set up like us and Oakland did last year, only to lose our QB and watch everything free fall as opposed to just a slight drop off but same play potential. What do you think?
Jim: Hey Michael. Love the analogy, but let's keep it real here. Not many guys out there capable of doing what Mariota can do, especially free agents still on the street. Cassel is capable, and he's a good guy for Mariota to work with. The other guys you mentioned would change the dynamic in the quarterback room. The team likes Alex Tanney as well. Keep your fingers crossed that Mariota stays healthy. Few NFL teams out there can avoid a drop off when the starting QB goes down with an injury.
---
Jeremy Raymer from New Brunswick, Canada
Question: Jim, what an exciting time of year ... I know you guys have been super busy. Thanks again for all the hours and miles logged keeping us fans informed and engaged in how our team is preparing for what we hope is a return to the playoffs this season. I have a comment and a question. Since she was thrust into the spotlight representing Titans ownership, Amy Adams Strunk has done a phenomenal job engaging the fan base and proving that the Adams family was committed to building a winning organization to Nashville. Even though she admitted to being nervous about the change at first I think the role fits her well and her positive attitude and enthusiasm resonates with the fan base. I know it's been said that "winning cures all", but I am glad that the Adams family has chosen to build the organization, starting from the top down, with quality people who seem to fit in well with the surrounding community rather than solely adopting a "win by all means regardless the cost". Our GM, coaches, players, etc. seem to exude a winner's attitude on and off the field and the "team first" attitude seems to include the good people of Nashville as evidenced by our teams involvement outside of football. To see Amy show continued support of the military and accept the invitation to jump out of an airplane (wide-eyed and grinning) was a treat for sure. I saw you in the clip as well ... did you get a turn? My question involves the Titans playing abroad. Most teams have taken the trip to London while a few to Mexico City. While London is nice and I know the NFL has been grooming a relationship with expansion to Europe in mind, I can't help but think that the Titans would benefit from a growing fan base south of the border. With only a few teams left to make the trip out of the country, do you feel it would be more beneficial for the Titans to take a trip to London or Mexico City? Which is more likely? Go Titans!
Jim: Appreciate it, Jeremy. I enjoy it. Solid comments, and you're right on with the owner, and her commitment. I did not jump, but have to admit, I'd love to one day. It looked awesome! As for a game out of the country, teams are really at the mercy of the NFL. I actually thought this might be the year, but it didn't happen. Hopefully it will in the near future because I think it would be cool, and the organization would definitely benefit from the addition exposure.
---
Luke Blain from Point Pleasant, West Virginia
Question: Hey Jim! Love your work! This is one of my favorite ways of keeping up with what is going on with the Titans. Here is my question. I am very happy about our defensive backs. I think the Adoree Jackson pick was a very smart pick. And I was very happy with the way that Leshaun Sims and Kevin Byard played last year. And I loved the pickup of Logan Ryan and Jonathan Cyprien. But with that being said, our d-backs are a very young group. Was it ever considered to pick up a veteran like Darrelle Revis or Antonio Cromartie? I personally think that either one of those guys would have been great pickups, just to provide a good bit of experience and to be a leader for our young guys. Kind of like what Andre Johnson did for our receivers last year. Anyway, that's what I thought about the situation. What are your thoughts?
Jim: Hey Luke. It's a good group of DBs, but you're right, it's a young group. My thinking is they'll find their way and be set when the season starts. But I'll say this, and I'm not necessarily talking about Revis or Cromartie here: Coaches -- and GMs – like to see what young guys can do during offseason work. They'll give them a chance to get as many reps as possible, and avoid bringing in vets sometimes because they'd take away reps from the young guys. If coaches – and Robinson – feel they need help at a certain position, someone could still be added down the road. Remember, Johnson didn't sign until the start of training camp. I'm not saying a veteran will or won't be added, but it can't be ruled out yet. And keep in mind a bunch of guys will become available during the roster cuts around the league in early September.
Have a great Memorial Day weekend everyone!