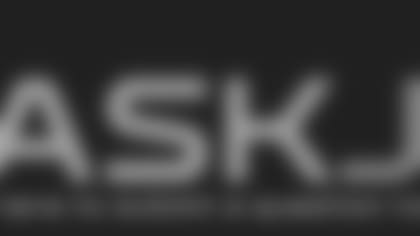 ](http://www.titansonline.com/news/ask-jim.html)
Another week down, another week closer to the start of training camp.
We're not going into a June swoon here. The questions keep coming, so I'm going to keep answering them (until I go on vacation, that is).
Aaron Quarles from Birchwood, Tennessee
Question: Hey Jim, thanks for answering my last question. I'm going old school today. I'm not sure if you covered the Titans during their Super Bowl run in 1999-2000 season but do you think if Kevin Dyson does score on that last play, would Jeff Fisher have kicked the PAT for overtime or would he have gone for the 2 pt. conversion and the win? The 2 pt. conversion, even if we don't get it, would have been the gutsiest call in NFL history and I think with our momentum and weapons in the backfield like Steve McNair and Eddie George and Frank Wycheck at tight end our odds of converting the 2 point conversion would have been a lot higher than other teams' chances would've been. What are your thoughts?
Jim: *Hey Aaron. Interesting question. I was covering the team then – it was my first season on the beat for The Tennessean. And I was at the game, in the press box at the Georgia Dome. I suspect Fisher would've kicked the extra point and gone into overtime, partly because of one of the reasons you mentioned – momentum. Remember, the Titans trailed 16-0 at one point in the second half. They rallied, only to see the Rams score on the long touchdown pass from Kurt Warner to Isaac Bruce late. But the Titans dominated down the stretch, and I know Fisher and others believe the Rams were tired and worn out. If the Titans could've gotten the game to OT, I think it would've been a win. But we'll never know… By the way, I put in a good word for you with Amie like you asked. She wants to know: How is next Friday night looking for you? Just kidding. Sorry! I think T-Rac is available, though.
*
---
Brock Outlaw from Nashville, TN
Question: Jim, Who do you think will make the roster for the WR position?  I can say Kendall Wright, Rishard Matthews, Dorial Green-Beckham and probably Tajae Sharpe since he is getting so much attention in the media. But after seeing the recent practices there were other wide receivers who stood out just as well like Andrew Turzilli and Tre McBride.  What is the likelihood of these two making the roster? I feel Justin Hunter wants money without the work (anyone who doesn't practice, but after practices is "betting" he can touch the ceiling) The team can keep these two for little of nothing and let them develop more instead of paying an inconsistent 4 yr veteran.
Jim: Hey Brock. That's one of the big questions heading into training camp. I agree with you on the four makes – Wright, Matthews, Green-Beckham and Sharpe are going to be on the club. After that I think one or two make it. I've been around when the team kept as few as four receivers, and as many as seven. And this is a deeper, more talented team across the board. Hunter is talented, and I think that's why he has a fair shot to make it. Yeah, it wasn't a smart move to try and touch the ceiling that day, but he practiced the next time out and it's not like he was limping around that day. The team was just being cautious, and Hunter made the mistake of opening himself up for criticism by making the leap. McBride has looked good to me as well. You didn't mention veteran Harry Douglas, who is a contender himself. One thing I should mention – Turzilli must serve a four-game suspension to start the year, so that's something to keep in mind when the roster is trimmed to 53.
---
Jon Losa from Ferndale California
Question: Hey Jim, first-timer here. It's a long way from the North Coast of California to Nashville so I have to rely on you to bridge the gap and stay informed. Thank you. With all the talk about DeMarco Murray and Derrick Henry, I'm more interested in the rest of the running back committee. How many do you think we will keep? And will it depend on how many receivers we keep? Personally, I really hope we keep Dexter McCluster. I think he can contribute more than David Cobb, Bishop Sankey, and Antonio Andrews. I haven't heard much about Andrews and Cobb this offseason and only a little about Sankey. Who do you think has the best shot at making the roster and why?
Jim: Hey Jon. Appreciate the question. How things play out at other positions will definitely impact the RB position. Murray and Henry are one and two, and I think McCluster is safe as well. Mularkey has talked him up because of his versatility. I think one more, possibly two, come from the other four – I'm counting David Fluellen as well. Those guys haven't gotten a lot of reps this offseason because of Murray and Henry, so they're in a tough spot. It's truly going to be a competition to watch in training camp, and it depends on who rises to the occasion. For more on Andrews, check out the Titans Online story I did on him this week. He's plenty motivated. Have a good one.
---
Morgan Booker from Stillwater, OK
Question: Hey Jim, first I wanna say I know you hear it a lot but you're really doing a bang up job! The stream from the team to the people is flowing strong brother! Thanks for keeping us all connected. My questions: So what's going on with the locker room? I have always thought our locker room looked super bland compared to other teams. Also since the guys are on vacation is anyone going anywhere cool? Are you going on vacation? Bonus question: Who's the best cook on the team?
Jim: Hey Morgan. Appreciate the comment and questions. First, the locker room. I actually just walked out of there a few minutes ago. Ran downstairs to take a quick look at the updates. It's coming along and is going to look great by training camp. New lighting, new carpet, and new lockers are all going in, and that's just the start of it. The locker room has been opened up, meaning the middle lockers have been moved out, and more room has been created by knocking down walls. There will be more TVs, and a huge, lit up Titans logo will be on the ceiling in the middle. The whole place is going to be lit! As for vacation, guys are scattering. Perrish Cox considers always likes to find exotic vacation spots, but he's not alone. I'm getting away myself before too long, heading for big water, and a boat. The answer to the bonus question: Derrick Morgan's wife is a chef, so he considers himself a good cook. But Harry Douglas and Byron Bell talk up their cooking skills as well, and Brett Kern is proud of his Green Egg.
---
Chris Chapman from Hermitage, TN
Question: Hey there my bro!!! I hope all is well with you, Amie Wells, Mike Keith and the rest of the staff. You guys and gals do a phenomenal job keeping all of us eager fans well informed every day and we all greatly appreciate that. FYI, if they ever have the notion of parting ways with you, I believe we''ll have to organize some sort of picket line LOL!!! I've listened to all the reports and interviews from the coaching staff and it sounds as if OTA's and mini camp went very well in terms of seeing just exactly what caliber of talent Jon Robinson and Coach Mularkey brought in here. Especially where "The Bruise Bro's" are concerned. Wow!!! That name does have a cool ring to it. My question is this: How do think our TE unit is doing? Aside from Delanie Walker, of course, that dude has mad skills!!!! I have 12 fantasy football teams this year and I drafted Delanie over "Gronk" on every team. What about Craig Stevens and the rest of the guys? I personally would love to see more plays involving double TE sets. I hope the team enjoys there lil' 5-week break and I look forward to talking to at training camp. It will be my 5yr old son Alec's first year going! He's stoked!!! GO TITANS!!!!
Jim: Hey Chris. Thanks for the question, comment and enthusiasm. Hopefully they won't consider parting ways with me any time soon, but they say the NFL stands for "Not For Long" so keep your fingers crossed for me. As for the tight ends, it's a solid group behind Walker. Stevens is solid, and Anthony Fasano is a proven veteran. Phillip Supernaw is battling for his roster spot, while former University of Tennessee tight end Alex Ellis is in the mix as well. He's a good kid who is working hard. Walker is going to be a good play in fantasy football play again this year, but with all the other weapons and a vastly improved running back with DeMarco Murray and Derrick Henry, I can't help but wonder if he'll have as many catches.
---
Zach Peterson Atlanta, GA
Question: Mainly just wanted to say thank you for the response before. As I've said before, been a die-hard Titans fan since '99. I don't just love this team, I'm in love with this team. Keep up the great work, Jim. I've so enjoyed the wonderful insight you've always given us as Titans fans. … I do have a quick question for you, should you so choose to accept it lol and if not hopefully you've enjoyed reading this almost as much as I enjoy your great work here on Titans Online. After all these years, who in your opinion is indeed the greatest titan? And/or who would be your favorite Titan of all time? I happen to have the same answer for both, the late great Steve McNair. Thanks, Jim and have a great one.
Jim: Hey Zach. Thanks for the question, and comment. That's a tough one. I've had the privilege of covering so many great players, and guys over the years. It's tough to name a favorite. I'll name my most memorable, and I'm going to list seven – Steve McNair, Eddie George, Jevon Kearse, Keith Bulluck, Pacman Jones, Vince Young and Chris Johnson, all for different reasons.
---
Antwon Ford from Columbia, SC
Question: Hey JIM! I have a suggestion, Titans should work on a "No Huddle Offense". It'll tire and beat down defenses. Jaguars are practicing it as we speak, I feel like we would become more dominate. What do you think?
Jim: Hey Antwon. It's a good idea, and something you could see at times, no doubt. Coaches are always looking for different wrinkles, and it's a way to jumpstart things and keep defenses off balance. Stay tuned.
---
Justin Whitney from San Antonio, TX
Question: Hi Jim. Growing up a KY boy, I have been a Titans fan ever since they moved to Nashville. As well, I'm extremely excited about the improved talent we added this offseason. My question is related to Derrick Henry's number. I understand that although he has been wearing #2 in OTAs, he can't wear it during the season. Has he officially chosen #24 as seen in pics from the NFLPA rookie event? What was the situation with him sporting #2 in the first place instead of selecting a league-approved number? Thanks!
Jim: Hey Justin. He is in No.2 right now, and that's because all the other numbers in the 20 are taken, except for 27, which is sacred because of Eddie George. Eventually I think he'll be in 24. Perrish Cox has already talked to Henry about working out a deal for the number.
---
Elden Neemia from Honolulu
Question: Hi Jim, thanks for taking the time to answer Qs. How is Justin Hunter doing and how's his progress coming along?  Will he be able to start first opening game day against Vikings? What is his outlook on things now? I am hopeful to really see him bounce back even more than ever. I really seen some improvement just within that window of change of head coach with Hunter. I am counting on him. Just curious on his progress. Thanks again! Aloha!
Jim: *Aloha Elden! I mentioned Hunter earlier. He's on the spot, there's no doubt about it. Health-wise, he's in pretty good shape. He worked his way back from last year's injury, and while he finished the offseason with a tweaked ankle, he'll be good to go for training camp. At this point, Hunter isn't in the mix for a starting spot – he's fighting to make the team. Heading into the final year of his contract, this is a huge year for his future. *
Have a great weekend everyone!