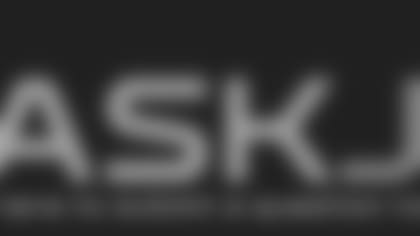 ](http://www.titansonline.com/news/ask-jim.html)
Another round of organized team activities is in the books.
The Titans have now completed six OTAs, and have four to go before a three-day minicamp in mid-June.
Before we open up this week's mailbag, I have to tell you about this email, sent to me from Marshall Gourley. He's responding to Stephen Berrey's mail from last week. In last week's mailbag, Berrey talked about his desire to travel to Nashville, and to see the Titans play at Nissan Stadium. Berrey is from the United Kingdom. This is from Gourley, who's from Nashville:
Just read your last mailbag Jim, and if our UK fan Stephen Berrey gets a chance to make the trip (to see the Titans) at some point this year, if he wants to set it up in advance, I have an extra ticket in east club. It's not the best club seats, but would be glad to have him as a guest for his first Titans game.
Now that's a nice gesture. We love bringing people together here at Titans Online.
OK, let's get to the mail….
---
Question: Aloha from Hawaii Jim! My wife and I are coming to Nashville for the Thursday Night Jacksonville Game and we're so excited to cheer on our Titan Team! Question: Is it unfathomable to think that both Derrick Henry and DeMarco Murray could play in the backfield together at the same time -- Murray as the Tailback and Henry as the Fullback? I truly believe Henry can be used as a FB with his size as a blocking back. He's also quick and fast enough for short yardage plays where he has the potential for breaking long runs in the second level. He can also be switched to TB with Jalston Fowler as his blocking FB. This would really open some eyes on the defensive side!!!
Would love to get your thoughts... Mahalo, Rick.
Jim: Aloha Rick. OK, it's an interesting thought, but I can't see it playing out exactly that way. Don't get me wrong -- I won't be surprised if the Titans find a way to get Murray and Henry on the field at the same time in certain packages. But I don't think Henry will be used as a 'fullback', or a blocking back. Either way, these two should be fun to watch. Can you imagine Marcus Mariota in the shotgun, with Murray and Henry to his left and right in the backfield? Obviously, you can. Mahalo, Rick.
---
Aubrey Calvin from Waldorf, MD
Question: Long-time fan of the Titans been a fan since I fell in love with football. Will Quinton Spain start as Left Guard because didn't think he did a bad job last year.
Jim: Hey Aubrey. Quinton did a solid job last year, and he's in the mix. He's battling it out with Jeremiah Poutasi, Sebastian Tretola, and Josue Matias. There's an open spot opposite Chance Warmack. Quinton has a shot. Coaches like his toughness, and physicality.
---
Keith Dove Jr from Washington, Dc
Question: Hey Jim. My name is Keith I've been a Titans fan since 1999 I just wanna know what your prediction is this year for us.
Jim: Hey Keith. Appreciate the question. I'll be honest – I don't like doing predictions. I think the Titans will be a much improved football team this season, but it's hard to predict what the future holds for so many other teams on the schedule. Every year, some teams end up being better than expected, while others fail to live up to expectations. So a November or December game that looks like a tough one now, might turn out to be very winnable, and vice versa. And so much hinges on injuries, with the Titans and other teams. I'll say this: I think the 2 and 3-win seasons are a thing of the past.
---
Douglas Vaughn from Memphis TN
Question: Jim, the Byron Bell injury has me really worried. The focus was on the guard competition, but he is the only other credible tackle on the team given Poutasi's struggles last year (although he might improve). I highly doubt both starting tackles will play 16 games without missing a few snaps. Who is our backup tackle? We need at least one! Any UDFA's that look like they can play?
Jim: Hey Douglas. It's a valid concern. Bell was solid last year, and he was going to be the swing guy at tackle this fall. Right now, the team is looking at several options at the position. I still expect Jack Conklin to start at right tackle opposite Taylor Lewan, and right now a guy like Will Poehls has a chance to make a move. He's been around a few years after joining the team as a UDFA in 2014. Some other guys are going to be in the competition as well, but keep in mind the team has the No.1 spot on the waiver wire, and some veterans will be available in the coming months.
---
Joscha Viertauer from Vienna, Austria
Question: Hey Jim! As I was re-watching the 2015 season, a few things stood out to me:
he had troubles getting precise passes over 20 yards even when the receiver was open
his pre snap hard count was really good
the quick play action fake and pass to the slant worked really well and I haven't seen a pass out that quick after a play action.
Are they working on some of these topics in OTAs? Do you think Mariota's long passing game will be improving? As a team which is excellent in the short passing game, shouldn't there be more short-pass-fakes (pumpfakes, double moves) to get some receivers open downfield? It worked against the Bills in week 5.
Everyone is talking about this being an important year for Kendall Wright, who has to step up but I don't see it. Yes it's a contract year but he was a bright spot for the Titans and in his 16 game season he had over 1000 yards. Since then his games, receptions and therefore total yards decreased but I see him as one of our most explosive weapons regarding the type of game we are playing.
Thanks as always for your insight and I'm looking forward seeing the Titans against the Packers in November!
Jim: Hey Joscha. Thanks for the email. Some good observations. Mariota is working on all of those things, including his deep passes. He talked the other day about wanting to improve in that area. As for Kendall, I think he raised expectations with that 1,000-yard season. So everyone wants more. He's certainly capable, and has looked really good this offseason. An improved running game and help from other receivers on the team should open things up even more for him this fall. See ya in November!
---
Joel Rohm from Yuba City, CA
Question: Hey Jim. I have a 2-part question, running back and quarterback. There are currently 7 RBs on the roster and we all know they can't all make the final 53. It's obvious that DeMarco Murray and Derrick Henry are locks. Assuming Mularkey and Robinson only keep 4, in your opinion which are the other 2 who make it? And do you think they'll keep a 3rd quarterback? Personally, I don't see why any team keeps 3 QBs. I mean, if you're down to your 3rd guy I think you're in deep trouble anyways. Heaven forbid Marcus Mariota gets hurt, they might as well pick someone up off the street as your emergency backup to Matt Cassel. So why not cut Alex Tanney and keep a player of another position for more depth? Thanks for the great work Jim. TITAN UP
Jim: Hey Joel. You're right in that Murray and Henry are locks. I think Dexter McCluster will be on the team as well. Coach Mularkey keeps talking about him having a role this fall, and he can help in the return game as well. I suspect one more spot is there to be had – maybe. David Cobb, Bishop Sankey and Antonio Andrews are fighting for it, along with David Fluellen. Someone is going to need to step up when the pads come on. Keeping a third-QB will be tough, but Alex Tanney is a nice prospect. How things play out at other positions will also impact the numbers at RB, and QB.
---
Cole Flatland from Springville, Iowa
Question: Jim. Towards the end of last season both fans and coaches were high on the play of Angelo Blackson and he appeared to be making progress. After the addition of (Austin) Johnson he seems to have been forgotten about. Where does Blackson fit into the rotation this year? What about Karl Klug as well?
Jim: Hey Cole. You're right – everyone was high on Blackson at the end of last year, and for good reason. He played well, and I get the sense the optimism surrounding his play lives on. He's going to have a role this year, and his presence puts veterans on the spot. Johnson is going to be a good one, and I think he'll play, too. I'm looking forward to seeing him in pads. As for Klug, the guy remains consistent. He's a player coaches and teammates know they can count on, and he can help in so many ways. Remember, this is the same guy who occasionally takes snaps on offense.
---
Kenny Gore Horse Cave, KY
Question: Hey Jim. I am very happy to see ASK JIM become a more regular part of reporting again. I love it.
I would also like to take a minute to acknowledge I was shocked & impressed; that you remembered my illness & wished me well last week. It is amazing to me that you have so much going on with the team; yet still remember something so personal about a fan. THANK YOU. It means A LOT.
My question this week: Several fans seem to have written off Jeremiah Poutasi due to his poor performance at RT. I think he does have a shot at LG. It may be a long shot; but I believe the team should & will start the player who performs the best. Poutasi should not have been starting at RT. That was a mistake by the position coach & HC; both of which are gone now. Do you see anyone who has stood out at the position? I know it is very early & harder to tell without pads, especially with the Oline. Thanks for your great coverage & caring about this fan base. It shows weekly!
Jim: Hey Kenny. I appreciate it the kind words, and hope you're doing well. Glad to see you in the ASK JIM inbox each week. Poutasi is a contender. I wrote about him last week, and Mularkey said he looks more confident, and is improving. Poutasi said the same thing. You're right – he shouldn't have started at right tackle last year out of the gate. He wasn't ready. Ken Whisenhunt made that decision, and not everyone agreed with it at the time. But Poutasi isn't a lost cause. A lot of football folks always believed he was better suited to play guard in the NFL in the first place. The guard spot opposite Warmack is definitely going to be one to watch. Don't sleep on Spain, who is a contender. But coaches also love Tretota's nastiness. There's going to be a good competition. Have a good one.
Have a great weekend everyone!
Titans veterans and rookies take the field for Day 5 of OTAs at Saint Thomas Sports Park. (Photos: Gary Glenn, AP)