**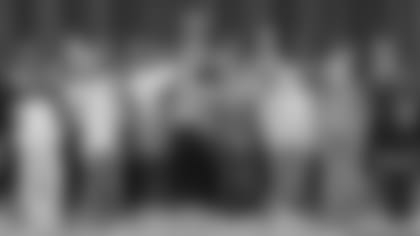 Titans linebacker Colin Allred poses with students at East Literature Magnet School.
NASHVILLE, Tenn. --** Linebacker Colin Allred surprised an auditorium of nearly 600 students at East Literature Magnet School this week as part of Titans Tuesdays in the community.  Allred wrapped up the school visit program for the season and the conclusion of the Titans PLAY 60 Challenge.  
Allred spoke to the students about his childhood experiences growing up in Dallas, TX, setting goals and the road he traveled to make it in the NFL.  He also stressed the importance of eating healthy and participating in fun physical activities in order to get the 60 minutes of activity per day recommended. 
Allred told the students he began to eat healthy at their age and it has stayed with him as a professional athlete.  He stressed the importance of eating plenty of lean protein, salads, vegetables, whole grains, low-fat milk, juice and plenty of water.   
"I didn't eat many sweets as a kid and in my home we did not eat red meat at all," said Allred.  "Now, I stay away from 'empty calories,' meaning I never drink soda or eat junk food that wastes calories.  I don't skip a meal; I eat three meals a day with no snacks in between and I don't eat late at night."
Allred discussed perseverance in life and the importance of hard work.  He revealed that early in high school he was not the best student.  Allred's high school football coach believed in him, pulled him aside and gave him encouragement to become the student athlete and leader he knew he could be.  Allred then served as class president his sophomore through senior years of high school.  
He also told the students that he wouldn't be the player he is today if he hadn't made good choices.  The linebacker discussed the importance of staying focused and disciplined with school work in addition to choosing positive influences and friends. His greatest example of hard work and dedication was making the Titans roster as a rookie free agent.
After the assembly, 28 students were chosen by the school for their leadership as PLAY 60 Ambassadors to join Allred for a private meet and greet opportunity.  The students were able to ask questions and were given an autographed poster and PLAY 60 pocket folder.
One student asked Allred what he'd be doing if he weren't playing football.
"I applied to law school after graduation from Baylor and have deferred my acceptance until my NFL career is over, then I'll be going to school to get my law degree."
About "PLAY 60" Challenge
The Titans "Play 60" initiative encourages youth to get at least sixty minutes of physical activity or play per day in effort to fight childhood obesity. Partnerships with local non-profit organizations, like the American Heart Association and the National Dairy Council, have enhanced this mission and opportunity to reach out to America's youth.  Since the NFL's Play 60 inception, the NFL has committed over $100 million to youth health and fitness through programming, media time for public service announcements and grants from Titans Owner K.S. "Bud" Adams' Jr., and his fellow NFL owners and players.  For more information about the NFL's Play 60 campaign please visit http://www.nflrush.com/health  
About the Southeast Dairy Association
On behalf of dairy farm families, the non-profit Southeast United Dairy Industry Association, Inc. (SUDIA), works with schools, health professionals, retailers, dairy processors and the public to promote dairy foods. For more information, visit www.southeastdairy.org or click here to connect with SUDIA on Facebook.