Frequently Asked Questions
Will the race be rained out?
Event will be held rain or shine.
What is the course time limit?
90 minutes
Is there an age minimum for the 5K run?
The age limit is 7 years old. For younger participants, parents are encouraged to run with their child.
Can I run in the 5K with a jogging stroller?
Yes, we do allow strollers on the 5K course. For the safety of those on the course, we ask that you start near the back of the pack.
Where do I find race results?
Scan the QR code on the front of your bib after you finish to get race results.
Are pets allowed?
No, only service animals are allowed on the course.
A Titans game ticket is included with my entry. Which games are available?
All participants will receive a game ticket to the Titans vs. 49ers game at Nissan Stadium on Thursday, December 23rd at 7:20pm.
Where will my game day seats be located?
All tickets will be assigned in the 300 level of Nissan Stadium. Seats will be assigned based on availability at the time of your race registration.
When do I receive my game day tickets?
All participants will receive an email the day before the run containing instructions on how to access their mobile game tickets through the Titans Mobile App. Be sure to download the Titans Mobile App on your smartphone.
For more information on mobile tickets, click here to review Digital Ticketing Information.
I registered a team. Can we all sit together?
Yes, depending on ticket availability, signing up as a team is the best way to ensure that you and your friends will sit together. The Titans will make their best effort to seat you all in the same row or section based on availability at the time of your registration.
Will there be a bag check?
We will not have a bag check and bags are not permitted inside Nissan Stadium. Click here to review the NFL Bag Policy.
When does registration for the Titans 5K open?
Online registration for the Titans 5K opens on June 16 and continues through August 21.
Can I register more than one person under my account?
Yes - you can register as many people under your account as you want. Select the "Register Another Person" option on the last page of registration, or you can start a new registration and enter your email as the account holder.
Can we register as a team?
Yes, you can register a team at the start of the registration process.
How do I create and/or join a team?
In order to create a team you must first start the registration process. On the third page of your registration process, select your category and tell us who you are, then you can create your team. To join a team, use the dropdown menu on that same page to search for your team - add yourself and submit your registration.
How do I become the Team Captain?
To become the Team Captain you must be the first person to register/create the Team.
Am I required to be a part of a team?
No, you do not have to join a team to complete registration.
How do I update my personal information within my account?
Login to your EnMotive account here.You can change all personal information here such as email, password, address, etc.
Where does a portion of my registration go?
A portion of the proceeds from the Titans 5K will benefit the Tennessee Titans Foundation. The Tennessee Titans are committed to serving our community and enhancing the quality of life within the areas we live and work.
If I have a question regarding registration or my account, who can I contact?
You can reach out to us at help@enmotive.com or groups@titans.nfl.com and we would be glad to help you out wherever you may be having difficulty.
Where do I find race results?
You can check your results by CLICKING HERE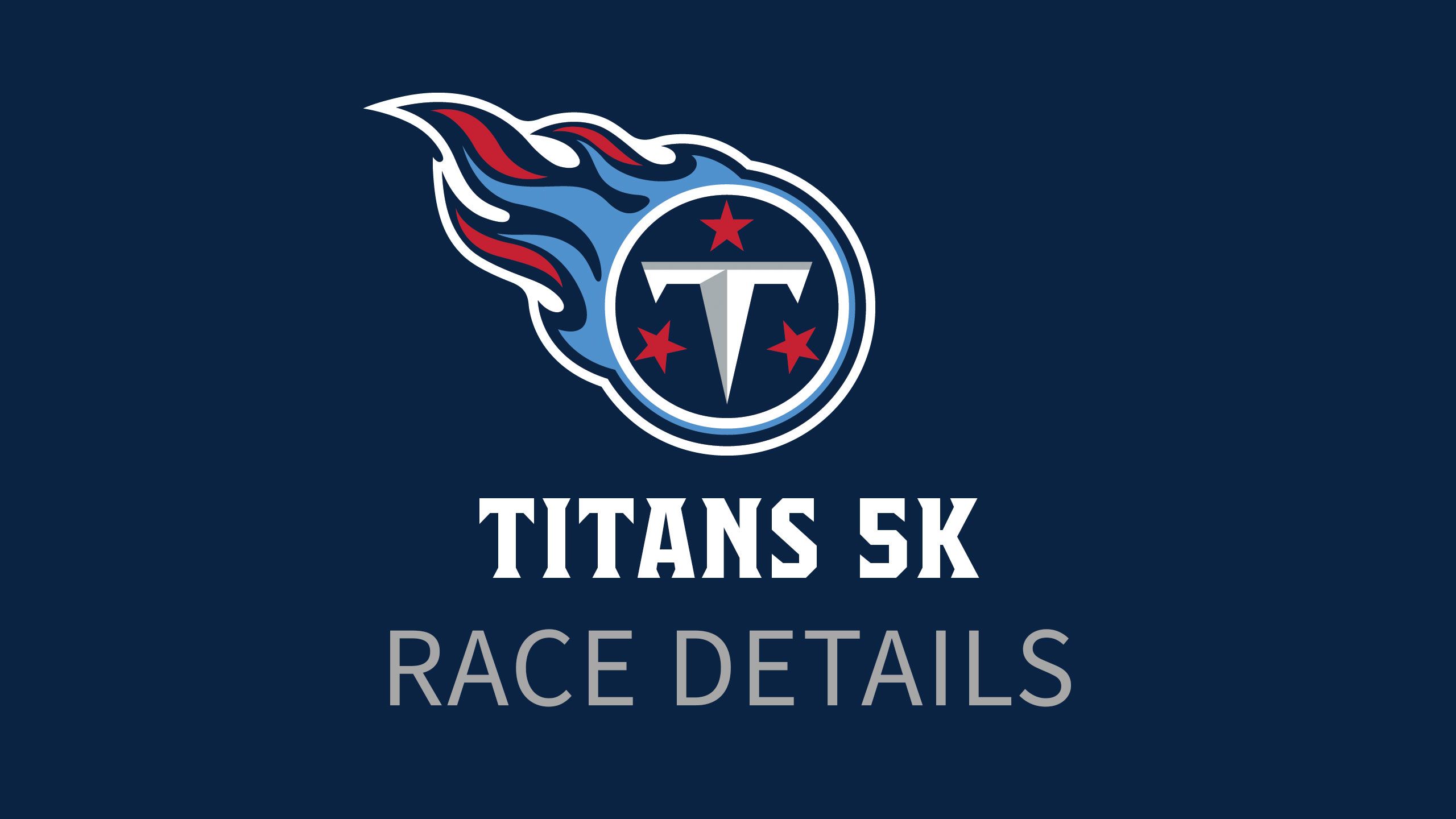 Race Details
START LOCATION:
Nissan Stadium, home of the Tennessee Titans
COURSE DESCRIPTION:
Roads around Nissan Stadium and downtown Nashville
AWARDS:
Commemorative T-Shirt for all participants
Commemorative Football for each Age Group Winner (male and female)
Overall Winners (Top 3 male and female) will receive personalized Titans jerseys
POST-RACE ACTIVITIES:
Refreshments provided
Mingle with Titans players, cheerleaders & T-Rac
Awards Ceremony