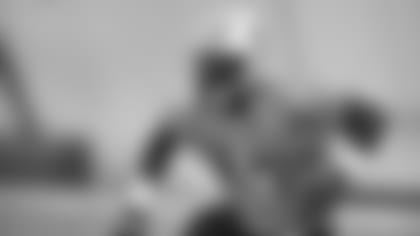 Will Witherspoon's agricultural background has helped him line up several business opportunities that keep him busy when he's away from football.
NASHVILLE, Tenn. --** Shiregate Farm, located on roughly 500 acres of green pastures in Owensville, Mo., sells organic, high-quality beef to numerous restaurants and food markets. For Titans linebacker Will Witherspoon, however, the farm is more than just a business. It is a retreat from the daily grind of being an NFL player.

When Witherspoon first purchased the land for Shiregate, he used it as a hobby farm. He and his family members would race across the wide-open area in four-wheelers, trucks and tractors as a way to relax and enjoy each other's company. Witherspoon said Shiregate quickly became a place for him to retreat.

"It's my getaway," he said. "It's a place my cell phone doesn't work."

There is a telephone at Shiregate. It's located inside the Witherspoon home, and he said it only exists in case of an emergency. But Witherspoon doesn't worry too much about that. In fact, he and his wife, Rebecca, see Shiregate as a safe haven for their three young daughters, Layne, Maya and Shaye.

"It's a place where I can take my girls and know they are safe," Witherspoon said. "They love to go on horseback rides, take a wagon ride with my dad and hang out by the river with their friends. They can go out and enjoy themselves, and I don't have to worry about where they are, what's going on or who's with them."

Although Witherspoon still considers the farm a relaxing escape, he has decided to start evolving Shiregate into a co-operative business.

"I've really got the focus moving this year toward a realistic, working farm," he said.

Shiregate houses numerous types of livestock, including horses, chickens, pigs, sheep and goats. Witherpoon has decided, however, to focus his attention on American British White Park Cattle. He monitors these cows' health in the same way that he monitors his own.

"I like to know what's going into my body and what's in the foods that I eat," Witherspoon said. "I'm not a guy who takes supplements. I'm not a guy who is out there every day trying to do 10,000 different things to make himself bigger, stronger or faster. I try to eat appropriately and make sure that I maintain my body naturally."

The cattle at Shiregate are antibiotic and hormone free and are not fed genetically modified crops. Shiregate Farm, which meets the standards of Animal Welfare Approved and American Grassfed Association, believes in raising only free-range, grass-fed cattle. Witherpoon said that by studying the history of beef, he learned the ill effects of feeding corn and grain to livestock.

"We (society) didn't really start feeding cows corn until after World War II because of the surplus corn we had after the war," he said. "The farmers were happy because their cows were fatter and they could sell them at a higher price. But nobody really looked at the long-term effects of it."

Witherspoon explained that switching an animal from grass to grain is so disturbing to its digestive system that the animal can die if not continually fed antibiotics.

Although Witherspoon has a degree in agricultural engineering from the University of Georgia, owning a farm has not always been a dream of his. In fact, he originally bought the farm as a means to live cohesively with his two Shires, Rocky and Simon. Because his family's residence didn't have proper acreage for the horses, Witherspoon decided to buy a farm so that his beloved pets could run freely. He named the farm "Shiregate" in honor of his horses.

"I always love being outdoors," he said. "I like having space. I don't like being crowded in a neighborhood, where I can reach out my window and touch my neighbor's window. That's just not my style."

Now, counting all the livestock, horses and his German Shepherd, Witherspoon owns more than 250 pets. Being an animal lover, however, is nothing new to him. Witherspoon currently co-owns two doggy day cares called Club K-9 in Charlotte, N.C., with former Panthers teammate, Dan Morgan. While Witherspoon lived in Carolina, where he was originally drafted by the Panthers in 2002, he owned two Weimaraners, an English Mastiff, a Great Dane and a Great Swiss Mountain Dog – all at the same time.

"All in the house and all lying in the bed," Witherspoon said with a laugh. "But they were great with the kids, and I never had to worry about them."

Witherspoon played in Carolina for his first four seasons and saw action in Super Bowl XXXVIII as a starting linebacker. Since then, he has spent time in St. Louis and Philadelphia before joining the Titans through free agency this spring. Witherspoon brings veteran leadership to the defense, and he said he will work tirelessly to "uphold his end of the bargain."

"My goal is to be the best player on the field that I can be," he said. "And part of what's required of me is to play within the scheme and do exactly what's asked of me."

Once he finishes his career, Witherspoon plans to retire to the farm only partially, as he still wants to pursue his off-the-field business ventures. He has already found a third location in Charlotte for Club K-9, and he is always looking to expand into more markets with Shiregate's beef. When he is finished with football, he will have more time to be involved in his agricultural business.

"But I don't plan on retiring anytime soon. Maybe sometime between now and 2024," he said with a smile.

For more information on Witherspoon's farm and its organic products, log on to www.ShiregateFarm.com.