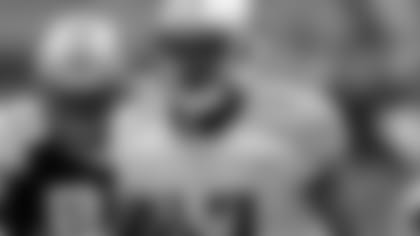 Second-year wide receiver Damian Williams has taken advantage of his opportunity, producing at a high level with the absence of injured starter Kenny Britt.
NASHVILLE, Tenn. -- Catches, yards and touchdowns are what receivers love about football. They are conspicuous when they happen, and their enjoyment often extends beyond the play through photos, videos and memories.
Second-year receiver Damian Williams has posted career highs in catches, yards and touchdowns this season, including a game-winning score against Tampa Bay. He's moved up the depth chart after the Titans lost Kenny Britt in Week 3 and continued to grow at the position.
When asked to name something that Titans fans did not yet know about him, Williams pondered the question for more than a moment.
"I don't think people know how much I really love football," Williams said at last.
He showed that love last summer during the lockout that prevented him from working with teammates. The Arkansas native went to Texas and put himself in speed training with sprinters, including friend and Olympian Wallace Spearmon.
"Most people don't do speed training at 23 (years old) unless they run track," Williams said. "I was just trying to get better. It's one of the things where I love the game so much, I'm willing to go through the fire."
The sessions started early in the day to beat the brunt of the heat. There was stretching, preliminary work and hurdles followed by the actual workouts, sprints and conditioning.
"My legs are dead. I'm tired. I don't want to talk to anybody," said Williams, who then spent his afternoons catching footballs.
When the lockout ended, Williams returned to a Titans squad that underwent major changes in the offseason: new head coach Mike Munchak, new offensive coordinator Chris Palmer, new receivers coach Dave Ragone and new quarterbacks Matt Hasselbeck and Jake Locker.
It wasn't the first time that Williams had undergone changes. He played his freshman season at Arkansas, which had fellow NFL players Darren McFadden, Peyton Hillis and Felix Jones in its offensive backfield. Williams decided to transfer to Southern California to a team that used a more pass-oriented offense. He sat out the 2007 season per NCAA rules, had 58 catches for 869 yards and nine touchdowns in 2008 and 70 catches for 1,010 yards and six touchdowns in 2009.
"It's been a very long journey," Williams said. "I played with some of the best football players you could possibly play with in college, some of the best coaches. I've got so many great experiences, but I don't think I could trade that journey for anything as to where I am now as a football player and as a man."
Williams played in all 16 games during his rookie season and caught 16 passes for 219 yards, but he didn't score a touchdown and experienced 10 losses — the same amount of games lost during his high school and college career combined — as Tennessee faltered down the stretch with injuries at quarterback.
"I think there was a string of five or six games last year where we had a different quarterback every week. It's very hard to get your chemistry," Williams said. "The velocity is different. The arm angle is different. The trajectory is different from every quarterback. It's almost impossible to go out and have an expectation of where the ball is going to be."
The changes that Tennessee made this offseason brought opportunities, Williams said. He, Nate Washington, Lavelle Hawkins and Marc Mariani will all have career bests this season as they fill the void created with the loss of Britt, who was off to a torrid start when he tore his ACL and MCL.
"I think the biggest thing is when you go from the third wide receiver to being a starter, obviously, your production is likely to go up because you have more opportunities," Williams said. "The opportunities that I've had, I've gotten to play against six of the top defenses in the league. I've gotten to play with one of the best running backs in the backfield, so I've had opportunities not only to be out there but to make an impact. I think that's kind of contributed to my mindset and the way I approach things."
Ragone, a former quarterback not far removed from his playing days, has taken a teacher's approach with the young group. He often covers his receivers on routes after practice and can still fire passes to them during additional work sessions. Ragone said Williams is smart enough and athletic enough to take on multiple responsibilities.
"Getting a chance to play is obviously an important thing. Any time he goes out there, he's learning," Ragone said. "A second-year guy now, he's understanding what defenses are trying to do. What we're trying to do as coaches is put him in the best position to be successful. … I think when you put all those things together, you get some of the success that he's had this year."
Hasselbeck, a 13-year veteran, has enjoyed working with the young receivers. He and Williams have combined to help the Titans red zone percentage rank near the top of the NFL this season.
"He's done, I think, an exceptional job of catching the ball either on the sidelines or in the back of the end zone and getting both feet in," Hasselbeck said. "That's really made the difference in touchdowns versus incompletions this year. He's got strong hands and is tough, so if you put a ball in a tough situation, he's going to fight for it."
Ragone said completing a pass in the red zone is tougher because the windows are smaller, the timing is faster, and the sideline and end line become additional defenders.
"He's got a knack down there as well of getting his feet down, being able to locate the ball, track the ball," Ragone said. "It ultimately goes back to the fact that the quarterback trusts him with the ball down there that he's either going to make the play or not let a bad play happen."
That trust and precision between quarterback and receiver developed quickly between Hasselbeck and Williams.
"I had seen him play, but I had never seen him in person and never met him, so I didn't know what kind of guy he was," Williams said. "You get a guy that's been in the league for 13, 14 years, they kind of have that air about them. Matt makes you feel like he's just one of the guys. We're going through this together and he'll help you through it."